12-megapixel Compact Camera Includes Wi-Fi, Bluetooth and Geo-tagging
Samsung Electronics America, Inc., unveiled the CL65, featuring built-in geo-tagging, Bluetooth 2.0, DLNA compatibility, and Wi-Fi* connectivity. With the new CL65, users can make a true visual connection with their family and friends by quickly and easily sharing photo memories and moments while on-the-move.
Packed full of innovation and encased in a sleek compact frame, the CL65 offers the unprecedented combination of geo-tagging, Bluetooth 2.0, Wi-Fi, and DLNA compatibility. The geo-tagging capability allows users to keep track of where they've traveled, while DLNA compatibility and Wi-Fi connectivity enable users to send and share pictures almost as quickly as they take them. The CL65 is a great way to keep your network of friends and family in the know.
Thanks to the built-in geo-tagging capability, the CL65 displays the city on the camera's LCD screen, providing users with a display of the location where they're taking a photo, as well as a reference for when they are reviewing and managing images. With the embedded PC software package 'intelli-studio', users can also easily view, edit and manage their pictures right on the camera before uploading them to popular photo-sharing sites, such as Picasa™.
Using Bluetooth 2.0 technology, users can wirelessly beam their favorite images to other compatible devices. Using a Wi-Fi connection, users can now email photos directly from their camera and upload them to popular social networking sites. The CL65 also offers DLNA connectivity, allowing users to wirelessly connect to other DLNA compatible devices within their networked home, such as an HDTV, to view and share their images.


The CL65 sports a 3.5″ wide touch-screen LCD. With a resolution of 1,152K, almost four times more than traditional cameras, the CL65's advanced display provides users with an enhanced viewing experience. The CL65 also incorporates Samsung's Smart Gesture User Interface. With a simple tilt, users can now easily access key features such as Smart Auto, movie, and program mode.
The CL65 comes with a 12.2 megapixel CCD and a high-quality, 35mm Schneider-KREUZNACH lens. Offering a powerful internal 5x optical zoom, the CL65's lens produces clean and clear images with balanced resolution from the center of images to the edges. Alongside professional-grade photos, the CL65 records 720p HD video at 30 frames-per-second in H.264 format, giving twice as much recording capacity as MPEG4 format, and four times more than MJPEG format, all in the palm of your hand. HDMI connectivity means that your HD videos can be enjoyed on any HDTV or HD Monitor.
Additionally, the camera's touch-screen user interface provides users with Samsung's innovative and intuitive One Touch Auto Focus system. This puts complete command of the camera's focusing system right in the hands of the photographer, allowing the user to pinpoint the exact area to lock focus on by simply touching the location on the LCD screen. Users can also automatically trigger the camera to then take the image by continuing to hold the location with their fingertip.
"The CL65 is all about spreading the joy everywhere from anywhere," said Sang Jin Park, CEO, Samsung Digital Imaging Co. Ltd. "Never before has a manufacturer provided such a range of technologies in a compact digital camera, giving consumers unprecedented flexibility when it comes to how, when, and where they share their digital images. Geo-tagging keeps track of where the photographer has been, allowing them to quickly and easily share content with their network, while Bluetooth 2.0 and Wi-Fi capabilities allow for the simplest of uploads without needing a computer. This new powerhouse point-and-shoot camera will raise the bar for innovation and set a new standard by which all other manufacturers will be measured."
CL65 SPECIFICATIONS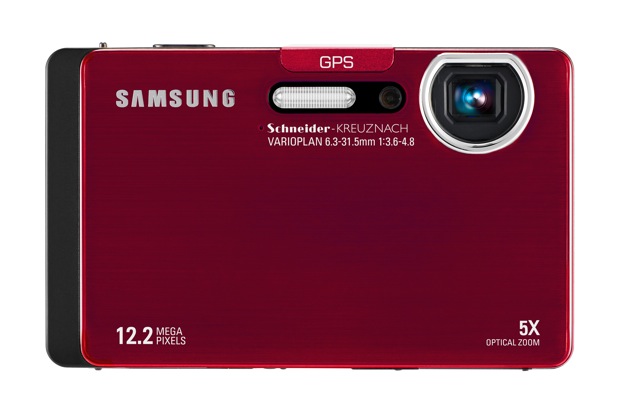 Wireless Connectivity
Geo-Tagging
The CL65 utilizes GPS technology to automatically geo-tag digital images, recording the latitude and longitude of where in the world each photo is taken. The location data is automatically embedded into each image's EXIF file. Photo-sharing websites such as PicasaTM provide options for sharing one's images on a map of the world and can utilize the information stored in the image's EXIF file to pinpoint where the photo was taken.
The CL65 will display the name of the city on the camera's LCD screen, providing users with a display of the location where they're taking a photo, as well as a handy reference for when they are reviewing images on the camera's LCD screen.
Bluetooth 2.0
Bluetooth 2.0 connectivity is also included, allowing users to share and transfer photos wirelessly and seamlessly. Using Bluetooth 2.0 connectivity, you can beam your favorite digital images from the CL65 directly to compatible devices, such as mobile phones. When using Bluetooth 2.0, the CL65 will automatically resize the digital image to best fit the resolution of the host screen it will be displayed on.
Wi-Fi and DLNA
The CL65 is DLNA compliant (Digital Living Network Alliance), allowing the camera to wirelessly connect to other DLNA compliant devices, such as HDTVs. This gives the CL65 user the ability to move content from their camera to other consumer electronics devices throughout their home. To maximize speed and efficiency, all images transferred through Wi-Fi will be reduced to a resolution of two mega-pixels.
The CL65 makes it easy for users to upload or share their digital images with others right from their digital camera. Through Wi-Fi, users can send a digital image to any email address stored in your camera's address book or by using the camera's touch-screen QWERTY keypad. The CL65's Wi-Fi connection also allows users to upload their images directly to popular websites such as Facebook, Picasa™ and YouTube.
Smart Gesture User Interface (UI)
When it comes to smart, user-friendly features, the CL65 leads the way. Take for example the camera's innovative Smart Gesture UI with built-in Gravity sensor, which lets you quickly access and use key features with either a simple tap or a hand gesture.
Using other advanced features is just as simple. With the Smart Gesture UI you can quickly scroll through your photos by slightly tilting the device in either direction or by selecting the appropriate photos for a slide show. You can also easily delete photos from your library using Smart Gesture UI by marking an "X" on the screen using your finger, or you can simply save your favorite photos into a separate folder. Additionally, if you want to rotate an image, you can draw a circle (O) on the screen, and if you want to see the next image in your library you can drag it on to the screen with a sweep of your finger or by simply tilting the device.
3.5″ Wide Touch-Screen Back LCD
The 3.5″ wide touch-screen LCD located on the back of the CL65 displays some of the sharpest images of any camera available today. This ultra-wide LCD offers a 1,152K resolution, almost four times more resolution than other traditional camera displays. Unlike other digital cameras, the LCD touch-screen uses Samsung's unique haptic technology, providing users with a slight vibration and audible beep whenever they select an option within the touch-screen display.
Advanced Dual Image Stabilization (IS)
Samsung's Advanced Dual Image Stabilization (IS) technology allows you to capture crystal-clear, blur-free images. The CL65's true Dual IS combines both Optical and Digital Image stabilizers to produce sharp images without the confusion commonly found in other cameras. The Optical IS intelligently compensates for hand trembling by shifting the lens in the opposite direction. When Optical IS isn't quite enough, the Digital IS automatically takes over to ensure blur-free images.
HD Video Recording
Besides the ability to take high-quality digital still images, the CL65 also offers impressive 720P HD video recording at 30 frames per second. The CL65 uses H.264, which allows you to record twice as much content as MPEG4 format, and four times more than MJPEG, the format typically used in other digital cameras. The CL65 also offers HDMI connectivity (adapter sold separately) so that you can enjoy your HD video, as well as digital still images, on an HDTV or HD monitor.
Smart Auto
Samsung's Smart Auto feature ensures that users never have to worry about their photos being washed out, too dark, or out of focus. Smart Auto analyzes key elements of your composition such as color, brightness, motion, and subject and then automatically selects the appropriate scene mode which will produce the best results possible.
Smart Album
With Samsung's convenient Smart Album feature, you can quickly scroll through your entire library of images and organize them in the way that's best for you. This unique feature allows you to organize photos by Location (if geo-tagged), Favorite (if tagged as a "favorite" photo), Face (someone you've taken many photos of), Timeline (date photos were taken), Week, Color, and Content (photos, videos, voice-note).
Perfect Portrait System
Picture-perfect moments at their best
Samsung's Perfect Portrait System takes the guess work out of shooting beautiful portraits. Key features of this system are Samsung's Smile Shot and Blink Detection technologies which automatically detect when your subjects are smiling and if their eyes are closed, allowing you to capture them looking their best. Another advanced feature is the Red-eye Fix mode. This in-camera feature fixes the typical red-eye associated with the use of the flash, before the photo is produced, a significant time saver as you don't have to spend time afterwards removing red-eyes from your photos.
Smart Touch Shooting and Auto-Focus
Sometimes the focal point of your picture is not always in the center of the frame. In cases like this, the CL65's Smart Touch Auto Focus feature allows you to focus on a different part of the shot by simply touching the desired area. That means your subject, no matter where in the frame it may be, will always be in focus. Once you've selected the focal point, you can simply leave your finger on the screen for two seconds or push the shutter button to take the picture.
Smart Face Recognition
The CL65 features Samsung's advanced Face Recognition technology which automatically stores up to 20 preferred faces to the camera's internal memory. While taking a portrait, the CL65 will automatically recognize if one of the user's preferred faces is in the frame and identify them as a priority for focus and exposure. Users can also save time sorting through their photos by searching only for those that contain a specific face.
Beauty Shot
Samsung's Beauty Shot feature lets you remove all the imperfections on your subject's face such as wrinkles, blemishes and moles. Simply select one of two editing options to even out skin tone and complexion.
Photo Style Selector and Highlight Feature
The CL65 is designed to help you enhance your creativity when it comes to digital imaging. Samsung's Photo Style Selector allows you to transform your photos from simple memories to works of art. Choose from a wide selection of artistic treatments ranging from classic black and white to something more vivid, giving you full control over the color tones of your image. Additionally, with Samsung's unique highlight feature, you can focus on one area of your photo and blur everything around it, turning a normal photo into something much more complex.


Specifications
CL65
Mega-Pixels (Effective)
12.2 mega-pixels
Optical Zoom
5x Internal Optical Zoom
LCD Size
3.5 inch wide 1,152,000-pixel touch-screen
Lens
Schneider-KREUZNACH
Movie Mode
720p HD / H.264 Format (optional HDMI adapter)
Size
99.8mm x 60.8mm x 18.9mm
Special Features

Geo-tagging with location data (3 Depth : City – State – Country)
Bluetooth 2.0
Wi-Fi Connectivity (DLNA Supported)
Email / Direct upload to photo sharing websites
Smart Gesture UI
Advanced Real Dual Image Stabilization : Optical IS + Digital IS
Smart Touch Auto Focus
Smart Auto
Smart Album
Smart Face Recognition (up to 20 faces)
Perfect Portrait System: Beauty Shot / Face Detection / Self Portrait / Smile Shot / Blink Detection
Photo Style Selector

MSRP
$399.99
Availability
September 2009
* Specifications are subject to change without notice.
* Wi-Fi only available where verification not required.