Russound has extended its Acclaim speaker series by introducing the Acclaim 5 Series OutBack outdoor speakers. The new Acclaim speakers provide outstanding installation flexibility, superior sonics and durable, weatherproof performance even in extreme outdoor environments.
Russound's new Acclaim 5 Series OutBack speakers are equipped with design and construction features that ensure durability in any outdoor conditions. Sealed enclosures and salt-tested, marine grade hardware ensures weather resistant performance year in and out. Polypropylene driver cones with rubber surrounds and 1-inch Teteron dome tweeters deliver superior full-range audio through a wide range of temperatures and humidity conditions. All four models feature a 1-inch tweeter made of Teteron, an advanced synthetic material that is moisture-proof, offers exceptionally wide dispersion characteristics, and eliminates sonic artifacts commonly associated with metal and silk dome tweeters. Multiple mounting options allow for versatile installation possibilities in almost any outdoor environment, whether on a wall, an eave, a pole, a corner or set up as a free standing stereo pair.
The Acclaim 5 Series OutBack Speakers are available in four models, encompassing three stereo pairs in popular sizes and a single-point stereo model. The 4-inch 5B45 model adds a 4-inch polypropylene woofer and achieves 88 dB sensitivity with 10-100 watts of amplification. The mid-sized 5B55 sports the same woofer in a 5-inch configuration, with 90 dB sensitivity and power handling up to 125 watts. The largest of the stereo pairs is the 5B65, which provides a woofer size of 6 inches, sensitivity of 91 dB and power handling up of to 150 watts RMS.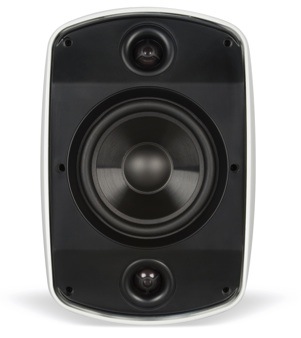 For installations where a single-point stereo speaker is called for, the 5B65S (pictured right) offers the same 6-inch woofer as the 5B65, flanked by a pair of angled Teteron dome tweeters on each side. This powerful all-in-one speaker delivers an exceptionally deep and extended music listening experience, with a broad 62 Hz – 20 kHz frequency response, +/-3dB.
All the Acclaim 5 Series OutBack models are available in both white and black, and come with aluminum grilles and brackets for weatherproof durability and cosmetics. The brackets allow for the traditional vertical or horizontal mounting options, as well as mounting in a corner or on a pole. A machined channel in the brackets allows speakers to be suspended by mounting screws for easy installation in hard to access locations. The Stereo pair models include a foot that installs in place of the bracket, allowing the speaker to sit upright on a bookshelf as a stereo pair for listening.
The Russound Acclaim 5 Series Outback speakers are available at the following prices: