Industry's Thinnest frame is 1/3-inch thin, ideal for tight spaces; Features PanTouch Clear "floating" LCD design, full touch-screen interface and integrated Wi-Fi
Pandigital today debuts its new PanTouch Clear 10.4-inch digital photo frame at the Photo Marketing Association Show (PMA) in the Las Vegas Convention Center at the company's booth #A279.
Delivering the ultimate in design and technology, the PanTouch Clear 10.4-inch frame measures only 1/3-inch thin, making it the company's first frame with an ultra-slim profile design as well as the thinnest available on the market. The rear housing utilized in all photo frames until now has been completely eliminated in the 10.4-inch PanTouch Clear, so the frame can easily be hung on a wall as well as fit neatly and unobtrusively in any other location in the home or office.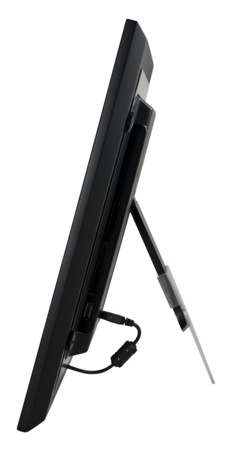 Like other models in the PanTouch Clear line, the new 10.4-inch model features an eye-catching LCD that appears to be "floating" in the surrounding glass, giving it a dramatic design statement. This unique visual interest is further enhanced by the frame's PanTouch Clear full touch-screen interface that "prints" invisible circuits on fingerprint-resistant, clear glass. This allows customers to enjoy intuitive full touch-screen capabilities while still enjoying the premium home decor-style look of the glass on the Pandigital Digital Photo Frame line.
The PanTouch Clear interface incorporates easy-to-understand icons that can be touched directly across the entire glass surface of the frame. Incredibly simple and intuitive to use, the PanTouch Clear interface makes all the primary functions on the frame accessible in a one-step process, further enhancing the simplicity of the industry-leading interfaces associated with all Pandigital photo frames.
The newest product in the PanTouch Clear line, the new 10.4-inch model (PAN1000DWPCF2) will be shipping in May to retailers across the United States at a Manufacturer's Suggested Retail Price of $229.99.
"Pandigital has differentiated its products by ensuring that the cutting-edge technology we use translates into meaningful improvements in simplified usability and enjoyment for our customers," said Dean Finnegan, CEO and founder, Pandigital. "The new 10.4-inch PanTouch Clear frame has a look that is unique and modern, yet fits beautifully into traditional home decor. Its many easy-to-use features, such as its high definition display, Wi-Fi compatibility, ability to store 4000 photos, and easy-to-use PanTouch interface, make it incredibly functional."
The Pandigital PanTouch Clear 10.4-inch frame uses a High Definition display with a 1024×768 resolution, so it shows images in vibrant full-color clarity and quality with a 4:3 true photo aspect ratio. It includes 2GB of storage space, so consumers can store up to 4000 images using Pandigital's memory optimization mode.
The new 10.4-inch Pandigital PanTouch Clear frame comes with integrated Wi-Fi capabilities for a direct connection to a home wireless network. Also, it is Bluetooth compatible with an add-in USB dongle, so it can connect to Bluetooth compatible devices.
The new PanTouch Clear frame has a 6-in-1 digital media card reader (Compact Flash, SD, XD, MS/MSPro, MMC), so customers don't need to connect to a computer to view their photos. Customers who want to download photos from their computer onto the Pandigital PanTouch Clear frames can do so via a USB connection. In addition, the frame has programmable on/off times as well as clock and calendar functions. It can view JPEG photos, play video and MP3 music files.
The Pandigital PanTouch Clear 10.4-inch digital photo frame comes with a dark espresso wood frame, as well as white and charcoal interchangeable mats, and a white full-sized mat that covers the glass surrounding glass area to offer an option for customers who prefer a more traditional frame style.
Pandigital currently sells its digital photo frames at more than 28,000 retail storefronts of a variety of retailers, including department stores and mass merchants, in addition to office supply, consumer electronics, online, and catalog retailers.
About Pandigital
Privately held, Pandigital develops and markets digital entertainment products. The company recognizes the growing digital lifestyle market in the U.S. as well as the convergence of media such as MP3, digital photos and digital video and is delivering high quality products to the consumer market that provide the latest in technology combined with contemporary style, and simplified user interfaces. Pandigital is headquartered in Dublin, Calif. For more information, please visit pandigital.net.