Panasonic today announced a new family of LCD projectors with an enhanced set of features including long lamp life and new filter technology that reduces the maintenance cycle. The PT-FW430 Series projectors offer unmatched installation, operation and maintenance flexibility, while delivering the highest Return on Investment (ROI) for educational institutions, healthcare environments, government organizations and corporations in a variety of industries. The PT-FW430U features native WXGA (1,280 x 800) resolution and 3,500 lumens of brightness, while the PT-FX400U offers XGA (1,024 x 768) resolution and 4,000 lumens of brightness.
Operation and Maintenance Flexibility, High ROI
The new, reengineered lamps of the PT-FW430 Series projectors deliver up to 6,000 hours of life, and can also be used in Panasonic's PT-F300, PT-F200 and PT-F100 Series projectors. Panasonic's lamp standardization allows IT departments to reduce their inventory of replacement parts, resulting in cost savings for corporations, educational institutions and others with limited IT budgets. The projectors' user-friendly design makes it easy to replace lamps when necessary without having to remove the projector from its ceiling mount.
An innovative dust-resistant, sealed design protects important optical components from dust particles. In addition, the Panasonic PT-FW430 Series projectors are equipped with the new Eco Filter that features a lifespan of up to 12,000 hours. This unique filter, built specifically for the projectors' usage scenarios, such as dusty classrooms, significantly decreases replacement cycles and maximizes end users' investments in these high-performance projectors.
The PT-FW430 Series projectors are equipped with 2x zoom lens and the horizontal/vertical lens shift feature that makes it possible to move the projected image without moving the projector. This enables IT and facilities professionals to remove existing devices and install the PT-FW430 Series projectors in an existing mount, saving time and money associated with many replacement installations.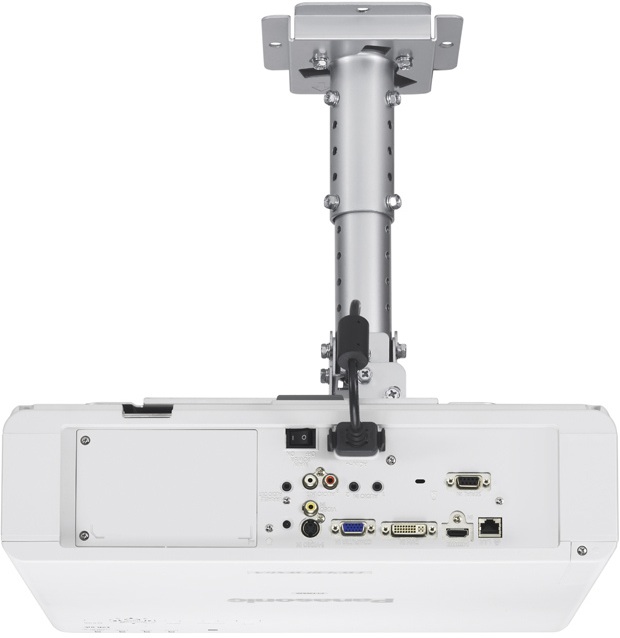 Additional Key Features
Both HDMI and DVI-I inputs
Wired LAN connection enables remote operation, which is ideal for ceiling-mounted use.
Multi Projector Monitoring and Control Software is available for managing multiple Panasonic projectors from a single PC, which means administrators can check a projector's status and condition without having to physically walk to the room where it is installed.
Optional Wireless Module (ET-WM200U) creates a wire-free projection experience.
Optional Easy Wireless Stick (ET-UW200) accessory for collaboration sessions.
Wireless Projector for iOS, a wireless-projection application for the iPad, iPhone or iPod touch via the iTunes App Store. The application makes it possible to project PDF and JPEG images from those devices to the PT-FW430 Series and other Panasonic wireless-capable projectors.
Eco Management function lowers power consumption by intelligently adjusting the status of the devices according to ambient light conditions and absence of input signals. The ecological design of the PT-FW430 Series greatly reduces environmental impact, with power consumption at 0.3W in Eco Standby Mode.
Image Quality
The exclusive Daylight View Premium feature measures surrounding illumination with a built-in ambient light sensor and corrects the image in real time, producing clear, crisp images with remarkable depth — even in brightly-lit rooms.
Detail Clarity Processor 3, a unique Panasonic image correction circuit optimally enhances each area of the screen. The projectors' ability to produce natural, crisp images and sharp details empowers conference and seminar speakers to give effective presentations.}
Specifications
Model
PT-FW430U
PT-FX400U
Lumens
3,500
4,000
Aspect Ratio
16:10
4:3
Contrast
600:1 (full on / full off)
600:1 (full on / full off)
Resolution
1,280 x 800 pixels
1,024 x 768 pixels
Lens
Manual zoom (2 x zoom), manual focus F 1.7-2.6, f 21.6-43.0 mm
Manual zoom (2 x zoom), manual focus F 1.7-2.6, f 24.0-47.2 mm
Lamp
250 W UHM lamp
250 W UHM lamp
Dimensions
(W x H x D)
(16-15/16 x 4-15/16* x 12-23/32 inches) (including the lens)
(16-15/16 x 4-15/16* x 12-23/32 inches) (including the lens)
Weight
Approximately 13.2 lbs
Approximately 13.2 lbs
MSRP
$3,999
$3,899
* With legs at shortest position.
Availability
The PT-FW430 Series projectors will be available in May 2011 through authorized Panasonic resellers.