Panasonic announced the new HM-TA20, full-High Definition pocket camcorder, which has a rugged design that is waterproof to approximately 10 feet, shockproof to approximately 5 feet and dustproof, and with the Night View Mode — it shoots exceptional video and photos, even in low-lighting. The Panasonic HM-TA20's small and compact size, combined with tough exterior, make this the ultimate video camera when it comes to portability. Plus, with a large, 3.0-inch Touch LCD, the HM-TA20 is easy and intuitive to use.
The Panasonic HM-TA20 shoots in full-HD 1920 x 1080 videos, and records in the MPEG-4 AVC file format (MP4), which is convenient for editing images with a computer and uploading files to the Internet. The HM-TA20 includes an integrated USB terminal in its compact body and after editing images within the camera, the user simply connects the camera to a computer and the built-in software, which must be installed first, will then always launch automatically upon connection. The HM-TA20 can also be used as a web camera, for online video chatting. Additionally, extended voice recording is also possible, for recording and storing sounds.
The HM-TA20 will automatically prompt the new Nigh Video Mode feature when it recognize dark shooting conditions and enable shooting at a frame rate of 1/15 width, which helps shoot high-quality video and still photos, even in dimly lit conditions.
Other features of the Panasonic HM-TA20, include:
An included tripod stand, making it easy to take self-portraits
4x digital zoom
Capability of 8-megapixel still photos
E.I.S (Electrical Image Stabilizer) during video recording
Panasonic's iA model for automatic settings
Face Detection
One-touch button for easy recording 1-button simple operation for easy recording
Simultaneous Voice recording (Linear PCM) with still pictures
The ability to cut a photo from a video
Three recording effects: sepia/monochrome/soft skin
Voice recording with stereo microphones
Direct connection to high-definition TVs with an HDMI cable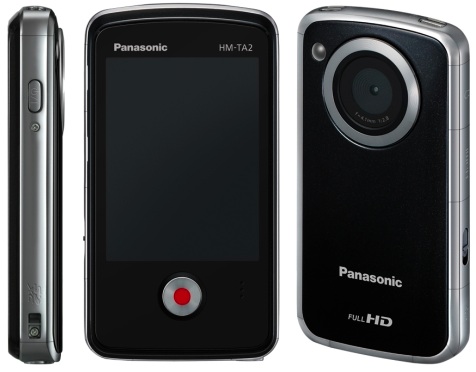 HM-TA2 – Same Features, Not Waterproof
Panasonic also announced the HM-TA2, which is also a compact and mobile camera with the same features, except it is not waterproof, dustproof and shockproof. Like the HM-TA20, the HM-TA2 features the Night View Mode, a large 3.0-inch LCD for easy and intuitive Touch Operation for controls such as, play, record, stop, zoom, and also settings such as edit and — all accessible with the touch of a finger.
Price and Availability (Update)
The Panasonic HM-TA20 ($199.99) and HM-TA2 ($169.99) will be available in early July 2011. The HM-TA20 will be available in orange, while the HM-TA2 will be available in red, white and dark grey.