Panasonic introduced the slim LUMIX DMC-ZS20 digital camera with a 20x optical zoom lens, Full-HD video recording and built-in GPS capabilities. With a newly-redesigned lens system, the LUMIX ZS20 features a new mechanical structure and optical system to further improve image quality and its Nano Surface Coating technology offers stunning image clarity with minimized ghosting and flare.
Beyond the quality of its lens, the LUMIX ZS20 integrates an enhanced built-in GPS functionality, making it easy for users to pinpoint locations where photos were taken and share with family and friends on internet maps. Map data can be installed onto the LUMIX ZS20 via a bundled DVD, giving the camera detailed worldwide maps of major regions on a scale of 1/25,000 or more precise. A user can copy the map data of a designated city to an SDXC/SDHC/SD Memory Card and get quick geographic information to know their location and if any landmarks are located nearby. More than one million landmarks and 82 countries/regions are covered in the bundled DVD map. Geo-tagged images are automatically sorted and can be played back along a map so that users can literally trace their photographic journey. Many GPS cameras show only the latitude and longitude of where a photo is taken, but the LUMIX ZS20 shows the name of the Country/Region, State/Prov./County, County/Township, City/Town/Village and Landmark — all of which is saved in the EXIF data.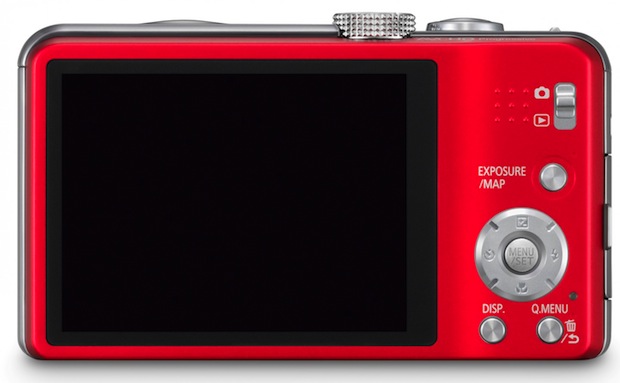 Featuring a newly developed 14.1-megapixel High Sensitivity MOS sensor, the LUMIX ZS20 is able to provide even higher image quality compared to its predecessors. Coupled with the advanced image processor Venus Engine, the LUMIX ZS20 features high speed, high sensitivity image recording. High speed burst shooting at 10 fps in full resolution and Light Speed AF allows users to capture even the most fleeting photo opportunities.
With the ability to record high-resolution, full-HD 1920 x 1080 60p videos in AVCHD Progressive (MPEG-4) format (or 30p in MP4), the LUMIX ZS20 upgrades its full-HD recording capability and is able to produce extremely clear video details, even when subjects are moving quickly. A powerful 20x optical zoom with 2-step Zoom function is available in video recording and the popular iA mode assists users, making video recording as easy as aiming the camera. A stereo zoom microphone provides videos with the high-quality stereo sound of Dolby Digital Stereo Creator, offering highly realistic sound in the captured video. The Auto Wind Cut function helps to block out wind background noise making voices clearer, and mechanical noise caused by zooming is suppressed to improve overall video sound quality.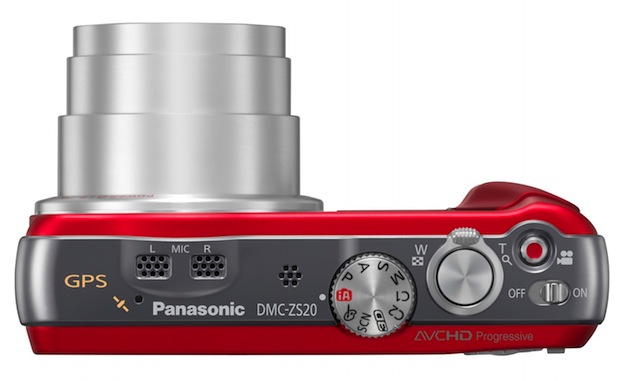 In addition, the ZS20 has manual control options, allowing the user to adjust shutter speed and aperture, and 3D Photo Mode, the LUMIX ZS20 also features a variety of special effects that add fun to a photography shooting experience. Creative Control mode offers a selection of artistic effects including Expressive Retro, High Dynamic, Sepia, Dynamic Monochrome, High Key, Low Key, Miniature Effect, Toy Effect and Soft Focus. In Miniature Effect mode, the peripherals are defocused while saturation and contrast are emphasized to make the picture look like a diorama. Video recorded in this mode is played back in 10x fast-forwarding, making it comical to watch. Panorama mode makes it possible for users to shoot 360-degree horizontal or vertical panoramic images by taking consecutive shots and then overlay it for the effect of a panoramic photo. Creative Retouch mode offers users six filters — Toy Effect, Soft Focus, Dynamic Monochrome, Expressive, High Key and Retro — to create artistic looking photos. Additionally, the Auto Retouch function automatically adjusts contrast and brightness for a clearer, more natural image and can be applied with the simple press of a button.
For users looking for a more intuitive photo experience, the LUMIX ZS20 features iA (Intelligent Auto) mode, which automatically activates a range of technologies to enhance photos without adjusting settings every time conditions change. The new HDR (High Dynamic Range) together with POWER O.I.S. with Active Mode, which suppresses blur from hand-shake, AF Tracking, Intelligent ISO Control, Face Recognition, Intelligent Scene Selector, Intelligent Handheld Nightshot, Motion Deblur mode, Intelligent Burst mode and Intelligent Exposure allows users to point and shoot, leaving the camera to do all the work in capturing beautiful imagery.
Features
24mm ultra wide-angle LEICA DC VARIO-ELMAR lens
Full-High Defintion (HD) video recording
Large, 3.0-inch 460,000-dot Smart Touch LCD Screen
Touch AF, Touch Zoom or Touch Shutter during recording and various playback functions like scrolling the map with high visibility.
Flexibility of USB charging or conventional AC adapter charging methods.
LUMIX Image Uploader for seamless and instant sharing via Facebook or YouTube. Users can checkmark the photo or video files they want to share, connect it to a PC with the included USB cable or by inserting the SD Memory Card directly into the PC's SD Card slot, and then the uploading automatically launches with an easy-to-follow menu option.
Also announced, the LUMIX DMC-ZS15 features a versatile 24mm ultra-wide angle and powerful 16x optical zoom LEICA DC VARIO-ELMAR lens (24-383mm on 35mm camera equivalent) with 32x Intelligent Zoom. Other features include:
12.1-megapixel High Sensitivity MOS Sensor
Full HD Video Recording in 60i AVCHD and 30p in MP4
Monaural Microphone
Large, 3.0-inch 460,000-dot Intelligent LCD
Pricing and Availability
The new Panasonic ZS-series cameras will be available in March 2012: