Features a 24mm Ultra-Wide-Angle Leica Lens and a Powerful 16x Optical Zoom, 3D Photo Mode and Built-In GPS Functions
Panasonic today introduced the LUMIX DMC-ZS10 as the newest member of its acclaimed LUMIX ZS-Series of digital cameras that has won worldwide popularity for its versatile lens from ultra wide-angle to long zoom. The LUMIX ZS10 continues its versatility with a 24mm ultra-wide-angle and powerful 16x optical zoom LEICA DC VARIO-ELMAR lens — and it features full-High Definition 1920×1080 video recording capability, a newly-adopted large 3.0-inch, 460,000-dot Smart Touch Intelligent LCD — which allows for Touch Zoom, Touch Auto Focus (AF), Touch Shutter, and Touch Playback. The LUMIX ZS10 also features a built-in GPS (Global Positioning System) function allowing geotagged images to be pinpointed via online maps and easily shared with friends and families.
Using the touch-screen, once locked on the subject, the LUMIX ZS10 tracks the subject with the AF tracking function even if it moves. With the Intelligent Scene Selector in the iA mode, the LUMIX ZS10 automatically switches to the appropriate mode according to the subject touched. For example, a touch on a human face switches to the portrait mode and a touch on the background or a landscape changes to the Scenery mode, while a touch on the subject close in the foreground changes to Macro mode. All menu settings are now available with touch control. The touch-screen operation excels not only for shooting, but also in playback, allowing the user to drag the images across the screen with a finger and browse the collection of photos as though flipping the pages of a book.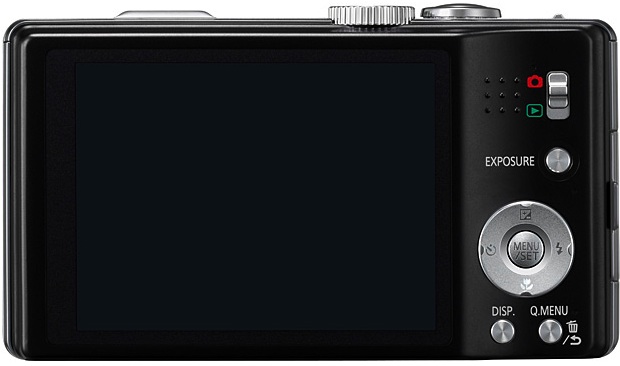 Newly adopted 14.1-megapixel MOS sensor and the advanced image processor Venus Engine FHD feature high speed, high sensitivity image recording to realize 1920×1080 full-HD movie recording and high speed burst shooting in high picture quality. It also compiles the Intelligent Resolution technology to perform optimum signal processing to give the entire image outstandingly natural clearness with fine details. The powerful 16x optical zoom — available while shooting videos — increases its power to 21x equivalent with the Intelligent Zoom function, taking advantage of Intelligent Resolution technology. The Sonic Speed AF also boasts approximately 49% higher speed compared to its LUMIX ZS7 predecessor.
The LUMIX ZS10 shoots 10fps in 14-megapixel full resolution with mechanical shutter and 5fps with continuous AF. Even higher speed burst shooting is available with LUMIX ZS10 if the electronic shutter is used – 60fps in 3.5-megapixel. The LUMIX ZS10 is an advanced photographic tool for recording not only great photos but also beautiful full-HD movies. In addition to Motion JPEG images, the LUMIX ZS10 can record high-resolution full-HD 1920×1080 60i videos in AVCHD (MPEG-4 / H.264) format. The high frame rate of 60i excels in recording moving subjects with outstanding smoothness. The videos also come with the high-quality stereo sound of Dolby Digital Stereo Creator, to offer highly realistic sound.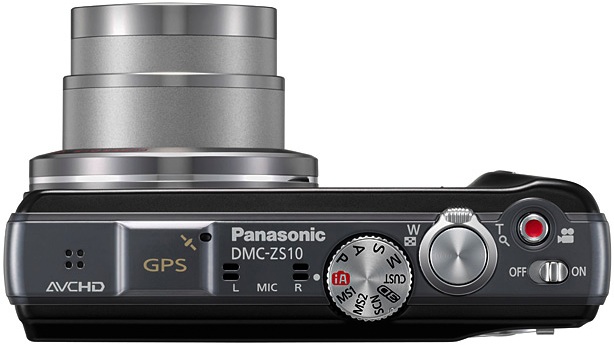 Panasonic's iA Mode, a suite of technologies that engage automatically, has evolved for more powerful image stabilization while video recording and taking still photos with Active Mode which boosts POWER OIS to excel in suppressing blur when recording videos at wide angle while walking. New iA features include the Intelligent Handheld Nightshot, which creates a beautiful night scenery with illumination by layering the images shot consecutively. Furthermore, the Intelligent Burst Shooting automatically sets the frame rate of burst shooting according to the subject's movement — whether it moves fast or slow — utilizing the mechanism of Intelligent ISO Control. Other features of iA include: Motion Deblur, POWER OIS, Face Recognition, Face Detection, AF Tracking, Intelligent ISO Control, Intelligent Scene Selector and Intelligent Exposure. With iA, taking beautiful photos is possible for users at any skill level. In addition, the Intelligent Resolution technology is always activated in the iA mode, which helps produce even clearer photos by precisely performing signal processing, pixel by pixel, to help ensure clear and sharp images.
The LUMIX ZS10 digital camera features a built-in GPS system which tags the location data where the photo was taken with its latitude and longitude automatically in the Exif data. Plus, the LUMIX ZS10 also shows the name of the Country/Region, State/Prov./County, County/Township, City/Town/Village and Landmark by using internal data to give users details on where the photos or videos were taken. The area information covers 203 countries or regions for global users. Plus, more than 1,000,000 landmarks over 78 countries or regions are in the database. Using the included software PHOTOfunSTUDIO 6.1 HD Lite Edition, photos and videos can be searched by location and names. The LUMIX ZS10 also features an internal clock that automatically adjusts to the local time when GPS is enabled — a handy feature for travelers.
The Panasonic LUMIX ZS10 also features the new Panasonic 3D Photo mode, which produces a realistic 3D photo by taking 20 consecutive photos and overlaying the two best images which provide a 3D image that can then be played on a Panasonic VIERA 3D HDTV. The format of the 3D image is compatible with MPO, and can also be played back on other MPO-compatible equipment such as a televisions, digital photo frame and printers. Panasonic also adds the LUMIX Image Uploader for seamless and instant sharing via Facebook (for digital photos) or YouTube (for videos). Users can checkmark the photo or video files they want to share, connect it to a PC with the included USB cable or by inserting the SD Memory Card directly into the PC's SD Card slot, and then the uploading automatically launches with an easy-to-follow menu option.
Price and Availability
The LUMIX ZS10 will be available in March 2011 and pricing will be announced approximately 30 days prior to shipping date. The LUMIX ZS10 will be available in black, red, blue, silver, and brown. It is known as the DMC-TZ20 in some countries.