Panasonic today introduced the LUMIX DMC-TS3, specifically designed for active users who want to capture high-quality photos and 1920 x 1080 full-High Definition videos, incorporating a powerful rugged design and new outdoor-friendly features, such as a built-in GPS function, a compass, altimeter and barometer. The new 12.1-megapixel LUMIX TS3 further strengthens its toughness, when compared to its LUMIX DMC-TS2 predecessor, and is now waterproof to approximately 40 feet (12m); shockproof to approximately 6.6 feet (2m); freezeproof to 14°F (-10°C); and dustproof.
The Panasonic LUMIX TS3 features a 28mm wide-angle LEICA DC VARIO-ELMAR lens, complete with a folded optics design. With an optical zoom up to 4.6x, the LUMIX TS3 works even while shooting video — giving the user the flexibility for a variety of different scenes — especially underwater, where movement is often restricted and the angle of view becomes important for composing shots. Thanks to the newly incorporated Intelligent Resolution technology, the Intelligent Zoom is available and extends the zoom to 6x equivalent.

Empowered by a newly developed 12.1-megapixel Hi-Speed CCD sensor, the LUMIX TS3 is compatible with high-speed, large-capacity signal processing required for 1920 x 1080 full-HD AVCHD video recording and high speed continuous shooting. The advanced image processor, the Venus Engine FHD, powers Panasonic's Intelligent Resolution and the Sonic Speed AF, allows for a shutter release time lag as short as approximately 0.005 second.
Beyond full-HD video recording capabilities, LUMIX TS3 excels in shooting videos with a Dolby Digital Creator so audio quality is also high. The built-in LED light greatly supports shooting in dark situations. The LUMIX TS3 also features a 2.7-inch, 230,000-dot Intelligent LCD screen with wide-viewing angle and Anti-Reflection coating.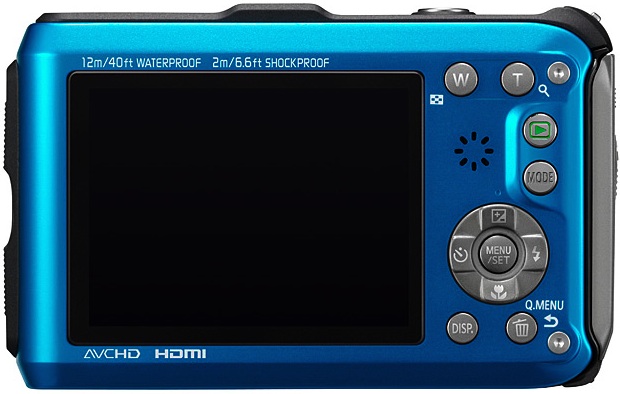 Panasonic's iA Mode, a suite of technologies that engage automatically, has evolved for more powerful image stabilization while video recording and taking still photos with Active Mode which boosts POWER OIS to excel in suppressing blur when recording videos at wide angle while walking. Other features of iA include: POWER OIS, Face Recognition, Face Detection, AF Tracking, Intelligent ISO Control, Intelligent Scene Selector and Intelligent Exposure. With iA, taking beautiful photos is possible for users at any skill level. In addition, the Intelligent Resolution technology is always activated in the iA mode, which helps produce even clearer photos by precisely performing signal processing pixel by pixel to help ensure clear and sharp images.
The newly-integrated GPS function, shows the name of the Country/Region, State/Prov./County, County/Township, City/Town/Village and Landmark by using the internal data to give users details on where the photos or videos were taken. The area information covers 203 countries or regions for global users. Plus, more than 1,000,000 landmarks over 78 countries or regions are in the database. Using the included software PHOTOfunSTUDIO 6.1 HD Lite Edition, photos and videos can be searched by location and names. The LUMIX TS3 also features an internal clock that automatically adjusts to the local time when GPS is enabled — a handy feature for travelers.
The Panasonic LUMIX TS3 also features the new Panasonic 3D Photo mode, which produces a realistic 3D photo by taking 20 consecutive photos and overlays the two best to create a 3D image that can then be played on a Panasonic VIERA 3D HDTV. The format of 3D images is compatible with MPO, and can also be played back on other MPO-compatible equipment such as a televisions, digital photo frames and printers. Panasonic also adds the LUMIX Image Uploader, for seamless and instant sharing via Facebook (for digital photos) or YouTube (for videos). Users can checkmark the photo or video files they want to share, connect it to a PC with the included USB cable or by inserting the SD Memory Card directly into the PC's SD Card slot, and then the uploading automatically launches with an easy-to-follow menu option.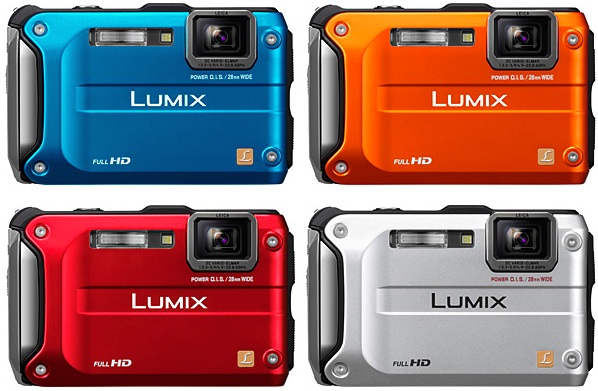 Price and Availability
The LUMIX TS3 will be available in March 2011 and pricing will be announced approximately 30 days prior to shipping date. The LUMIX TS3 will be available in red, orange, silver, and blue. In some countries this camera is named the DMC-FT3.