Panasonic today announced the 16-megapixel LUMIX DMC-FZ60 super-zoom digital camera, featuring a high-quality LEICA DC VARIO-ELMARIT 25mm ultra wide-angle lens with a 24x optical zoom lens. The new camera is the more affordable version of the just announced LUMIX DMC-FZ200 for those not needing professional features or accessories. The FZ60 does improve upon last year's LUMIX DMC-FZ47 model, claiming 12% improved battery life (450 shots per charge), along with more megapixels.
The LUMIX FZ60 is equipped with a high-quality LEICA DC VARIO-ELMARIT 25mm ultra wide-angle lens with a 24x optical zoom (35mm camera equivalent: 25-600mm), allowing for flawless shooting of dynamic landscapes or indoor group portraits. With the camera's Intelligent Zoom function, zoom can be increased to 48x equivalent while Intelligent Resolution technology maintains picture quality. Nano Surface Coating technology, is dramatically minimizes light reflection for the entire visual light range (380nm-780nm) by applying the extra-low refractive index coating with nano-sized structure on the surface of the lens resulting in super clear picture with dramatic reduction of ghost and flare. Compared of 14 elements in 10 groups, including 3 ED lenses and 2 aspherical lenses with 3 aspherical surfaces, the LUMIX FZ60's advanced lens system fits within an outstandingly compact body while delivering exceptional optical performance and suppressing distortion at the wide-end and color bleeding at the tele-end.
The LUMIX FZ60's newly developed 16.1-megapixel High Sensitivity MOS sensor combined with the high performance image processing LSI Venus Engine results in elevated response, sensitivity and image quality. Integrating high-speed digital signal output technology, the LUMIX FZ60 shoots 10 fps (frames per second) in 16.1-megapixel full resolution with mechanical shutter and 5 fps with continuous AF. Combined with its quick start-up time of approximately 0.9 seconds, the LUMIX FZ60 is able to capture even the most fleeting shooting opportunities.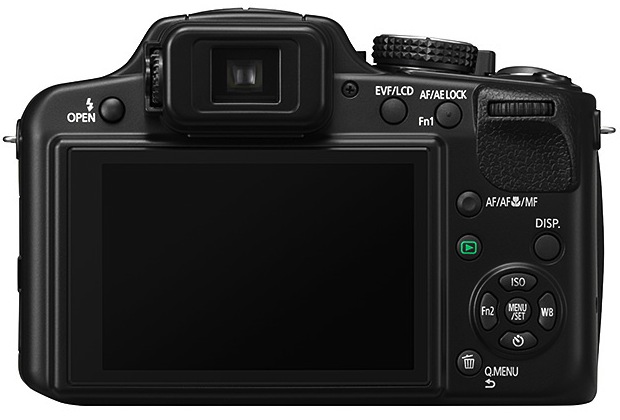 The LUMIX FZ60 is an advanced photographic tool for recording not only great photos but also beautiful high-resolution full-HD 1920×1080@60i (NTSC, sensor output 30p) videos in AVCHD (MPEG-4 / H.264) format or 30p in MP4. A special, separate button on the top of the camera body allows the user to instantly start recording videos while shooting photos without having to change any settings.
The powerful 24x optical zoom with POWER O.I.S. is available in video recording and Active Mode encourages recording at a wide angle such as shooting while walking, without causing deterioration of image quality. The popular iA (Intelligent Auto) is also available in video recording and Creative Video mode lets the user set the shutter speed and aperture manually to make even more impressive videos. The high-quality stereo sound of Dolby Digital Stereo Creator offers highly realistic sound to accompany the motion images. The stereo microphone comes with zoom noise reduction system and the Auto Wind Cut function blocks out most of the noise from background wind.
The LUMIX FZ60 incorporates Intelligent Auto mode in pursuit of the ultimate ease of operation and the reduction of missed shots. A comprehensive integration of POWER O.I.S. with Active Mode, AF Tracking, Face Recognition, Intelligent ISO Control, Intelligent Scene Selector, Intelligent D-range Control, Intelligent Handheld Night Shot, Intelligent HDR(High Dynamic Range) and Motion Deblur functions, iA mode lets the camera do all the work, leaving the user free to compose shots, aim and shoot subjects. Additionally, iA Plus mode is newly enhanced to enable defocus control, exposure compensation and white balance adjustment using iA mode.
While offering a convenient shooting-assist function such as iA / iA Plus, the LUMIX FZ60 is capable of full manual control for users a step beyond the beginner stage who enjoy more creative photography. With its P/A/S/M mode, users can enjoy creative shooting, expressing themselves not only in photos but also in video.
The popular Creative Control mode has been upgraded, adding eight new filter options including Soft Focus, Dynamic Monochrome, Impressive Art, One Point Color, Cross Process, Low Key, Toy Effect and Star Filter in addition to the conventional Expressive, Retro, High Key, Sepia, High Dynamic, Miniature Effect modes .
Additional features of the LUMIX FZ60 include:
3.0-inch, 460,000-dot Wide Viewing Angle Intelligent LCD screen
HDR (High Dynamic Range) mode
Panorama Shot mode
3D Photo mode
Optional Accessories including Tele Conversion Lens, Close-up Lens, Lens Adaptor, ND Filter, PL Filter, MC Protector, Battery Pack, Soft Case, Camera Bag, etc.
Price and Availability
Pricing and availability for the LUMIX DMC-FZ60 will be announced 30 days prior to shipping. See more digital cameras.