MSI introduced the 17-inch GT780DXR and 15-inch GT683DXR mobile gaming powerhouse laptops featuring the NVIDIA GeForce GTX 570M graphics processing unit (GPU) and optional Blu-ray burner. Part of MSI's G Series family of gaming laptops, the new units are designed for the serious gamer seeking unmatched power with an unprecedented immersive experience.
The MSI GT780DXR (pictured above) comes in a brushed aluminum chassis with 17.3-inches of Full HD Non Reflection display and SteelSeries programmable backlit keyboard. In addition to its high performance NVIDIA GeForce GPU and Intel Core i7 processor, the gaming workhorse is supported by 12 GB of DDR3 system memory and 1TB of hard disk with Raid 0 or no redundancy. For gamers craving even more dominance, the unit can be amped up with Blu-ray burner, 1.5TB of hard disk and 16GB of DDR3 memory.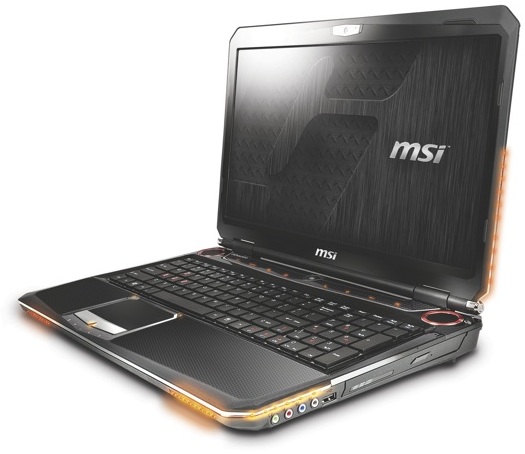 The 15.6-inch Full HD Glossy GT683DXR model also comes equipped with the NVIDIA GeForce GTX 570M GPU and an Intel Core i7. A similar suped up version of the model is also available with Blu-ray Burner and 16GB of DDR3 memory. In addition, both models are packed with the following:
NVIDIA GeForce GTX 570M: Latest generation GPU improves overall performance by up to 20 percent for an intense gaming experience
MSI's Exclusive Turbo Drive Engine (TDE) Technology: Provides a 3-5 percent boost in graphics performance to accelerate video decoding
MSI Cooler Boost Technology: Instantly increases airflow to cool down the engine for better performance
Dynaudio Speakers with THX Surround Sound: Professional quality speakers with built-in sub-woofer to accurately reproduce THX's surround sound experience
To provide gamers with a more complete portable gaming package, MSI and Newegg have teamed up to offer a free SteelSeries Kinzu gaming mouse with the purchase of any GT780DXR-099US and GT683DXR-427US notebook throughout September 2011. Engineered for the serious gamer, the ambidextrous Kinzu provides a scalable pointer speed of up to 3200 Counts Per Inch (CPI), is compatible with all types of gaming surfaces and has gaming grade correlation optical sensor for incomparable stability and reliability. For more information visit Newegg.com.
Price and Availability
GT780DXR-099US → $1,999.99
GT780DXR-095US → $1,799.99
GT683DXR-427US → $1,849.99
GT683DXR-423US → $1,699.99
Specifications