Seven New Monster iPhone/iPod Accessories Offer Unprecedented Convenience and Flexibility
Monster, a leading manufacturer of advanced consumer electronics accessories, announced it has begun shipping seven new accessory products geared for Apple iPod and iPhone™ use that significantly enhance iPod and iPhone capabilities for in-car, at-home and on-the-go portable use. Like all Monster products, the new high-quality iPod and iPhone accessories are designed for total reliability, convenience and ease-of-use.
| | |
| --- | --- |
| | |
| iCarPlay Wireless 1000 | iCarPlay Wireless 800 |
Exciting New On-the-Road Capabilities and Features, Plus More At-Home Flexibility
The new Monster iCarPlay Wireless 1000 ($99.95) and iCarPlay Wireless 800 ($79.95) devices provide consumers with innovative and easy-to-use solutions for transmitting music wirelessly via their iPhone™ or iPod through any car radio FM radio station while on the road. In addition, both devices let users enjoy their music on the road while charging their iPhone or iPod at the same time. This ensures that power depletion during long road trips will be a thing of the past, and iPhones and iPods will always have plenty of power upon arrival.
Adding to its flexibility and usage options, the iCarPlay Wireless 1000 FM transmitter can be used both in the car as well as at home or in the office. Users simply unplug the USB cord from their car's Cigarette Lighter Adapter (CLA) and then power the iCarPlay Wireless 1000 from any standard powered USB port or via a Monster iSlimCharger or iCharger Travel USB wall charger. When the iCarPlay device is not in use in the car, that same CLA with the USB plug can be used to power other electronic devices designed to charge via a USB connection. Users simply employ the charging cable that was supplied with that device along with the iCarPlay Wireless CLA plug — eliminating the need to carry along multiple chargers.
A variety of breakthrough technologies allow the Monster iCarPlay Wireless devices to achieve a new level of performance and convenience in wireless iPod transmission. For instance, thanks to Monster AutoScan 3D technology, the iCarPlay Wireless 1000 and 800 automatically scan the entire FM spectrum three times to lock onto the clearest FM frequency available. In addition, the iCarPlay Wireless 1000 and 800 both output line-level audio signals for full-range dynamic sound with minimal distortion for an incredible listening experience. The iCarPlay Wireless 800 features the innovative Monster "M-Drive" multi-function control, a one-knob control that lets users keep their eyes on the road at all times.
iCarCharger 1000
For users with vehicles equipped with an Auxiliary Input and who want to be able to charge their iPod or iPhone on the road, the Monster iCarCharger™ 1000 ($49.95) uses a 30-pin dock connector to charge the device while playing audio through a mini-jack cable with internal cable management, and features built in navigation controls on the back of the cigarette lighter adapter plug for easy music playback.
Note: the iCarPlay Wireless 1000, Wireless 800 and iCarCharger 1000 are Works With iPhone certified products for iPhone and iPhone 3G.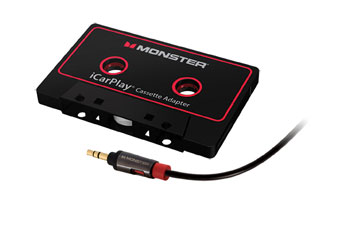 iCarPlay Cassette 800
Monster's new iCarPlay Cassette 800 ($19.95) adds even more on-the-road flexibility, letting users play iPod and iPhone tunes through their car stereo cassette players. It features an improved cassette head for superior sound quality, as well as a high-fidelity chipset and digital display. In addition, it features easy cable routing, with four cable ports to fit virtually any tape cassette.
| | |
| --- | --- |
| | |
| iCable 800 | iCable 1000 |
The new iCable 800 (SRP: $14.95) and iCable 1000 (SRP: $29.95) offer users a simple high-performance in-car connection solution. Many of today's car audio systems have a convenient 1/8 inch minijack audio input for easy hookup of any iPod, iPhone or other portable media player. Unlike wireless transmitters and cassette tape adapters, the iCable 1000 and 800 devices provide a direct wired connection from your iPod or iPhone to your car's audio system so it can deliver your music with full fidelity that's free of static and FM interference (3- or 7-foot lengths available).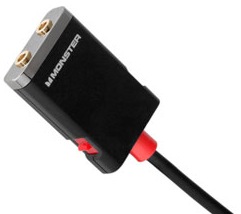 iSplitter 1000
Monster is also helping consumers maximize their enjoyment of Apple iPod and iPhones products in the home entertainment space with its new high-performance iSplitter 1000 ($19.95), which lets users customize the volume for the personal tastes of two separate listeners, providing a high quality stereo mini-splitter that output to two sets of headphones with independent volume controls and mute.
Revamped High-Impact Packaging
Monster has completely revamped the packaging for the Apple accessory line, featuring a new emotion-evoking design with metallic finishes, red and black accents that mirror the products' industrial design as well as large windows to showcase the products clearly, plus easy-to-understand key technology call-outs on the front.