Logitech introduced the ambidextrous Gaming Mouse G300 designed for PC gamers. The wired USB mouse features nine programmable controls, letting you move keyboard commands to buttons that are in easy reach.
Additionally, the Logitech Gaming Mouse G300 lets you store up to three game or player profiles in the mouse's onboard memory, so you can run the mouse without software or even move it between computers without having to reconfigure each time. User-configurable lighting assigns one of seven colors to each profile, so you can easily see which profile you're using. Plus, the mouse's sculpted, ambidextrous shape is equally comfortable in either hand.
The Logitech Gaming Mouse G300's gaming-grade 2500-DPI optical sensor tracks slow or fast movements on a wide variety of surfaces, so you get exactly the action you want from every incremental hand movement. Also, the mouse communicates over USB at up to 1000 reports per second — as fast as USB can go, and eight times faster than standard USB mice.
In addition, optional drag-and-drop software makes it easy to set the Logitech Gaming Mouse G300 up exactly the way you want. The software also works with G-Series keyboards and headsets, so you can create macros once and share them between your G-Series family of devices.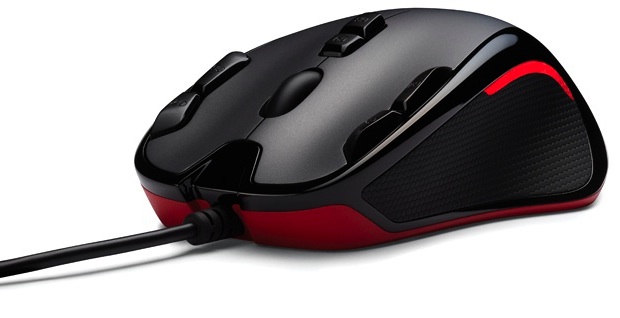 The G300 is compact — only 112mm long x 73mm wide x 35m high — and features a sculpted, ambidextrous shape, so it's great for people with smaller hands, lefties, and those who prefer to play with a fingertip grip style. It's also lightweight, coming in at 111g with the cable, and 85g without.
Pricing and Availability
The Logitech Gaming Mouse G300 is expected to be available in the U.S. and Europe in September 2011 for $39.99.