Onyx Platinum Phono Cartridge, Academy Sovran Speaker, DSS D-to-A Converter and Lusso Turntable Set Standards for Superb Sound Reproduction
CES '09, LAS VEGAS Jan. 8, 2009 — Koetsu USA, the U.S. distribution arm of the world-renowned Japanese cartridge manufacturer, introduces into the U.S. market the Koetsu Onyx Platinum Phono Cartridge, Chario Academy Sovran Speaker, Black Note DSS 30 D-to-A Converter, and Montegiro Lusso Turntable, four exceptional audiophile products, at the 2009 International Consumer Electronics Show.
The Onyx Platinum Phono Cartridge by Koetsu, a company whose turntable cartridges set the standard for analog sound reproduction, is an exquisite achievement designed to delight phono aficionados for its uncanny ability to bring listeners closer to their music. Weighing just 12.5 grams, its hand-carved, oblong onyx body houses 10 turns of silver-plated, hand-wound copper coil wire, a platinum magnet, and a boron rod cantilever. The Onyx Platinum Phono Cartridge is available now at a suggested
price of $8,000.
The Academy Sovran speaker by Chario Loudspeakers, Italy's largest manufacturer of high-performance speakers, is a handsome floorstanding three-way speaker system that delivers an astonishingly full and accurate soundstage. Designed using advanced acoustic studies of binaural hearing in small rooms, the Sovran decreases the harmful masking effect of low frequency standing waves, and enhances tonal components of the stereophonic signal so they are more easily detected.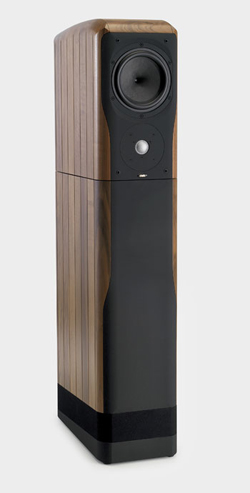 The Sovran is rated for 180 Watts into 4 Ohms. It's housed in an elegant, two-part, furniture-grade cabinet — beautifully constructed of solid walnut, mahogany or blond oak — in which the lower section contains two eight-inch subwoofers and the upper section contain one midrange and one tweeter. Four proprietary and cylindrical elastomer puffers that dampen vibrations by dissipating mechanical energy separate the sections. The Sovran Speaker is available now at a suggested price of $16,000/pair.
The DSS 30 Digital Static Source by Black Note, a supplier of innovative, high-quality digital audio products, is a powerful high-performance Digital-to-Analog converter and Solid State memory player capable of processing any kind of audio format through any kind of external device connected via a USB cable. This unique multi-format Player is compatible with Wav, Flac, AAC, OGG, DFF, WMA, MP3, MP4, M4O files — and many more. A built in directory program organizes custom playlists in a variety of ways, and a large display shows key information about individual tracks, including, titles, times, and formats.
The DSS can be operated in a wireless mode and also features a RS232 computer port, and an Ethernet port allowing use in a LAN network. Using its coax input and output, the DSS can also be used as a traditional high-end D/A Converter for CD transports. The Black Note DSS 30 is available now for a suggested price of $2,876. During 2009, Black Note will introduce three additional models — the DSS 15, DSS 50 and DSS 70, with suggested retail prices of $1,500, $7,200 and $12,800, respectively.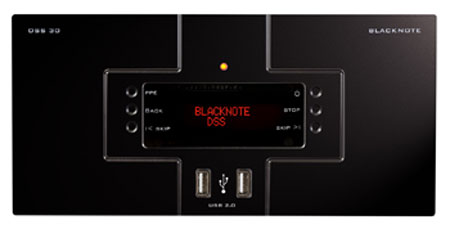 The Lusso Turntable by Montegiro, a company exemplifying German engineering at its best, is a spectacular example of audiophile art and performance. Its four striated acrylic and aluminum towers rely on an innovative, advanced bearing system characterized by a highly precise milled shaft polished at the end to minimize friction with the bearing balls, which are made of a special ceramic designed for compatibility with the bearing mirror. The mirror is made of sapphire and supplied by a company that fabricates precision parts for Swiss watchmakers. The outer part of the bearing is made of stainless steel, the inner part of a special, customized bronze.
The bearing plate is also stainless steel and matched to the bearing shaft. Plate and shaft are attached by first heating the plate then inserting the cold shaft. After cooling, the fit is so tight there's no need for screws or other fasteners. As a result, the system operates very very smoothly with very little friction. The Lusso Turntable is available now for a suggested price of $31,527.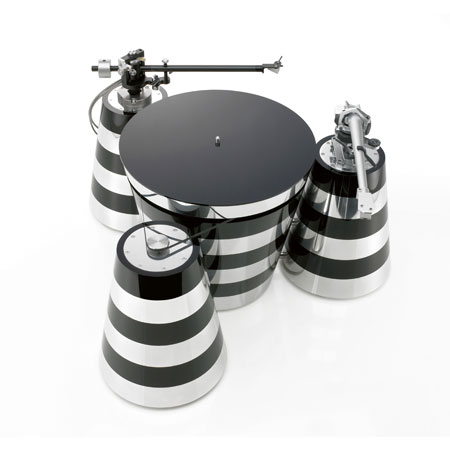 The Koetsu Onyx Platinum Phono Cartridge, Chario Sovran Speaker, Black Note DSS, and Montegiro Lusso turntable can be seen with other outstanding Koetsu USA products at Suite 29-235 at the Venetian Hotel, during CES.
About Koetsu USA
Koetsu USA is a vertically integrated distributor of high-end audio products including phono cartridges, tone arms, turntables, preamps, amplifiers, digital players, loudspeakers, cables, racks and other products. Its brands include Koetsu, Chario, Montegiro, Golden Note and Black Note. For further technical information, visit Koetsu USA's Web site at www.koetsuusa.com.
# # #