JVC announced the GC-XA1 ADIXXION, a wearable or mountable, waterproof, high-definition camcorder for point-of-view or handheld video recording. The pocket-sized camera weighs barely a quarter pound, and is waterproof to a depth of five meters (16.4 feet), shockproof to withstand a fall from two meters (6.5 feet), dustproof and freeze-proof, all without the need for a separate housing. In addition, the rugged ADIXXION includes built-in Wi-Fi, 1.5-inch LCD monitor, image stabilizer and offers full HD 1920×1080/30p and 1280×720/60p recording.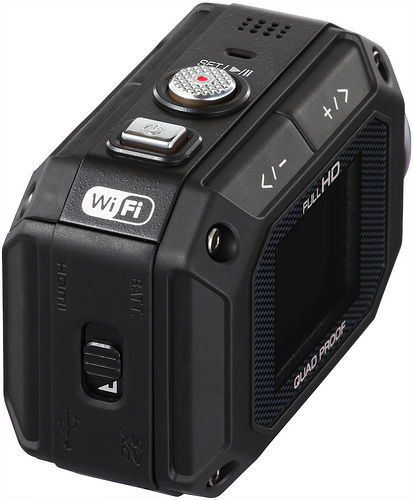 With the introduction of ADIXXION, JVC brings its decades-long expertise in digital imaging to a category that has seen growing popularity recently as more people want to capture their snowboarding, surfing, mountain biking or just about any other activity, whether on the slopes or with the family at the waterpark. What JVC brings to the category is a camera that comes loaded with standard features compared to competing models and one that can tackle a wide range of activities right out of the box, with no need for an optional housing. ADIXXION comes with two mounts — a goggle mount and a flexible mount suitable for a wide range of applications, including use on a helmet or surfboard. A wide range of optional accessories are available, including specialized mounts.
In addition to its water/shock/dust/freeze-proof design — what JVC dubs "Quad Proof" — ADIXXION features a 1.5-inch LCD monitor built into the side of the camera so it's easy to check footage in the field without the extra weight and bulk of an external monitor. The camera body features a scratch-resistant rubber texture, and there are two standard tripod sockets for easy mounting in a variety of locations. It weighs a mere 0.28 lbs. (126 grams).
Built-in Wi-Fi opens up a range of possibilities, including wireless connection to a smartphone that can be used to monitor the image — great for framing the shot when the camera is mounted on a helmet or other location where the user can't see the LCD. Wi-Fi also makes it possible to send images live to a PC or mobile hotspot, or transfer data to a PC for sharing via social networks. What's more, ADIXXION can stream live high definition video in real time to USTREAM without a PC. Android and iOS apps are available for free download, while Wi-Video PC software is supplied with the camera.
Video recording resolutions range from Full HD to WVGA, and all video is recorded as QuickTime-compatible MP4 files that can be easily viewed on computers and smartphones. Digital image stabilization minimizes camera shake, and the camera includes rolling shutter cancellation that corrects the image skewing that can occur with CMOS image sensors. The result is distortion-free images, even during fast-moving scenes.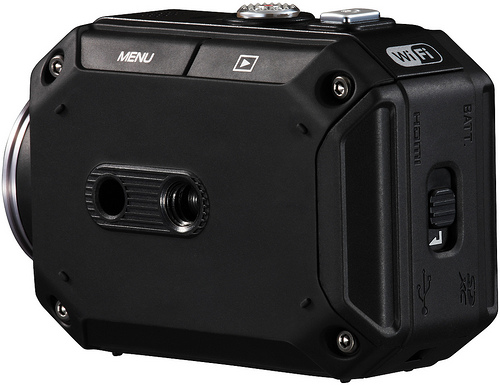 A built-in HDMI terminal allows easy connection to HDTVs. Other features include ultra-wide lens, time lapse recording at intervals of 1 or 5 seconds, digital 5x zoom, 5 megapixel stills, white balance (auto/manual), exposure (auto), and self-timer functions.
The GC-XA1 comes with a goggle mount, flexible mount, two lens protection covers, a USB cable and battery. A wide variety of optional accessories is available, including roll bar and handle bar mounts.
Features
Quad-Proof Design: 5m Waterproof / 2m Shockproof / Dustproof / Freeze proof
Built-in Wi-Fi (smartphone linking, streaming and remote control functions)
5M CMOS Sensor
Super Wide Lens
1.5-inch LCD Monitor
5x Digital Zoom
Digital Image Stabilizer (DIS)
Full HD 1920×1080 30p Recording
5 Megapixel Stills
SD/SDHC/SDXC Card Slot
Time-Lapse REC
White Balance (Auto & Manual) / Exposure (Auto)
Self-timer
HDMI Terminal (mini)
USB Cable provided
Wi-Video PC Software provided
Price and Availability
The JVC GC-XA1 ADIXXION action camera will be available in late summer for $349.95. See more camcorders.