JVC CS-AR500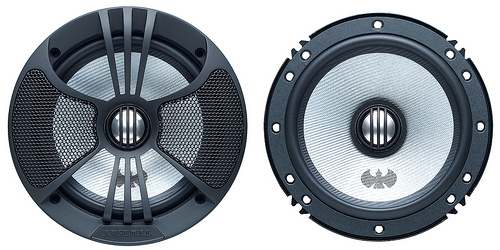 JVC CS-AR650


JVC CS-AR690
JVC Mobile Entertainment offers a broad new selection of Arsenal Series speakers to appeal to specialist retailers and enthusiasts. The advanced Arsenal Series coaxial speakers CS-AR500, CS-AR650, CS-AR680 and CS-AR690 feature a tweeter voice coil that delivers point source radiation and new box-in-line design for crossover networks.
All Arsenal speakers have a sensitivity of 92dB/Wm.The two-year standard warranty applies to all Arsenal products.
Slim Design
A slim design allows for installation in a wider range of cars. This is enabled by application of neodymium magnets and aluminum frames. Tweeter voice coil within the woofer delivers point source radiation.
Hemp Fiber
Hemp fiber provides natural mid and high frequency sound, creates a smooth transition between woofer and tweeter crossover frequencies, and is strong and light enough for more power capability and stunning sound quality.
Sophisticated Design–Powerful and High-Grade
A T3 Chassis (Thermal Transfer Technology) transfers heat away from the voice coil to the speaker's aluminum basket by connecting the neodymium magnet structure to the basket, using a layer of heat transfer silicon. The aluminum basket acts like a radiator for the T3 process, providing the best protection against an overheated voice coil, especially under high current loads. With Radiating Equalizer, the center piece on an Arsenal component driver is connected to the speaker's T3 structure, and efficiently dissipates heat from inside of the motor structure. Its unique shape design also blends and focuses high-frequency sound waves toward the listener's ears.
A Solid Neodymium Disc Magnet is unlike conventional magnets, which radiate magnetic force in all directions. The Solid Disc Magnet focuses more magnetic power upwards toward the speaker's voice coil–creating more power handling and SPL.
CS-AR690-6″ x 9″ 2-Way Speakers / CS-AR680-5″ x 7″ 2-Way Speakers
240W Max./80W RMS (CS-AR690)
180W Max./60W RMS (CS-AR680)
Frequency Response: 30Hz-30,000Hz (CS-AR690)
Frequency Response: 35Hz-30,000Hz (CS-AR680)
Glass Fiber + Foaming PP Cone Woofer
Titanium Hard Dome Tweeter
Point Source Structure
In-Line Network
Neodymium Magnet (Tweeter)
ighlighted items also apply to models CS-AR650 and CS-AR500.
CS-AR650-6.5″ 2-Way Speakers / CS-AR500-5″ 2-Way Speakers
180W Max./60W RMS (CS-AR650)
150W Max./50W RMS (CS-AR500)
Frequency Response: 35Hz-20,000Hz (CS-AR650)
Frequency Response: 40Hz-20,000Hz (CS-AR500)