JBL, Inc., announced today that its JBL Control NOW loudspeakers and WEM-1 Wireless Expansion Module have received CES Innovations 2009 Design and Engineering Awards from the Consumer Electronics Association (CEA).
The JBL Control NOW indoor and JBL Control NOW AW outdoor loudspeaker (SRP: $249 and $279 each, respectively) have a unique quarter-round shape that provides unprecedented installation possibilities. They incorporate innovative technologies to deliver clear and evenly distributed sound.
The loudspeakers' curved shape enables them to be corner-mounted between a ceiling and wall or between two walls, or placed horizontally or vertically on a shelf. They can be joined to create half-round, three-quarter-round, or round configurations, and hung from a ceiling using an optional pole-mount bracket and standard ceiling-fan hardware.
The JBL On Air WEM-1 Wireless Expansion Module (SRP: $359) adds wireless capability to any loudspeaker. It includes a transmitter module that connects to an audio source; a receiver/amplifier unit that connects to a pair of speakers; a remote control; and accessories. It is ideal for adding multiroom capability to an existing audio system; adding surround speakers to a home theater system without running speaker wires; distributing music to anywhere in the home; and for many other applications. The WEM-1 offers a variety of connection and installation options.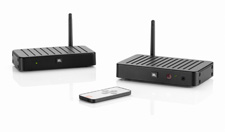 About JBL, Inc.
JBL is a unit of Harman International Industries, Incorporated (www.harman.com). Harman International designs, manufactures and markets a wide range of audio and infotainment products for the automotive, consumer and professional markets, and maintains a strong presence in the Americas, Europe and Asia, employing more than 11,000 people worldwide. The Harman International family of brands includes AKG, Audioaccess, Becker, BSS, Crown, dbx, DigiTech, Harman Kardon, Infinity, JBL, Lexicon, Mark Levinson, Revel, QNX, Soundcraft and Studer. Harman International's stock is traded on the New York Stock Exchange under the symbol NYSE: HAR.