Streams Music and Calls Wirelessly from Multimedia Devices, Including Blackberry Smartphones & Apple iPhone, iPod Touch
Nothing is less sexy than a tangled nest of wires in your bedroom, office, purse, or carry-on. GN Netcom, the world leader in innovative headset solutions, is officially cutting the cords today with the retail launch of the highly anticipated Jabra HALO, a Bluetooth stereo headset compatible with Blackberry Smartphones and Apple's iPhone™ and iPod touch. Featuring Multiuse capabilities, the Jabra HALO gives users the ability to seamlessly connect to two Bluetooth-enabled mobile phones, smartphones, MP3 player, television, video game console, or laptop, and enjoy wireless audio content and answer phone calls in crystal clear stereo sound. Best Buy North America retail stores will be first to market the Jabra HALO beginning today.
Weighing only 3 ounces, the Jabra HALO features an over-the-head, foldable design that fits neatly into a compact carrying case, making the headset ideal for travel and small enough to take it wherever you go. Whether you're rocking out to tunes on a crowded subway, kicking back late at night with video games, or passing the time watching Hulu or YouTube, the HALO offers wireless connectivity in-style – and with a 30 foot operating range. The Jabra HALO is compatible with Blackberry devices and both Apple's iPhone and iPod touch (2nd generation). Ideal for use on airplanes, the Jabra HALO also connects to all 3.5 mm multimedia playing devices including cell phones and laptops.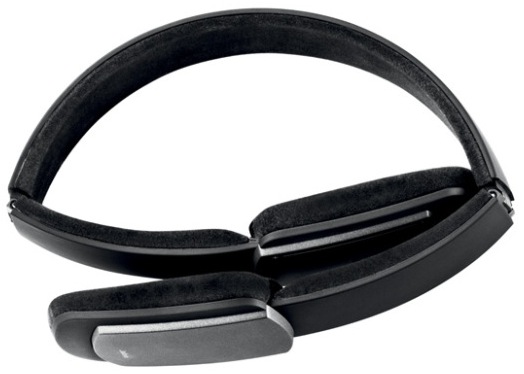 "As a Best Buy partner, we are committed to delivering wireless Bluetooth solutions that compliment their wide selection of mobile and entertainment products," said Jonas Forsberg, General Manager North America, Mobile Division, GN Netcom. "The Jabra HALO provides the ultimate audio experience, while maximizing portability and versatility."
The Jabra HALO includes an intuitive on/off functionality, a discreet display to reveal battery and connectivity status, and a touch volume control, allowing you to leave your phone in a pocket or bag and control your music directly from the headset. In addition, ensuring that users won't miss phone calls while listening to music, the HALO fades out music to allow for incoming calls. The headset also has the versatility to switch between wireless and wired connectivity if a device doesn't support Bluetooth stereo (A2DP) technology.
Featuring Zirene Power Bass for audio enhancement, the Jabra HALO creates a broad and powerful listening experience, giving users the best stereo playback available in small devices. The quality audio effects improve the low frequency sound perception, creating an immersive listening experience. The HALO uses advanced DSP technology, Audio Shock Protection, and Jabra's Noise Blackout™ technology to monitor and balance incoming audio volume, blocking out background sound and leaving both sides of the call with a natural-sounding voice quality.
The Jabra HALO is now available exclusively at U.S. Best Buy retail stores and BestBuy.com for the suggested retail price of $129.99. The HALO will be available at Best Buy Canada retail stores beginning in October.
Key product specifications of the Jabra HALO include:
Bluetooth wireless technology

A2DP for music streaming
Zirene Power Bass for audio enhancement
Multiuse™, for connection to two Bluetooth devices
Auto-pairing to mobile phone
Remote control music with touch sensors
Noise Blackout technology with dual microphones
Foldable headband and carrying pouch
Talk time – 8 hours
Music time – 8 hours
Standby time – 13 days
Weight – 3 ounces
Dimensions – 0.2in (L) x 0.5in (W) x 0.7in(H)
Micro USB Charger
iPhone 3.0 software update for the iPod touch is required to make the headset work via Bluetooth (sold separately)
About GN Netcom
Through its Jabra brand, GN Netcom is a world leader in innovative headset solutions. With sales offices around the world, GN Netcom develops, manufactures and markets a broad range of wireless headsets for mobile users and both wireless and corded headsets for contact center and office-based users. GN Netcom's business activities also include its original equipment manufacturing (OEM) business. GN Netcom has been helping people communicate since 1869 and is a listed company on OMX Nordic Exchange.