Jabra today introduced the CRUISER2 in-car speakerphone featuring voice controls and superior sound for hands-free calling on the road. Successor to the CRUISER, the Jabra CRUISER2 features improved sound quality, ensuring crystal-clear audio quality with each and every call. Several other features make it easy-to-use and set it apart from other speakerphones including Caller ID – the speakerphone 'talks' to the user, verbally communicating who is calling, exactly how the caller is programmed into the mobile phone (for example, "Mom calling" or "Martin Work calling") – and Voice Announcements that provide audio guidance when setting-up the device and to clearly announce connectivity status and low battery levels.
The Jabra CRUISER2 Bluetooth in-car speakerphone makes hands-free in-car calls even easier. To start with, its voice gives you simple pairing instructions the first time you turn it on. After that you just put it on your sun-visor and it will connect automatically with your mobile every time. It will also synchronise with your phonebook. The Jabra CRUISER2 will then say the names of the contacts in your phonebook when they call. And when you answer, Noise Blackout technology and a dual microphone system ensure the conversation always sounds just right. The Jabra CRUISER2 looks right in any car and its carefully positioned buttons make it exceptionally easy to operate. You won't run out of charge because its voice will tell you when it needs more power. It is also equipped with an FM Transmitter and A2DP, which allow you to stream your music from your phone to the car stereo. With the Jabra CRUISER2 you stay in control of the conversation without taking your hands off the wheel.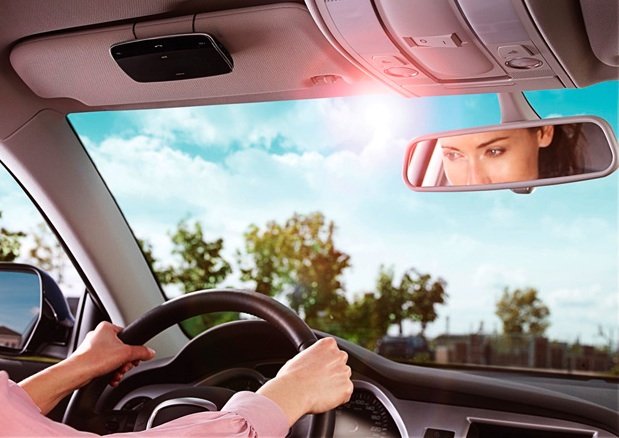 Features
Superior sound for hands-free calls in the car
Multiuse – connect to 2 Bluetooth devices simultaneously
Voice Guidance – Caller ID, battery status, set-up and more
Dual microphone technology for excellent sound
No installation needed – just clip it onto the sun visor
Connect it to your car radio with the FM transmitter and transmit your music and calls to your car stereo (A2DP)
Up to 14 hours talk time and up to 20 days standby time
Price and Availability
The Jabra CRUISER2 In-Car Speakerphone is available now $79.99. Find more Jabra news and reviews.