Integra has introduced the mid-priced DTR-50.2, a 7.2-channel, THX Select 2 Plus certified, 3-zone network audio-video receiver. The 135-watt per channel receiver provides discrete output stages for all seven amplifier channels.
The Integra DTR-50.2 has seven 3D-Ready HDMI 1.4a inputs and dual simultaneously active outputs. It can support a wide range of AV sources and delivering those signals to state of the art video displays, including 3D systems. HDMI 1.4a also supports the ultimate in lossless digital audio via Dolby TrueHD and DTS-HD Master Audio, plus Audio Return Channel and HDMI Thru.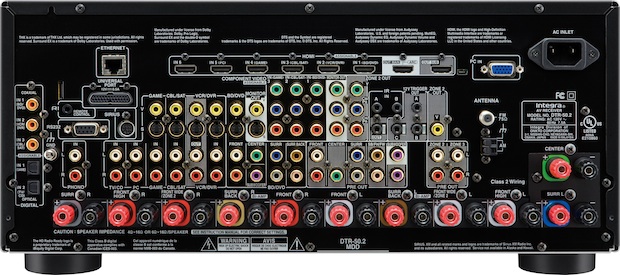 The DTR-50.2 receiver is well equipped with the latest audio processing from Audyssey, Dolby, DTS, and THX. Both receivers also support the added height dimension of Dolby Pro Logic IIz and height or width expansion provided by Audyssey DSX. It provides automated room-set-up using Audyssey MultEQ advanced room equalizer, and for those who sometimes play their systems low volume levels, there is Audyssey Dynamic Volume and Dynamic EQ.
The Integra DTR-50.2 receiver upscales HDMI sources to 1080p using Faroudja DCDi Cinema processing and provides ISFccc Certified Calibration Controls to support individual color calibration for all video inputs.
The receiver include extensive audio networking and Internet radio capabilities using built-in Ethernet and USB interfaces. These connections are also used for firmware updates, and the USB interface ensures 'Made for iPod/iPhone' compatibility. It is also certified for Windows 7 and DLNA Version 1.5. Internet Radio connectivity is configured for the popular commercial portals, Pandora, Rhapsody, Sirius Internet Radio, Napster, Mediafly, Slacker, and vTuner.
The DTR-50 A/V receiver includes extensive custom integration features, with bi-directional Ethernet and RS232 interfaces, powered Zone 2, and Zone 2/3 preouts. The receiver has three programmable triggers, two IR inputs and one output, and lockable dealer settings. It is Sirius Satellite and HD Radio Ready, and has 40 AM/FM/Sirius radio presets.
Price and Availability
The Integra DTR-50.2 A/V receiver is available now for $1,400.