InFocus introduced two new IN5540 series high-performance installation 3LCD projectors, delivering stunning picture quality and incredible installation flexibility ideal for auditoriums, convention halls, and other large venues. The new projectors look the same and offer the same features except for resolution and brightness.
InFocus IN5542 installation projector provides XGA (1024 x 768) resolution and 7500 lumens of incredible brightness
InFocus IN5544 features native WXGA (1366 x 800) resolution and high brightness at 6500 lumens
Both 3LCD projectors offer seven different lens choices, motorized lens shift, and lens memory, making these projectors customizable for even the most demanding installations. These versatile projectors feature incredibly wide lens shift that can cover a total range of 2.7 screen areas vertically and 2.2 screen areas horizontally. With 90-degree vertical projection, these projectors are also useful for retail signage, events, and many other applications.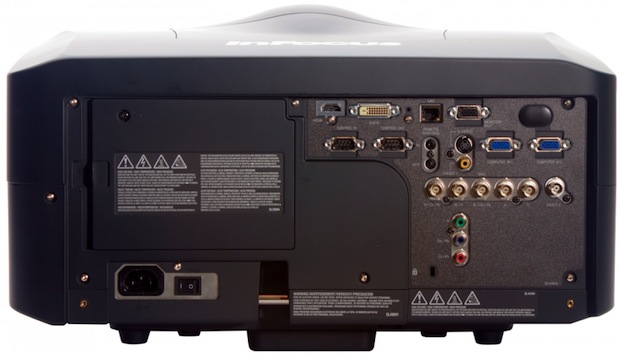 Designed to meet the demands of the largest venues, the IN5542 and IN5544 projectors are equipped with a four-layer high-efficiency filter rated for 10,000 hours, making these projectors inexpensive to operate and a great choice for constant-use applications. The lamp and filter are easily accessible, making maintenance fast and hassle-free.
InFocus's IN5540 series installation projectors are equipped with sophisticated networking capabilities and broad digital connectivity, including inputs for HDMI, DVI-D, VGA, BNC, and more. The projectors also feature a RS232 in port and a RS232 out port. With the optional InFocus LiteShow III wireless adapter, users are freed from cables and can transmit data, audio, and video over a 300-foot range.
With seven optional lenses, the IN5540 projectors are amazingly versatile, offering throw ratios ranging from 0.5:1 to 9.2:1. The seven lens choices are:
Ultra Short Throw lens (throw ratio 0.5 – 0.6)
Short Throw lens (throw ratio 1.2 – 1.5)
Standard Short Lens (throw ratio 1.5 – 2.2)
Standard Lens (throw ratio 1.8 – 2.3)
Standard Long Lens (throw ratio 2.2 – 2.9)
Long Throw lens (throw ratio 2.8 – 5.2)
Ultra Long Throw lens (throw ratio 5.0 – 9.2)
Price and Availability
InFocus IN5542 → $9,499 (available now)
InFocus IN5544 → $9,999 (available now)