Google just announced Nexus Q, which combines the power of Android and Google Play to easily stream music and video in your home–all controlled by an Android smartphone or tablet. The sphere-shaped device, designed and engineered by Google, has a built-in amplifier so you can attach speakers and a micro HDMI port to connect to your HDTV. You can use the Nexus Q to stream movies or TV shows from the Cloud (Google Play). Alternatively, Nexus Q can stream from Android smartphones or tablets within your home.
Google's calling the innovative Nexus Q, "the first-ever social streaming device." Once connected to your home Wi-Fi network and the Internet, Nexus Q becomes the bridge to play/send music or videos from Android devices to a big screen TV and/or externally connected speakers or an A/V receiver. A unique jukebox feature for parties lets visitors to your home stream songs from their Android device.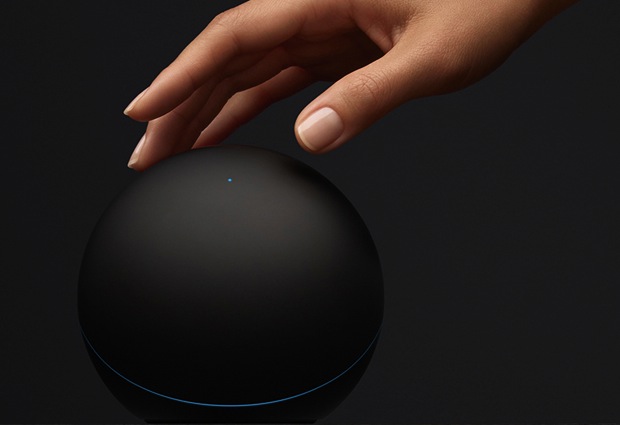 In part, Nexus Q is Google's answer to Apple TV and AirPlay — Apple's wireless streaming protocol for iOS devices that offers similar features. Interestingly Apple designed Apple TV to be hidden, and seamlessly work for streaming audio/video, but Google designed the Nexus Q to be seen, highlighting its glowing light band and touch-sensitive volume/mute features. While the Nexus Q does more than Apple TV, I am not sure the extra bells and whistles are worth 3-times the price.
Specificaitons
TosLink Optical audio (S/PDIF)
10/100BASE-T Ethernet (RJ45)
Micro HDMI (Type D)
Micro AB USB
Banana jack speaker outputs
Rotating top dome volume control
Capacitive touch sensor for mute
Supports Google Play Music, Google Play Movies and TV, YouTube
OS: Android 4.0 (Ice Cream Sandwich)
CPU: OMAP4460 (dual ARM Cortex-A9 CPUs and SGX540 GPU)
Memory: 1GB LPDDR RAM, 16GB NAND flash memory
Diameter: 4.6 inches (116mm)
Weight: 2 pounds (923 grams)
Finish: Die-cast, precision machined zinc bottom housing
Injection-molded, interactive balanced top dome with precision bearing and satin touch coating
Price and Availability
Nexus Q is available today in the U.S. for pre-order from Google Play for $299, and it will ship mid-July 2012. See more media players.