Epson America announced the MovieMate 85HD home entertainment projector/DVD combo solution. MovieMate offers a high-quality, high-brightness projector, CD/DVD player, microphone input, and stereo speakers in one portable unit for versatile, easy-to-use home entertainment in any room of the house and even outside for a backyard barbecue or outdoor movie night.
As the new flagship, MovieMate 85HD offers 720p high-definition resolution for outstanding image quality and detail. With a brighter energy-efficient E-TORL lamp than previous models, MovieMate 85HD projects up to 2,500 color and white light output for viewing not only in a dark, movie-like setting, but in a lighted room or even at dusk outdoors.
MovieMate 85HD allows users to enjoy movies, video games, TV shows, sporting events and more, all up to 12 times larger than a 40-inch widescreen TV. It features a high-quality 3LCD projector, built-in DVD player and Dolby® Digital audio with two built-in 10W speakers for home cinema sound.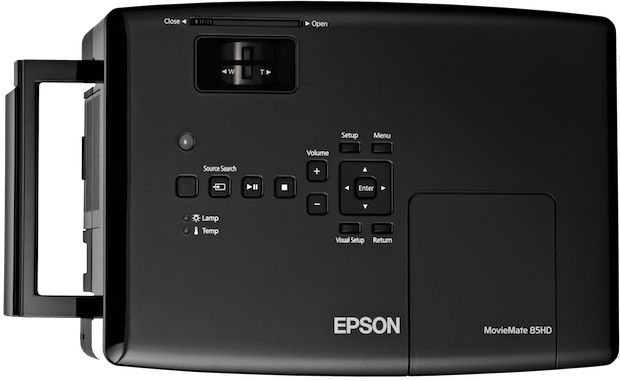 The MovieMate 85HD includes an integrated microphone jack to allow for voice amplification, which is great for narrating a slide show, karaoke and more. In addition, it offers easy plug 'n play connectivity, including HDMI, allowing consumers to watch and share digital content from computers, camcorders, digital cameras, or MP3 players. Both units are compatible with Apple® iPod, Nintendo® Wii, Sony® PlayStation® 3 and Microsoft® Xbox 360®. With no additional cables needed for set-up, users can easily project a 16:9 widescreen 60-inch image from only six feet away or a 120-inch image from just 12 feet away.
Availability and Support
Epson MovieMate 85HD ($899) will be available in late-September through national resellers. The projector comes with Epson's top-of-the-line service and support, including a two-year limited warranty with toll-free access to PrivateLine®, Epson's priority technical support, and free two-business-day exchange with Extra Care℠ Home Service.