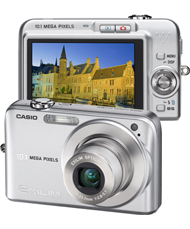 10-megapixel, Best-in-class 7 shot/second continuous shutter; Subject blur reduction and auto-tracking AF utilizing motion analysis technology
Casio, Inc. and its parent company Casio Computer Co., Ltd., announced the release of the EXILIM ZOOM EX-Z1050, the latest addition to its stylish series of EXILIM digital cameras. Featuring a newly developed, high-performance, image-processing module, Casio's new EX-Z1050 makes it even easier to enjoy shooting super-high resolution, 10.1-megapixel images.
Last year, Casio released the revolutionary EXILIM ZOOM EX-Z1000, the first digital camera in the world to deliver 10.1 megapixel resolution in a size that fits easily in the palm of the hand. The EX-Z1000 won acclaim for making it simpler than ever to capture images at a remarkably high resolution, and its trend-setting performance created a new market.
"The newly developed EX-Z1050 is as stylish and slim as any EXILIM and was designed to allow a wider variety of people to enjoy photography at the super high resolution of 10.1 megapixels," said Bill Heuer, Vice President of Casio's Digital Imaging Division. "The camera's small size, new 2.6-inch wide and bright LCD display and lightweight aluminum construction makes it the perfect camera to take anywhere. It also boasts a superior design that provides an unforgettable look and feel."
The EX-Z1050 is more than just convenient, stylish and cool: this camera is a truly high-performance device. It is built with the highly sophisticated EXILIM Engine 2.0 — a high-performance, image-processing module that not only improves image quality, but also boosts performance by delivering new motion analysis technology. This latest model in the EXILIM series also delivers best-in-class* high-speed, continuous shooting at 7 shots per second until memory is full, empowering users to capture every split second of an action-packed scene.
* As of January 30, 2007, for compact digital cameras. Based on a Casio survey.
Main Features
Stylish, slim, compact model featuring 10.1 million effective pixels and 3X optical zoom.
Maximum 7 shots/second high-speed continuous shooting (Limited to 2.0 megapixels and normal image quality. Requires use of a High Speed SD Memory Card.*)
EXILIM Engine 2.0 image processing module featuring new motion analysis technology.

Blur-reduction technologies
Automatically analyzes the velocity and vector of a moving subject and sets the most appropriate ISO sensitivity and shutter speed.
Anti Shake DSP reduces blur due to shaky hands and subject movement, using high shutter speeds and high sensitivity settings.
Movie mode with electronic camera shake compensation function.
"Auto Tracking AF" function follows moving subjects, keeping them continuously in focus until the photo is taken.

Newly developed 2.6-inch Wide and Bright LCD display (maximum brightness of 1,000 cd/m2 at center of screen).

Control panel that displays shooting information on the right side of the monitor and enables direct camera control.
Super Life Battery allows up to 370 shots to be taken when fully charged.
*The number of shots that can be taken varies depending on the SD Memory Card used.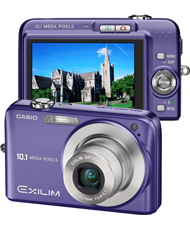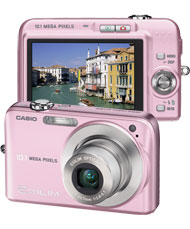 Exclusive to the Casio EXILIM line of digital cameras in the U.S., is the eBay Best Shot mode. The eBay Best Shot mode is one of 38 Best Shot Modes featured in the EX-Z1050. eBay Best Shot takes photos at a size that is image optimized for display on eBay, allowing picture takers to more quickly and easily create photos for selling items on eBay. eBay Best Shot mode also includes Auto Macro, an ideal setting for capturing images of small items such as jewelry, tags, etc., thus automatically adjusting the focus from acquiring fine details in close up shots to capturing large items from a distance. eBay Best Shot mode allows users to capture optimized images at an ideal size for eBay. For ease of use, eBay photos are stored in a special eBay directory.
The EXILIM ZOOM EX-Z1050 will have a suggested retail price of $299.99 and will be available in four fashionable colors — pink, blue, black and silver.
EXILIM is a registered trademark of Casio Computer Co., Ltd. Any other company or product names are registered trademarks or trademarks of those companies.
Casio, Inc., Dover, N.J., is the U.S. subsidiary of Casio Computer Co., Ltd., Tokyo, Japan, one of the world's leading manufacturers of consumer electronics and business equipment solutions, established in 1957. Casio Inc. markets calculators, keyboards, digital cameras, mobile presentation devices, disc title and label printers, watches, cash registers and other consumer electronic products. Casio has strived to realize its corporate creed of "creativity and contribution" through the introduction of innovative and imaginative products. For more information, visit www.casiousa.com.