The New PowerShot A590 IS, A580 and A470 Digital Cameras Join Canon's Industry-Leading "A" Series with Top Marks for Innovation, Image Excellence, Ultra-Easy Operation and Even Greater Affordability
Canon U.S.A., Inc. is expanding its acclaimed and perennially popular A-series of PowerShot digital cameras with the introduction of three new, easy-to-use, easy-to-afford, feature-rich models: the optically image stabilized 8.0 megapixel PowerShot A590 IS; the 8.0 megapixel PowerShot A580, and the creatively color-keyed 7.1 megapixel PowerShot A470 digital cameras.
As always, a high level of technological wizardry – forged over Canon's 70 years of imaging innovation and continually refined to meet the photography needs of every user from the tentative first timer to the passionate photo pro – is part of the birthright of every Canon A-series camera. Add in these cameras' ultra-affordable pricing – ranging from an estimated $129 – $179 each – and the ever-present convenience and cost effectiveness of power driven by two AA batteries (rechargeable recommended, but standard alkaline are acceptable) and it is no small wonder that Canon's PowerShot pedigree remains popular among consumers.
"Whether capturing the expression of delight on a child's face amid a flock of brightly colored birthday balloons; the brilliant sunlight as it reflects off newly fallen snow, or the fiery-orange horizon as day slips into night, these three new PowerShot A-series digital cameras make capturing, saving and sharing memories as simple as 1-2-3," said Yuichi Ishizuka, senior vice president and general manager, Consumer Imaging Group, Canon U.S.A.
PowerShot A590 IS
Ruggedly crafted yet lightweight, the dark silver body of the 8.0 megapixel PowerShot A590 IS camera fits firmly and comfortably into a user's hand. Featuring an impressive 4x (35mm-140mm equivalent) zoom lens, the PowerShot A590 IS model offers a richer feature set than other entry-level PowerShot cameras.
Staking out the upper-middle tier of the PowerShot A-series, the new camera offers users the option of 19 shooting modes, from fully automatic to fully manual operation for greater creative control. The A590 IS camera also features Canon's advanced Optical Image Stabilization (OIS). OIS significantly reduces the effects of camera shake (and the blurry pictures they cause) by actually allowing the lens to shift to compensate for camera movement or shake. Unlike electronic image stabilization systems that essentially mask the movement rather than actually compensating for it, Canon's Optical "lens shift" system preserves the inherent quality of the stabilized image without covering up parts of the image. This OIS technology is even effective when the movement being stabilized is caused by extended telephoto or low-light shooting conditions.
The camera's range can be expanded even further with the use of any one of three optional converter lenses: a 1.75X tele-converter, a 0.7X wide converter and a 52mm close-up lens for eye-catching and frame-filling macro photography. The converter lenses attach over the camera's zoom lens by means of an optional conversion lens adapter.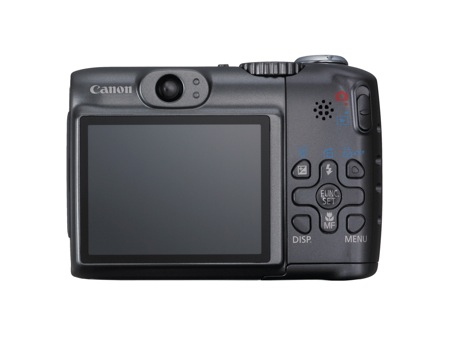 PowerShot A580
Sharing most of the features and visual virtues of its image stabilized sibling, the PowerShot A590 IS, including a fast 4X (35mm-140mm equivalent) optical zoom lens, the PowerShot A580 camera features an 8.0 megapixel CCD-type image sensor, the option of fully automatic or semi-automatic settings and 16 easily selectable shooting modes. Incorporating a virtually identical body design as its slightly more feature-rich A-series family member, the PowerShot A580 camera is easily distinguished thanks to the pearlescent silver patina of its equally durable shell and easy to hold grip.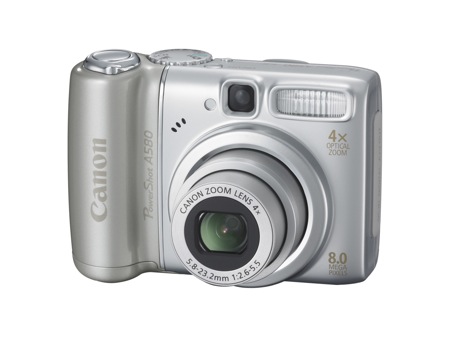 PowerShot A470
The successor to last year's successful entry level PowerShot A460 camera, the new 7.1 megapixel A470 model has undergone a striking external makeover, matched dramatically by a number of key internal enhancements and advancements. The immediate eye-impact created by the PowerShot A470 camera stems from its availability in four different color accents – blue, red, orange and gray – over a contoured metallic finish body that highlights the camera's new design and reflects the camera user's individuality, personality and taste.
This camera's technological features compeliment its expressive style. Ideal for first time camera-users, the PowerShot A470 camera features a 3.4X (38mm – 132mm equivalent) optical zoom lens that opens up at a responsive f/3.0 at wide-angle and f/5.8 at the telephoto settings. Despite its positioning as an entry-level camera with style, PowerShot A470 camera offers users the option of exploring their creative sides with manual overrides for ISO speed, exposure compensation and white balance, while enjoying the absolute ease of the automatic setting and taking advantage of the camera's 14 shooting modes.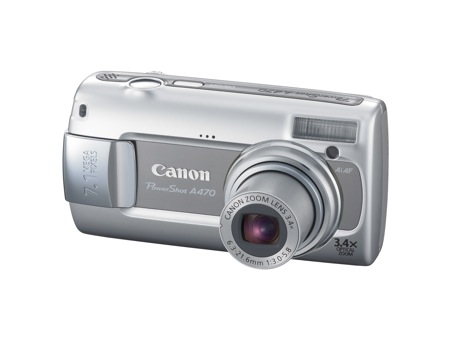 Shared Advancements:
Face Detection Technology
The joy of capturing precious memories of family get-togethers — without having to make excuses as to why Uncle Joe is deep in the shadows while Aunt Betty's features are completely washed out — is enhanced with Canon Genuine Face Detection Technology. The feature automatically detects, tracks, focuses and optimizes the exposure on up-to nine forward looking human faces in the frame or can lock onto a specific face in the crowd, ensuring that all (or one) are in focus and properly exposed, with or without flash. While the Face Detection algorithm automatically prioritizes up to nine human faces in a scene, it can also be instructed via the Face Select and Track function to lock on to a single face in the crowd, ensuring that the chosen countenance is finely focused, no matter where it appears in the frame. In addition to focus and exposure control, the new A-series cameras now use Face Detection Technology to improve white balance, providing more consistent color accuracy than earlier models.
Motion Detection Technology
Canon's innovative and exclusive Motion Detection technology consolidates motion information for both the camera and the photographic subject and determines whether the subject has moved and what if any adjustments to focus or exposure needs to be made. It will even detect and assess subject movement between each frame, making it quicker and easier to capture a series of images. Additionally, when paired with Canon's Optical Image Stabilization system — offered on the PowerShot A590 IS camera among other PowerShot models — the motion detection system's onboard vibration-detecting gyro senses and compensates for movement due to camera shake, even if the subject remains still.
Beating the Blur
Among the intuitive innovations built in to the new PowerShot A-series models is the Hi-ISO Auto function that works together with Motion Detection Technology to reduced the effect of blur in low light shooting situations by automatically changing and balancing the ISO sensitivity along with the shutter speed. The result can be a beautifully composed and exposed scene of a child blowing out birthday candles in a dimly lit room, or an atmospheric portrait of a beloved grandparent, captured in the soft, ambient afternoon light.
Though equipped with Canon's precise nine-point Autofocus system, the PowerShot A590IS, A580 and A470 models offer an AF-Point Zoom feature that works together with the cameras' advanced Face Detection Technology to enable users to double check facial expressions before snapping photos. Once it has been enabled in the recording menu, AF-Point Zoom can be engaged when photographing people simply by pressing the shutter button halfway. The cameras also feature Canon's Intelligent Orientation Sensor that determines whether a scene is being shot as a vertical or horizontal image. It then automatically rotates the image for quick and easy review on the cameras' bright, sharp and easy-to-read, 115,000-pixel 2.5 inch LCD monitor.
Getting the Red Out
All three of the new A-series PowerShots feature Canon's newly developed Automatic Red Eye Correction, an optional feature that engages while shooting, minimizing the need for correction before printing or sharing images. As an added convenience, the new cameras are compatible with MMC, MMC+ and HC MMC+ memory cards as well as standard SD and SDHC memory cards.
DIGIC III
The "brain" in every new Canon digital camera from the PowerShot A-series to the EOS Pro models is the exclusive DIGIC III imaging processor. This proprietary chip is responsible for the cameras' higher performance levels including faster start up, faster autofocus and quicker shutter response times that leave long lag competitors far behind. What's more, DIGIC III improves both the image quality and the cameras' power consumption, extending the battery life under typical shooting conditions.
Easy Does It
The new "Easy Mode," available exclusively with the PowerShot A590 IS and A580 models, simplifies camera operation even more than the standard Full Auto mode. Beginning with limiting the active control buttons to two — the shutter button with zoom lever and the flash on/off button — and reducing the number of informational icons on the camera's display, Easy Mode effectively eliminates user confusion and enables newcomers to capture memorable moments without feeling overwhelmed or intimidated by the camera's extensive capabilities.
Easy Mode automatically sets the optimal shooting conditions including determining whether to shoot in conventional or macro mode, adjusting the focus and level of flash output for extreme close-ups. What's more, when combined with Face Detection and Motion Detection Technologies, Easy Mode determines the correct exposure for the face even in dark shooting conditions and will adjust the ISO speed to reduce blurring due to subject movement.
Canon "Can Do"
Adding to the Easy Mode ethos that Canon brings to these new PowerShot A-series digital cameras is the new Sunset shooting mode, included as part of the cameras' offered Special Scene modes. A staple on all Canon PowerShot cameras, Special Scene modes utilize Canon's extensive photo expertise to assign the optimal camera settings for the shooting conditions selected. Whether indoors or out; in day or night light (and now with the Sunset setting, in-between too) these A- series cameras "know" how to take the best pictures in a vast array of shooting situations. Other Special Scene modes help make impressive images even when shooting through aquarium glass; across snowy vistas and sandy beaches, or into lush, colorful foliage or at a brilliant burst of fireworks against a black satin sky.
For all of their automatic allure, the new A-series PowerShot cameras offer more experienced users a full complement of useful features and a comprehensive menu of selectable scene settings that can feed the creative impulse or help make the most out of any picture-perfect moment. The PowerShot model A590 IS even offers a full manual setting that maximizes the shooter's creative control, making each image a truly personal expression.
In the Boxes
Scheduled to appear in stores beginning in March 2008, both the PowerShot A590 IS and the PowerShot A580 digital camera kits. include two standard AA alkaline batteries, a 32MB MMC+ Memory card, a USB interface cable, an AV cable, a wrist strap, and Canon's software suite. The kits carry estimated retail prices of $179.99* and $149.99*, respectively. The PowerShot A470 digital camera kit is also scheduled to ship in March, with similar standard accessories at an estimated retail price of $129.99.*
About Canon U.S.A., Inc.
Canon U.S.A., Inc. delivers consumer, business-to-business, and industrial imaging solutions. Its parent company, Canon Inc. (NYSE:CAJ), a top patent holder of technology, ranking third overall in the U.S. in 2007**, with global revenues of $34.9 billion, is listed as one of Fortune's Most Admired Companies in America and is on the 2007 BusinessWeek list of "Top 100 Brands."
* Prices are estimated retail prices. Actual selling prices are set by dealers and may vary.
Availability, specifications and prices are subject to change without notice.
** IFI Patent Intelligence Press Release, January 2008