Bracketron introduced the first powered and motorized in-wall mounting solution for iPad. The new iRoom iDock, available in portrait and landscape models, can be flush-mounted to seamlessly and stylishly integrate the iPad or iPad 2 into any room. A patented motorized docking system opens and closes the iDock to securely store the iPad, and the dock also includes both power and composite audio internal connections. The mount's faceplate (bezel) comes in three sleek colors including brushed aluminum, piano black and opal white, or can be color customized so that the bezel perfectly matches your unique interior design.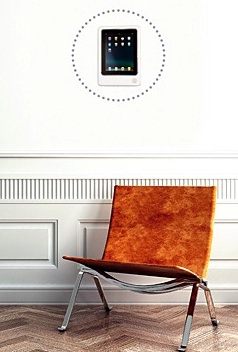 The iDock features a unique powered opening mechanism with a one-touch proximity sensor. When activated, the sensor recognizes when you are nearby and switches the iDock to the open position allowing you to insert your iPad. After ten seconds the iPad door closes again automatically. The proximity sensor can also be disabled to lock the iPad permanently in place. When the iPad is inserted into the dock, you have total control of smart home applications on the device while it is also being charged. The iDock also automatically charges the iPad battery when mounted. If you experience a power outage, the iDock simply opens automatically and releases the iPad for removal.
The iRoom iDock is integrated flush with the wall using a special flush-mounted socket. The iDock is then connected to the power supply and inserted into the flush-mounted socket. For added security, the iDock's proximity sensor and automatic opening and closing functions can be disabled if desired. The iDock landscape model is particularly suited for viewing movies, presentations and photos on the iPad. A 30-pin connector powers the landscape version. The iDock is also external contact-friendly, which makes interesting new functions possible such as connecting the dock to a keypad or fingerprint entry system.
The iDock features brilliant design, engineering and high quality materials, and is manufactured to the most stringent European standards. All iRoom products come with a two-year warranty. The iDock is compatible with the original iPad and iPad 2. Two conversion sets — iPad 1-kit and iPad 2-kit — contain easy-to-install rails and adapters that allow users to mount any version of the iPad in the dock.
Features
Motorized docking and release
Available in Portait or Landscape models, to suit the primary in-wall usage
Docking status notification (iDock Landscape only)
Automatic opening in the event of power failure or overload
Quality design made in Austria
Dimensions (width/height/depth)- 220 x 310 x 66.8 mm
Comes in Piano Black, Opal White or Brushed Aluminum; custom colors also available
Professional installation recommended
Price and Availability
The Bracketron iRoom iDock is available now in North America for check price.