Provides a Rich Surround Sound Experience at an Entry Level Price
Aperion Audio, a direct-to-consumer manufacturer of award-winning home audio and home theater speakers, announced the latest in a series of new product releases this spring, the Intimus 4BP Bipole Surround Speaker at a price of $199, making dedicated surround sound more accessible to entry level home theater system buyers.
"In response to customer demand, we've introduced the Intimus 4BP to provide home theater and music enthusiasts with greater options in surround sound and affordability," stated Mike Hopkins, Aperion's Product Development Lead. "The Intimus 4BP offers flexibility in room placement while supplying wide sound dispersion and an impressive soundstage, all at a great price to our customers."
"The objective of a surround speaker is to create an enveloping, non-localized sound field. The 4BP's do this by using a bipole tweeter configuration that spreads the sound over a wide area — all in an affordable, small, easy to mount package," said Ken Humphreys, Aperion's Lead Audio Speaker Engineer.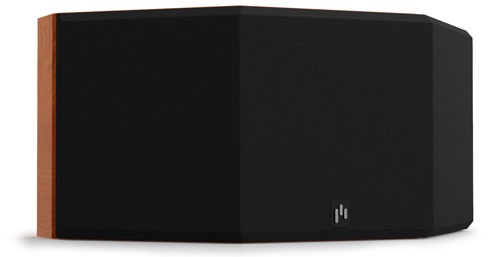 The Aperion Audio Intimus 4BP Bipole Surround Speaker
The Intimus 4BP includes a pair of 1″ audiophile grade silk-dome tweeters positioned at opposing angles for maximum sound dispersion, the same high quality 4″ woven-fiberglass woofer used in the popular and award-winning Aperion Intimus 4T Tower Speaker, a newly designed seamless magnetic grill, an anti-resonant cabinet, wall mounting brackets, and is available in furniture-grade cherry wood or high gloss piano black.
Key Features:
Dual 1″ audiophile grade silk-dome tweeters
4″ Woven-fiberglass woofer
Seamless magnetic grill
Wall mounting brackets
Anti-resonant cabinet
Furniture-grade finish in cherry wood or high gloss piano black
Ten Year Warranty
30-Day No-Risk In-Home Audition™
FREE SHIPPING BOTH WAYS
FREE lifetime customer support
Retails for $199 and shipping now
New Magnetic Grill
The Intimus 4BP sports a new seamless magnetic grill. The new grill maintains the clean flow and beautiful finish of the speaker by eliminating the holes of a traditional tree lock grill mounting system. The powerful neodymium magnets are recessed into the cabinet from the inside to preserve the smooth look on the finished surface. Each grill itself has recessed metal connection points for the magnets that are covered in black felt in order to both eliminate any vibrations while in use and to preserve the furniture-grade finish and elegant appearance.
Mounting Hardware Included for Easy, Do-It-Yourself Setup
The Intimus 4BP includes wall mounting brackets, at no additional cost, for easy DIY home theater system installation. As with all Aperion speakers, the Intimus 4BP comes with an instruction manual and access to the much acclaimed Aperion Home Theater Gurus who are always ready to help with their audio wisdom and advice — both before and after purchase. Any Aperion Audio 5.1 or larger speaker system includes a free Aperion Audio SPL Meter for detailed acoustic calibration.
Professional Installation
For those without the time or desire to perform their own installation, Aperion Audio has partnered with nationally known Zip Express Installation for a reasonably priced, expert job.
New 5.1 Systems Featuring the Intimus 4BP Bipole Surround Speaker
For buyer convenience, Aperion has created two preconfigured 5.1 home theater speaker systems that feature popular customer picks plus the Intimus 4BP. The Intimus 4T-CB Hybrid SD system ($1,897) blends popular 4 and 5 series speakers by including two Intimus 4T Tower Speakers, an Intimus 5C Center Channel, two Intimus 4BP's and a Bravus 8D Powered Subwoofer. The Intimus 4B-BP Fusion SA system ($1,137) features two Intimus 4B Bookshelf Speakers, an Intimus 4C Center Channel Speaker, two Intimus 4BP's and a Bravus 8A Powered Subwoofer.
Pricing and Availability
The Aperion Intimus 4BP Bipole Surround Speaker is now available at AperionAudio.com, or at Aperion's showroom at 18151 SW Boones Ferry Road in Portland, Oregon, and retails for $199.
Five New Aperion Products This Spring
The Intimus 4BP Bipole Surround Speaker is one of five new Aperion Audio speakers that have been released this spring. The value-priced Bravus 8A Subwoofer ($319) launched in April and was featured as part of the $999 Intimus 4B Harmony SA 5.1 Home Theater Speaker System. The newly redesigned Intimus 6-IW In-Wall, and Intimus 6-IC In-Ceiling speakers ($149 each) began shipping in May, and were joined this month by the Intimus 6-LCR In-Wall Home Theater Speaker ($225) which can be used as a left, center or right channel and rounds out Aperion's new line of architectural speakers. Expected this summer, Aperion will announce the new Intimus Outdoor Speaker.
About Aperion Audio
Based in the beautiful Pacific Northwest, Aperion Audio is an award-winning direct-to-consumer speaker manufacturer for smart shoppers who are frustrated with the retail experience, and the only speaker company to deliver an honest and completely Risk-Free 30-Day In-Home Audition™. The company's primary storefront, AperionAudio.com, is a fun and informative speaker shopping destination which is supported by "Home Theater Gurus" who supply generous support before and after the sale. At AperionAudio.com, everyone from the newbie to the audiophile is able to find the information they need to research and build an exceptional home theater speaker system or upgrade their audio environment.