Aperion Audio, a direct-to-consumer manufacturer of award-winning home audio and home theater speakers, began shipping the newest addition to their in-wall and in-ceiling speaker portfolio, the Aperion Intimus 6-LCR In-Wall Home Theater Speaker, which has been designed to deliver an exceptional home theater sound experience for flat panel TV viewers while allowing maximum installation flexibility. The versatile 6-LCR, which can function as a left, center or right channel, creates a seamlessly integrated front soundstage.
"We enjoyed the challenge of producing in-wall speakers that would rise to the level of sound quality found in our floorstanding and bookshelf speakers. These speakers are expressly designed for home theater application – the goal being to maximize vocal intelligibility and overall naturalness of cinematic sound. As one example, the purpose of the driver configuration is to direct the midrange energy toward the listening zone in order to reduce the reflections which manifest themselves as delayed arrivals, consequently smearing the midrange detail," said Ken Humphreys, Aperion's Lead Audio Speaker Engineer, one of the founders of Speakercraft, and an original innovator of in-wall speaker technology.
"Our new 6-LCR was designed in response to our customer's frequent requests for an in-wall speaker that delivers premium sound with a clean appearance in line with today's flat panel display designs. Its 2-1/2-way design, featuring two woofers, gives outstanding performance comparable with a cabinet speaker, but with the sleek look that only an in-wall can provide," said Aperion Audio Home Theater Guru and customer liaison, Jason Hicks.
The Aperion Audio Intimus 6-LCR In-Wall Home Theater Speaker
Each Intimus 6-LCR speaker contains an aimable 1″ audiophile-grade silk-dome tweeter that enables the listener to direct higher frequencies toward the listening position – crucial in authentic reproduction of dialog. The custom dual 6.5″ long-throw woofers are constructed of strong and lightweight woven fiberglass, offering an agile, accurate response that supplies the superior bass and midrange performance essential for the creation of an enveloping, large-scale cinematic experience. In addition, the +/- 3 dB bass and treble equalization switches empower the user to customize the sound to fit even the most challenging of acoustic environments. Whether it's installed horizontally or vertically the Intimus 6-LCR In-Wall Home Theater Speaker showers the listener with immersive sound.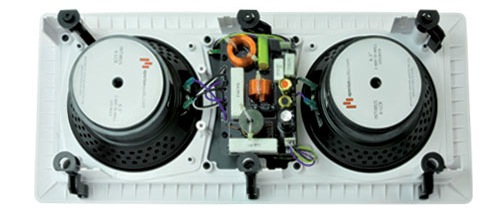 Key Features:
Dual 6.5″ long-throw, woven-fiberglass, dual-voice coil woofers
1″ aimable audiophile grade silk-dome tweeter
Separate bass and treble equalization switches
Ten year warranty
30-Day No-Risk In-Home Audition™
FREE SHIPPING BOTH WAYS
FREE lifetime customer support
Retails for $225 and shipping now
Easy DIY In-Wall Installation
The Intimus 6-LCR speaker ships with gold-plated, spring loaded binding posts enabling easy, do-it-yourself installation. The paintable frame and perforated, aluminum grill allows the customization of the 6-LCR to harmonize with room decor. In-wall and in-ceiling speakers are a permanent part of the home and Aperion has ensured long lasting durability with high-impact, UV resistant ABS speaker frames. All the Aperion architectural speakers, including the recently launched Intimus 6-IW In-Wall and 6-IC In-Ceiling speakers, include an installation template, instructions, and a dog ear clip drywall mounting system.

Professional Installation
For those without the time or desire to perform their own installation, Aperion Audio has partnered with nationally known Zip Express Installation for a reasonably priced, expert job.

Pricing and Availability
The Aperion Intimus 6-LCR In-Wall Home Theater Speaker is now available at AperionAudio.com, or at Aperion's showroom at 18151 SW Boones Ferry Road in Portland, Oregon, and retails for $225. (Prices always include free shipping.)

About Aperion Audio
Based in the beautiful Pacific Northwest, Aperion Audio is an award-winning direct-to-consumer speaker manufacturer for smart shoppers who are frustrated with the retail experience, and the only speaker company to deliver an honest and completely Risk-Free 30-Day In-Home Audition™. The company's primary storefront, AperionAudio.com, is a fun and informative speaker shopping destination which is supported by "Home Theater Gurus" who supply generous support before and after the sale. At AperionAudio.com, everyone from the newbie to the audiophile is able to find the information they need to research and build an exceptional home theater speaker system or upgrade their audio environment. For more information, visit AperionAudio.com or call 888-880-8992.

<!-comments-button-->