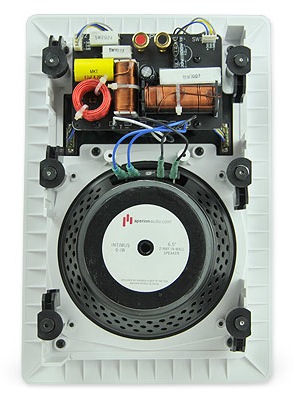 New speakers give discriminating listeners more control over sound and esthetics, offering high end features at a competitive price
Aperion Audio, a direct-to-consumer manufacturer of award-winning home audio and home theater speakers, this week announced enhanced versions of their in-wall and in-ceiling speakers which include aimable audiophile grade silk-dome tweeters, and bass and treble adjustment switches — one of the features normally found only with more expensive in-wall and in-ceiling speakers. The new Aperion architectural speakers are voiced to blend seamlessly with the rest of the Intimus line of award-winning speakers.
"Our new line of in-wall and in-ceiling speakers are an effective solution to the challenge of achieving excellence in sound for the music and movie lover, while also satisfying the interior design conscious who enjoy the invisibility of speakers set into the wall or ceiling," says Aperion Product Development Lead, Mike Hopkins.


Aperion's Lead Audio Speaker Engineer, Ken Humphreys, notes that once installed, an in-wall or in-ceiling speaker is fixed at a specific point in a room, making adjustments difficult. "The advantage of aimable tweeters for in-wall speakers is that the directional treble frequencies can either be aimed into the listening area for most applications or away from the listening area in order to get a more diffuse, ambient sound that is desirable in surround sound use. And since this type of speaker may or may not get placed near bass-boosting side-walls, we felt it was important to have a bass adjusting feature. From a design point of view, this is fairly hard to do as it requires the woofer to have two voice coils, one of them dedicated to the bass adjusting signal from a separate section on the crossover," says Humphreys.
The Aperion Audio Intimus In-Wall and In-Ceiling Speakers
As the newest speakers in Aperion Audio's acclaimed Intimus line, the 6-IW and 6-IC are not only builtfor visual assimilation in any home, but also produce fantastic, immersive sound with high-end features. In addition to aimable tweeters, the Intimus 6-IC In-Ceiling speaker features an angled woofer which may be pointed toward the "sweet spot" during installation.
Both Include:
6.5″ high performance woven-fiberglass dual-voice coil woofer
Aimable silk-dome tweeter for direct high frequency control
Bass and treble adjustment switches
Paintable frame and grill to match any decor
Installation templates and easy instructions
The Aperion Advantage
Aperion was the first in their industry to offer free shipping both ways with their Risk Free 30-Day In-Home Audition, a One-Year Full-Price Trade-Up Program, and an unmatched 10-Year Warranty (3 years on amplifiers). Aperion's "Home Theater Gurus" are available to assist those in the market for audio speakers from the decision making process through lifetime technical support. Plus, because Aperion is headquartered in Oregon, there is never any sales tax.
Pricing and Availability
Both the Aperion Intimus 6-IC In-Ceiling Speaker and Intimus 6-IW In-Wall Speaker are now available at AperionAudio.com, or at Aperion's showroom at 18151 SW Boones Ferry Road in Portland, Oregon, and retail for $149. (Prices always include free shipping.)
Installation Made Easy – Aperion Audio Partners with Zip Installation
The 6-IW and 6-IC easily install into your ceiling or wall drywall with the included templates and instructions, allowing the installer to quickly begin enjoying their favorite music and movies. For those without the time or desire to perform their own installation, Aperion Audio has partnered with nationally known Zip Express Installation for a reasonably priced, expert job.
About Aperion Audio
Based in the beautiful Pacific Northwest, Aperion Audio is an award-winning direct-to-consumer speaker manufacturer for smart shoppers who are frustrated with the retail experience, and the only speaker company to deliver an honest and completely Risk-Free 30-Day In-Home Audition™. The company's primary storefront, AperionAudio.com, is a fun and informative speaker shopping destination which is supported by "Home Theater Gurus" who supply generous support before and after the sale. At AperionAudio.com, everyone from the newbie to the audiophile is able to find the information they need to research and build an exceptional home theater speaker system or upgrade their audio environment.