Aperion Audio, a manufacturer and direct seller of home theater loudspeakers and subwoofers, announces the launch of the Intimus 4T, our new two-way tower speaker featuring dual 4″ woven fiberglass composite mid-woofers and our audiophile grade 1″ silk dome tweeter. The 4T is the newest model in our completely redesigned Intimus line. Created as a companion to our incredibly popular 4B bookshelf speakers, the new 4T's offer amazing performance in a very compact package.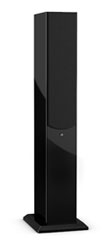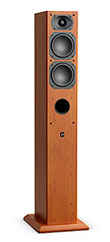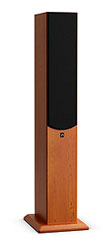 "We listened to our customers and looked at opportunities in the market. Customers asked for small, high performance tower speakers for their new flat panel TV's because the options are incredibly limited." says CEO Winthrop Jeanfreau. "People are forced to choose between low-end home theater in a box products or very expensive specialty speakers. We believe the 4T's are a category killer. They offer all the performance of the specialty brands at less than half the cost, so they are a tremendous value." The new Intimus 4T's combine dual 4″ woven fiberglass composite mid-woofers with our audiophile grade 1″ silk dome tweeter to deliver tremendous bass along with incredible clarity and detail. Because the 4T's are so small, they offer easy placement in virtually any room. In addition to their amazing sonic performance, the new 4T's are available in both gloss black and real cherry furniture grade finishes, along with a new contemporary design aesthetic that will be the envy of the neighborhood.
The 4T's are a great choice for main speakers in small to medium sized rooms, or they can be used as surrounds as part of a larger system since they are voice matched to the rest of the Intimus line. The new Intimus 4T's are available directly from aperionaudio.com for $650/pair.
Intimus 4T Features: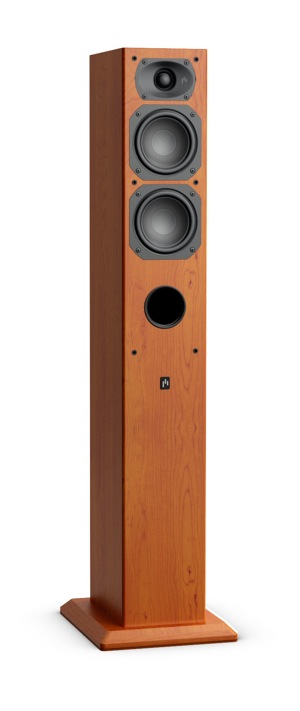 Powerful 2-Way Tower Design in a Practical Size
First, we started with our award winning 4B bookshelf speaker. Then we extended the height of its svelte and attractive profile and added another of our custom designed 4″ mid-woofers to give it extended bass performance.
1″ Audiophile-Grade Silk-Dome Tweeter
All Intimus speakers feature our 1-inch, audiophile-grade, silk dome tweeter that has been engineered for optimal sonic performance, even at the highest volume levels. The smooth sound of our silk tweeter ensures a warm, natural sound with no harsh aftertaste. This new tweeter features a unique system of venting to a rear chamber that employs multiple rear vents outside the neodymium magnet instead of the traditional design that uses a single vent through the magnet's center. This new design allows the magnet to remain fully intact, resulting in a stronger motor structure with a lower resonant frequency, smooth response, and an amazingly pure, natural, and distortion free sound. This tweeter is the high point of our speaker… literally.
Dual 4″ Woven-Fiberglass Mid-woofers
Our custom 4″ woven-fiberglass mid-woofers make music, movies and games come to life. The cones are made of strong and lightweight woven fiberglass composite, offering super fast and accurate response. These magnetically shielded drivers sport a solid cast aluminum frame, heavy rubber surround and extra-long excursion — ensuring superior bass performance for years to come.
Furniture-Grade Finish
Each of our speakers is beautifully finished in either real cherry wood or high gloss piano black lacquer, allowing them to effortlessly blend into your decor. This first-rate cabinetry unites the acoustic qualities of only the most expensive loudspeakers with a furniture-grade finish so handsome your coffee table will be jealous.
Anti-Resonant Cabinet
Every Intimus speaker cabinet is made of rock solid high density fiberboard (HDF) to eliminate unwanted cabinet vibrations, effectively muting the walls of the speaker, ensuring that the only voice you hear is coming from your CD or DVD.
Magnetic Shielding
All Aperion speakers are magnetically shielded so that they can be placed near any video monitor, ensuring a "rainbow free" video experience.
5-Way Gold-Plated Binding Posts
All Aperion speakers feature 5-way gold plated binding posts for use with banana plugs, bare wire, round pins, flat pins or spades. The gold plating resists corrosion and provides the best possible connection to your receiver.
Acoustically Transparent Grille
An acoustically transparent grille is included with each speaker to protect the drivers from inquisitive kids and pets. The grille cloth is sonically invisible so speaker performance isn't compromised.
Floor Spikes and Footers
Included with each 4T speaker is a set of floor spikes and footers. The spikes offer tighter bass by decoupling the cabinet from the floor. The included footers allow the spikes to be used without damaging hardwood, or other hard floor surfaces.
Ten Year Limited Warranty
All Aperion Speakers are covered by one of the best warranties in the audio industry. We offer a completely transferable ten year no-nonsense warranty on all of our speakers.
Totally Risk-Free In-Home Audition
All Aperion Audio products are sold direct and include the Totally Risk- Free In-Home Audition that allows every customer to audition the speakers in the space in which they will be used. Aperion Audio provides free shipping both ways, free technical support with live chat, email, and toll-free calls, a free customer care kit including an SPL meter (with qualifying 5.1 system purchase) to properly calibrate the system, a comprehensive ten year limited warranty, and a full-value one-year trade up program.
Availability
The 4T is available for immediate shipping from www.aperionaudio.com.