Black Box Module Adds High-Performance GPS Navigation to 2009 Audio/Video Head Units
Alpine Electronics of America, Inc., the industry-leading manufacturer of audio and navigation solutions, today introduced the new NVE-M300 GPS Navigation Drive. This high-performance black box navigation module makes it easy to add turn-by-turn navigation functionality to Alpine's iXA-W404 (see photo) and IVA-W505 Audio/Video (AV) head units. Adding the NVE-M300 to these products results in two unique Audio/Video/Navigation (AVN) solutions.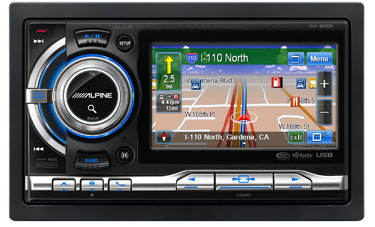 Consumers can have a $1,000 digital media solution combining the NVE-M300 and the iXA-W404 with its 4.3-inch touch screen that is optimized for iPod/iPhone playback. Alternatively, they can create a $1,550 premium system based on the IVA-W505 with its 7-inch touch screen and DVD capability.
The NVE-M300 is a compact, external navigation drive. Measuring only 4 3/8 in. x 4 1/8 in. x 1 in., it is designed to be professionally installed and mounted in a hideaway location, such as behind the dash. Once connected, the NVE-M300 adds a fully integrated navigation experience to Alpine's two top selling AV head units.
The NVE-M300 features Alpine's innovative OnPoint Advanced GPS Positioning to deliver a better navigation experience. OnPoint ensures that vehicle's icon stays accurately positioned on the map, even in areas where it's difficult to receive GPS reception, such as in a tunnel, around tall buildings or under heavy foliage. OnPoint simultaneously uses three technologies — satellite-linked GPS data, solid-state gyro sensor technology (to determine the vehicle's direction) and accelerometer technology (to gauge the vehicle's speed) — to deliver improved performance.
A simple and intuitive graphical user interface (GUI) combined with voice guided driving directions make the NVE-M300 easy to use. Big, bright icons and large buttons provide easy identification of commands or maneuvers. Assistive mapping visuals display essential driving information such as One-Way Street icons for clear notification of one-way streets, and Highway Junction View for maneuvering complex interchanges. Text-to-speech technology is used to announce the turn-by-turn driving instructions, including street names, freeway numbers and freeway exit names. All the voice guided driving instructions are delivered through the vehicle's sound system.
The NVE-M300's map data is provided from preloaded NAVTEQ maps of the United States and Canada, including Alaska, Hawaii, Puerto Rico and the Virgin Islands. As well, the module comes with 6 million unique Points of Interest (POIs), which include restaurants, hotels, gas stations, movie theaters and grocery stores.
The NVE-M300 can be customized to match the user's preference. Color schemes can be chosen from a palette of four map colors and eight menu colors. English, Spanish or French can be chosen as the preferred language. The Dashboard feature can be set up to display trip information such as driving time and average speed.
"With the NVE-M300, we are delivering an improved GPS navigation experience at a lower cost," said Stephen Witt, vice president, marketing, Alpine Electronics. "The NVE-M300 drive gives customers the opportunity to easily add GPS navigation to their iXA-W404 of IVA-W505 AV head units."
Pricing and Availability
The NVE-M300 GPS Navigation Drive is available for $450, the iXA-W404 is available for $550 SRI, and the IVA-W505 is available for $1,100 SRI. All three products are available at authorized Alpine dealers.
About Alpine Electronics
Alpine Electronics is an automotive electronics manufacturer that supports drivers in over 60 countries and provides the world's leading auto makers with audio, video, navigation and driver assistance products. The company specializes in system integration solutions with innovative vehicle entertainment and information technologies.
Alpine's R&D and manufacturing facilities in Japan, China, Europe and North America ensure that all products address the real world requirements of drivers in each market. The company is committed to developing products that are safe, comfortable and eco-friendly for the automotive environment.