Apple's Board of Directors today announced that Steve Jobs has resigned as Chief Executive Officer, and the Board has named Tim Cook, previously Apple's Chief Operating Officer, as the company's new CEO. Jobs has been elected Chairman of the Board and Cook will join the Board, effective immediately.
"Steve's extraordinary vision and leadership saved Apple and guided it to its position as the world's most innovative and valuable technology company," said Art Levinson, Chairman of Genentech, on behalf of Apple's Board. "Steve has made countless contributions to Apple's success, and he has attracted and inspired Apple's immensely creative employees and world class executive team. In his new role as Chairman of the Board, Steve will continue to serve Apple with his unique insights, creativity and inspiration."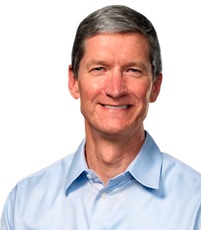 Tim Cook, Apple's new CEO
"The Board has complete confidence that Tim is the right person to be our next CEO," added Levinson. "Tim's 13 years of service to Apple have been marked by outstanding performance, and he has demonstrated remarkable talent and sound judgment in everything he does."
Jobs submitted his resignation to the Board today and strongly recommended that the Board implement its succession plan and name Tim Cook as CEO.
As COO, Cook was previously responsible for all of the company's worldwide sales and operations, including end-to-end management of Apple's supply chain, sales activities, and service and support in all markets and countries. He also headed Apple's Macintosh division and played a key role in the continued development of strategic reseller and supplier relationships, ensuring flexibility in response to an increasingly demanding marketplace.
---
Letter from Steve Jobs
August 24, 2011

To the Apple Board of Directors and the Apple Community:

I have always said if there ever came a day when I could no longer meet my duties and expectations as Apple's CEO, I would be the first to let you know. Unfortunately, that day has come.

I hereby resign as CEO of Apple. I would like to serve, if the Board sees fit, as Chairman of the Board, director and Apple employee.

As far as my successor goes, I strongly recommend that we execute our succession plan and name Tim Cook as CEO of Apple.

I believe Apple's brightest and most innovative days are ahead of it. And I look forward to watching and contributing to its success in a new role.

I have made some of the best friends of my life at Apple, and I thank you all for the many years of being able to work alongside you.

Steve
---
Editorial (by Brian Mitchell, eCoustics.com Founder & CEO)
This a sad day for Apple, but even more so for Mr. Steve Jobs. Given Steve's battle with cancer and his Medical Leave of Absence granted earlier this year, one can only assume Steve's health has taken a turn for the worse. I hope am I wrong, but that seems to be the most logical reason for his resignation.
The timeliness of the news is also worth noting because it comes during a month of extreme market volatility and just weeks before the launch of the next iPhone and iCloud, which could quickly overshadow today's news. With the next year or two for Apple most likely already mapped out with Steve's imprint, it will be interesting to see Mr. Cook complete the vision.
Although Tim Cook's succession was to be expected (for those that follow stock), he is certainly not a household name. Will that matter? Probably not right now, because Apple has so much wind at their back after so many recent product successes. However, one thing to watch for is how the new CEO handles the company's missteps.
As Steve Jobs steps into his new role as Apple's Chairman of the Board, his power will be diminished, but not his influence. As long as Steve is healthy and able, one would think he would still have some impact on Apple's future. Steve — I hope you're OK.
Related articles:
Jobs's Legacy: Changing How We Live by Walt Mossberg, Wall Street Journal
Five Things Apple CEO Tim Cook Must Do to Replace Steve Jobs by Mark Hachman, PC Magazine">Why Steve Jobs Chose Now to Resign by Peter Pachal, PC Magazine
Five Things Apple CEO Tim Cook Must Do to Replace Steve Jobs by Mark Hachman, PC Magazine
Steve Jobs Reshaped Industries by David Pogue, New York Times