Lytro, the company debuting the first consumer light field digital camera, explains how light field photo capture and image processing works.
How does the Lytro Light Field Camera work?
The Lytro Light Field Camera captures significantly more data than a conventional camera does.
At the highest level, light entering the Lytro camera goes though the main lens and then hits our proprietary Lytro Light Field Sensor. The Lytro Light Field Sensor incorporates a special compound lens known as a micro-lens array (MLA), which is comprised of thousands of tiny lenses. This special sensor is what allows the Lytro camera to take in all of the light in the scene, capturing information on the direction, color, and luminosity of millions of individual rays of light.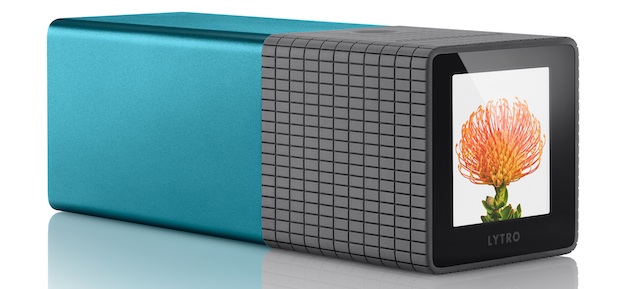 Lytro Camera
What are the basics of shooting light field pictures?
Experiment: Many people say it helps to think about taking light field pictures as a whole new art form. Others say most of what they already know about photography still applies.
Get Close: Are you already close? Get closer. If you see a bit of blur, you've got it. Start with the zoom slider all the way to the left, with the Lytro camera about 6 or 7 inches (15 – 18 cm) away from your foreground subject.
Think in 3D: Compose your pictures with multiple subjects at different distances.
Playing with Zoom : When you do zoom to higher ranges, don't forget "if you see a bit of blur, you've got it" still applies… get close to your foreground subject with your zoom until it blurs a bit.
Steady as she goes: Hold the Lytro camera steady when you take each picture.
Review early and often: Transfer your pictures to Lytro Desktop for review often– perhaps every dozen pictures or so, at least for a little while– to learn what works, and what doesn't work.
Practice, practice, practice: The very best way to learn how to take light field pictures is to practice taking them. Have fun!
What is a megaray?
A megaray is a measure of light field data capture; the Lytro Light Field Sensor in the Lytro camera captures 11 megarays– or 11 million rays– per picture.
What does "a constant f/2 aperture across the entire zoom range" mean?
This optical characteristic of the Lytro camera allows it to capture maximum light across its entire zoom range.
What color spectrum does the Lytro camera support?
The Lytro camera only captures the human-visible spectrum of colors: Red, Orange, Yellow, Green, Blue, Indigo, Violet (ROYGBIV) and intermediate colors.