By Andrew Eisner (Retrevo.com)
HDTV offers such a dramatic improvement over standard TV it's no wonder that so many consumers are making the switch. Walk into any consumer electronics retail store and you'll be taking a chance on getting the right information from the sales person.
There are many misconceptions about HDTV that you should be aware of when shopping for a new TV. In order to help you avoid mistakes when buying an HDTV set, here's a list of some common HDTV myths:
1. All programs will look better on my new HDTV set.
Not true. Your new HDTV set will do the best it can to display standard definition programming which could involve shrinking the picture. Some HDTV sets and receivers upconvert standard def to high def but the results are not always optimal. Unfortunately the majority of programming is still in standard def. Hey, the Daily Show isn't even in high def.
2. It is always better to buy a 1080p set.

Bruce Berkoff of the LCDTV Association points out that it is difficult to tell the difference between 1080i and 1080p on a set capable of displaying all the pixels. He adds, "If a TV is rated at 1920 x 1080 resolution it shouldn't matter if the program is in 1080i or 1080p." That said, you can buy a 1080p set for a reasonable price however 720p sets are much cheaper. Besides, none of the programming coming in over the air, on cable, or satellite is 1080p. More so, you can't really tell the difference on anything smaller than a 37 inch TV or if you sit far enough away from a larger set.
3. Bigger displays are better

Courtesy of Carlton Bale
If you sit too close to a very large set you may start to see the small display elements so it is possible to get a set that is too big for a room. On the other hand, a couple of things to consider; unless you have an upconverting TV or receiver many standard definition programs will be shrunk to work on a widescreen TV so bigger may be better for watching standard def programming. There are many published sizing guidelines but we recommend buying a set that fits with your furnishings however don't buy one that you won't be so big that you'll notice individual pixels. In general a 42 or 47 inch TV should work fine in most average sized rooms with 50 inch and larger sets good for larger living rooms and 37 inch and smaller for bedrooms.
4. Plasma TVs have problems with burn-in.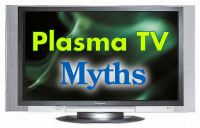 Phosphor burn-in was a more common problem on older Plasma TVs. Many of today's Plasma TVs have circuitry including some that shift pixels slightly in order to prevent burn-in or ghosting. Plasma TVs are still susceptible to problems at high altitudes (like Denver) and they typically weigh more, are thicker, and use more electricity than LCD TVs however many viewers prefer the warmer colors of Plasma TVs.
5. You should get an extended warranty with an RPTV or projector to cover the cost of the bulb.

Many extended warranties cover the cost of a replacement bulb for front or rear projection TVs. Considering the fact that bulbs are typically rated at 8,000 hours and cost around $400, the cost of the extended warranty would exceed the cost or replacing a bulb every 3-4 years. Extended warranties in general are usually not necessary especially with electronics that if they are going to fail usually do so during the first thirty days which a good warranty should cover.
6. You should always buy the more expensive HDMI cables.

The HDMI standard specifies the electrical characteristics of the cable so one HDMI cable that conforms to one of the two standards should be as good as another more expensive one. The salesperson will try and upsell you on cables but we recommend saving the money and buying the less expensive ones. Chances are very good they'll work fine. The one reason to spend the extra money is for the high speed (category 2) capable cables used for "Deep Color," and lossless audio.
7. You need to get a Blu-ray player to watch DVDs in high definition

After the shakeout in the high definition DVD market last year, you would have thought Blu-ray players would be a safe purchase. Unfortunately it has taken a while for Blu-ray players to conform to the latest standard (Profile 2.0) and they're still on the pricey side. While consumers wait for full-featured, affordable Blu-ray players (possibly this holiday season), you can buy a very reasonably priced upconverting DVD player that offers HDMI connectivity and near Blu-ray (subject to opinion) quality from standard definition DVDs.