Western Digital introduced the WD TV Live streaming media player with Spotify music service, along with Netflix, Hulu Plus and Blockbuster services for movies and TV shows. The new streamer connects to the Internet wirelessly with 802.11n Wi-Fi or an Ethernet connection, supporting Full-HD 1080p video resolution.
In addition to premium Internet content, WD TV Live allows users to enjoy personal media such as photos, video and music on their home entertainment systems by supporting a wide range of file formats for streaming content from any connected USB drive, digital camcorder or camera, network drive such as the My Book Live personal cloud storage, and any networked PC or Mac computer in the home.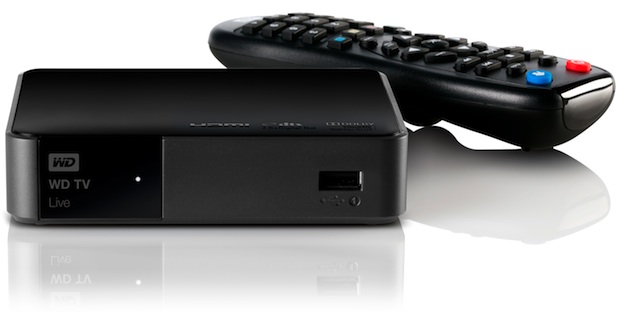 WD TV Live and last year's WD TV Live Hub are the first streaming media players to deliver Spotify's acclaimed music service. Premium Spotify subscribers can now enjoy unlimited on-demand access to Spotify's catalog of over 15 million songs in excellent sound quality (available in up to 320kbps) on their home entertainment system.
WD incorporates Spotify's popular features in the new service, including the ability to create and manage Spotify playlists, share songs to Spotify friends, and see and subscribe to friends' playlists via their Spotify profiles. Users can also share tracks by sending songs directly to other Spotify users' inboxes. Spotify for WD TV Live and WD TV Live Hub delivers an exciting new way to enjoy and share music on the best sound system in your home.

In addition to Spotify and WD's current content offerings, WD TV Live and WD TV Live Hub will also now include the Dailymotion video service. The application offers quality video content from users, independent content creators and premium partners, including high-quality and HD video.
Price and Availability
The new WD TV Live streaming media player is available now for $99.99. Spotify is now available on the new WD TV Live players, as well as the WD TV Live Hub streaming media player for $199, which features a built-in 1 TB hard drive to store personal content locally for TV streaming. The Spotify service is available in eight countries: USA, UK, Sweden, Finland, Norway, France, the Netherlands and Spain.
Related Products:
Roku LT
Roku 2 HD, XD, XS
Apple TV