Innovative E-Label Display Provides a Better Way to Tell Drives Apart
WD today introduced its new high-performance My Book Studio desktop external drives with a customizable e-label that is always visible, even when unplugged, so it's easy to know the contents of the drive. Designed for Mac users and creative professionals, the new My Book Studio drives are equipped with a FireWire 800 interface to give users the speed they need for demanding tasks like photo and video editing and graphic design.
The new My Book Studio drives are TimeMachine compatible, offer automatic, continuous backup with WD SmartWare™ software, and include 256-bit hardware-based encryption to provide a high level of security. Available now at select retailers and the WD online store (shopwd.com), the new My Book Studio drives are formatted for Mac and offered in capacities of 500 GB, 1 TB, 1.5 TB and 2 TB.
Creative professionals generate, store and back up massive amounts of digital content. During in-home and in-studio interviews with consumers, WD team members observed that many were taping notes or other hand-made labels on their many drives, to tell them apart. For these customers, WD developed the e-label high-contrast smart display which reads like ink on paper, and lets the user create a customized label to describe the drive's contents.
Utilizing e-paper technology similar to that found on the Amazon Kindle, the information on the display remains clearly visible even when the drive is unplugged, and can be changed easily and as often as desired. The e-label also shows available storage capacity and drive security status.
"Storing and backing up is a huge part of my workflow as a professional photographer," said Bruce Dorn. "I have been using WD hard drives for quite a while now and my experience has been exceptional with reliability and ease-of-use, and I love the design. The new e-label smart display will help me organize my projects while password protection and encryption will keep it more secure. The new drives deliver backup not only for professionals, but for anyone who is taking pictures, collecting music or who needs to back up their digital life."
My Book Studio drives also feature user-selected password protection combined with 256-bit hardware-based encryption, which scrambles files before they are stored. Typically found only on much more expensive drive systems, the encryption acts as a virtual padlock to keep users' data safe.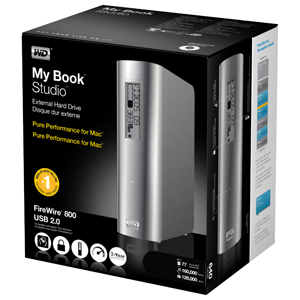 The new My Book Studio drives come equipped with WD SmartWare software, an integrated application which provides automatic and continuous backup, as well as control of the e-label display, password and other settings. When the My Book Studio drive is plugged in for the first time, the simple and intuitive first backup process launches automatically. The real-time visual interface of WD SmartWare software gives users a reassuring view of their backup as it happens. After the first backup, users' files are backed up automatically every time they change or add a file.
WD SmartWare software is compatible with the Apple TimeMachine. Users with older versions of Mac OS (not equipped with TimeMachine) or those who wish to use the drive for both backup and extra storage have the option to use WD SmartWare software backup capability.
"Photographers, videographers and other Mac computer enthusiasts require fast performance for their complex projects," said Dale Pistilli, vice president of marketing for WD's branded products group. "They also have a very large number of projects and files which they need to keep organized across multiple hard drives. With a FireWire 800 interface and customizable e-label, the new My Book Studio drives offer an elegant, high-speed solution for these creative professionals to interact with, organize and securely archive their media."
Price and Availability
The new My Book Studio drives are offered in capacities of 500 GB, 1 TB, 1.5 TB and 2 TB and have a 3-year limited warranty. My Book Studio drives are available now at select retailers and online at shopwd.com. MSRP ranges from $149.99 to $299.99 USD depending on model.
My Book Studio
The new WD My Book Studio drives feature:
Smart display with a customizable e-label that reminds users of what is stored on the drive, available capacity and security status at-a-glance, even when the drive is unplugged;
High-performance FireWire 800 interface to access data at top speeds and USB 2.0 interface;
Plug-and-play ready for Mac users and compatible with Apple TimeMachine;
WD SmartWare software that visually presents consumers' data in a software control center, providing them peace of mind that their precious photos, videos and files are securely protected;
256-bit hardware-based encryption and password protection for peace of mind knowing that data is protected from unauthorized access;
Smaller, sleeker, more streamlined design and elegant book-like shape that takes up minimal space and allows two or more My Book drives to nestle together neatly like volumes on a shelf;
WD GreenPower Technology™ lowers internal drive power consumption by up to 30 percent, a sleep mode reduces power during idle times, and a power-saving feature turns the drive on and off with your computer;
Planet-friendly packaging derived from recycled materials to minimize waste;
HFS + Journaled1 formatting and are compatible with Mac OS X Tiger, Leopard and Snow Leopard™;
3-year limited warranty.
WD SmartWare Software
WD SmartWare software features:
Visual backup displays that show content in categories and shows the progress of backup;
Automatic, continuous data backup will instantly make a second copy whenever you add or change a file;
Retrieve valuable data to its original location whether it's lost data or the file has been overwritten; and,
Customizable data backup that allows user to set drive security, run diagnostics, manage the power settings, and more from the WD SmartWare control center.
1 My Book Studio drives can be reformatted NTFS to work with Windows Vista and Windows 7.