VTech introduced the affordable VM321 Audio/Video Baby Monitor and the DM221 Audio-only Baby Monitor. The VTech Safe and Sound Full-Color Video and Audio Monitor (VM321, $149.95) provides a full audio/visual monitoring solution that gives parents peace-of-mind with up to 1,000 feet of range between the camera and parent unit. The system features high-quality video resolution (transmitting up to 22 frames per second) on a sizeable 2.8-inch video screen with a 320 x 240 pixel display (compared to a 2-inch display for the competition's slightly more expensive models).
Other unique features include a split video screen, enabling simultaneous viewing from up to four separate cameras with the purchase of additional cameras (VM310, $49.95), along with infrared night-vision capability for viewing when the room is completely dark. The Safe & Sound Full-Color Video and Audio Monitor also features a two-way intercom system to let the little one hear parents' voices, polyphonic lullabies to play, a temperature sensor to ensure parents can keep rooms heated or cooled appropriately and vibrating alerts to noise in the baby's room for notification when the parent unit is attached with the belt clip or in a pocket. Finally, the system offers a six-level LED sound indicator to adjust volume and a rechargeable battery on the parent unit, avoiding the need to continuously stock and replace batteries.
VTech Safe & Sound Full-Color Video and Audio Monitor
(VM321)
Digital transmission providing superior security and sound quality with no annoying white noise
2.8″ video baby monitor
320 x 240 pixel display transmitting up to 22 frames per second
Rechargeable battery in parent unit
Infrared night vision
Two-way communication between the two units
Polyphonic lullabies
Temperature sensor
6 level sound indicator
Vibrating sound alert
Supports up to 4 baby units
Split screen capability for viewing up to four different cameras at one time
MSRP: $149.95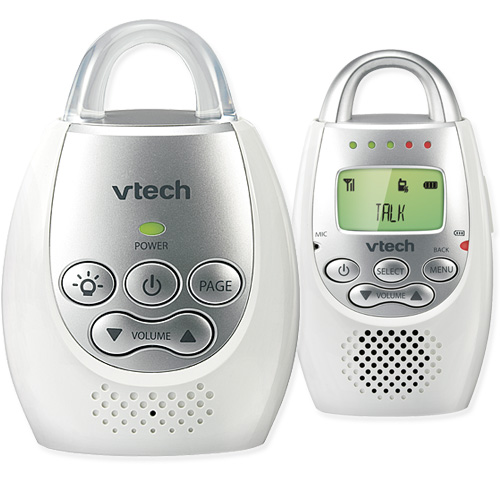 For parents needing a more affordable solution, the VTech Safe and Sound Digital Audio Monitor (DM221, $39.95) offers up to 1,000 feet of range and features Digital Enhanced Cordless Telecommunications (DECT) 6.0 technology, ensuring high-quality and reliable sound that prevents wireless interference from other electronic devices and security from digital snooping. Parents won't miss a gurgle or hiccup with vibrating sound alerts, sound indicators, backlit display on the parent unit and a belt clip for constant monitoring. In addition, the intercom system allows immediate two-way communication to sooth the baby when restless. VTech offers up to 18 hours of battery life and rechargeable batteries, ensuring continuous monitoring all night, even if the family is on the go.
VTech Safe & Sound Digital Audio Monitor
(DM221)
DECT 6.0 interference-free communication
Digital transmission providing superior security and sound quality with no annoying white noise
Rechargeable battery — up to 18 hours of monitoring time
Two-way communication between the two units
Vibrating sound alert
Backlit display on parent unit
Five LED sound indicators
Night light on baby unit — loop lights up
Belt clip on parent unit
MSRP: $39.95