FOR IMMEDIATE RELEASE
VidaBox, LLC Launches New Media Center Product Line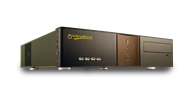 Garden City, NY – July 19 – VidaBox LLC, a premium media center HTPC systems integrator in Garden City, NY, is announcing the launch of a new line of four Media Centers, named ROOMMATE, SLIM, LUX, and MAX.
Media Centers are entertainment convergence devices, which allow a user to do a multitude of tasks, such as watch DVDs, listen to and store music, watch television, record shows, view & store digital pictures or slideshows, all using Media Center's easy-to-use interface.
"As a home theater enthusiast, I was disappointed with the Media Centers currently available on the market today," says Steven Cheung, one of the founders of VidaBox, LLC. "I found the systems to be large and not well suited for my living room, as well as lacking many important features."
Steven continues, "I wanted to have something that was intuitive, reliable, and maintenance-free, so I ended up building my own media center system. Many of my friends and peers were impressed with my results, and soon, people were asking if I could build them a similar system for their homes. That's how VidaBox was born."
VidaBox is now introducing its line of premium Media Center HTPC systems including two extremely compact models, with the ROOMMATE model being about the size of a small shoebox, and the SLIM model being about the size of a standard DVD player. The slightly larger LUX and MAX model are about the size of a standard A/V receiver and feature extremely large storage capacities with up to 3,750GB and 3,000GB of storage, respectively. The MAX models also feature an impressive LCD touch screen.
Some standard features unique to the VidaBox include: virtually silent operation, built-in karaoke function, and a unique storage protection system called VidaSafe. VidaSafe technology allows the system to keep on running, even if one of the hard drives have failed, which is a potentially devastating problem plaguing other Media Centers on the market.
"I was personally surprised that most of these features were missing from other Media Centers," adds Steven. "I store all of my music and family pictures on my VidaBox. What would happen if the hard drive crashed? The memories lost are irreplaceable, which is why we offer VidaSafe technology."
You can buy VidaBox systems through their dealer network or directly from the manufacturer's website at http://www.vidabox.com, or call 1-516-203-7401 for more details.
Interview Contact:
Steven W. Cheung, Owner
Telephone: 1-516-647-5834
steven@vidabox.com
http://www.vidabox.com
VidaBox LLC
172 Garden St.
Garden City, NY 11530
Voice: 1-516-203-7401
Fax: 1-516-833-7591