New VIBE Duo Offers Ultimate Control-Playback Functionality for iPhone Users
Music lifestyle brand V-MODA today announced the latest version of its VIBE Duo, a noise-isolating dual-use headphone/headset designed to accessorize the Apple iPhone. The new VIBE Duo with control-playback functionality features a discreet microphone with a call button, allowing users to take calls and control the music functions of the iPhone with hands-free convenience. Hi-definition sound and superior comfort round out the mix of premium features.
V-MODA worked with Apple to develop the VIBE Duo with control-playback functionality. With its durable black fabric cables and a minimalist all-metal design, the luxurious new VIBE Duo in-ear earphones with microphone and call button remain lightweight (13 grams), unobtrusive, comfortable and stylish.
"With the addition of the control button to the VIBE Duo, V-MODA has developed the ultimate accessory for the Apple iPhone," said Val Kolton, founder and CEO of V-MODA. "We understand the need for an earphone that will maximize all the best features of the iPhone, and we're excited to bring the new VIBE Duo to the table. It's what many Apple iPhone consumers have been asking us for."
For active, on-the-go consumers, VIBE Duo features three sizes of ultra-soft silicon fittings for a secure, comfortable fit. To further ensure the accessory doesn't jar loose during exercise or strenuous activities, a small clip adds extra security.
The iPhone combines three products – a mobile phone, a widescreen iPod with touch controls and a breakthrough Internet communications device – into one small and lightweight handheld.
VIBE Duo joins the existing VIBE line of luxury, high-fashion modaphones from V-MODA, heralded upon introduction for offering state-of-the-art audio on the go. Much like VIBE, when it comes to enjoying tunes VIBE Duo offers superior technology that enables a sculpted response curve fashioned for the discerning audio enthusiast, providing a precise balance of rich bass, warm mids and unprecedented clarity.
Utilizing V-MASQUE dynamic driver technology, VIBE Duo achieves a precise yet natural soundstage in comparison to other high-end earphones. BLISS (Bass Level Isolating Soft Silicon) technology further reduces outside noise for a precise and rich bass response (frequency 12Hz to 22Hz).
VIBE Duo is compatible with the iPod, an array of emerging smartphones such as the popular Blackberry Curve and the highly anticipated Sidekick 4, as well as all other portable music players. Available in Nero (black) and Chrome, it is packaged with an elegant leather pouch for safe travel and storage.
PRICING AND AVAILABILITY
The VIBE Duo headphone/headset is available now for $99.99 and can be found at the Apple Store and online at Apple.com, Amazon.com, and Shop V-MODA (shop.v-moda.com). The product is backed by a 100 percent risk-free satisfaction guarantee, as well as free shipping in the U.S. for a limited time only. Please visit v-moda.com for more information on pricing and retail availability.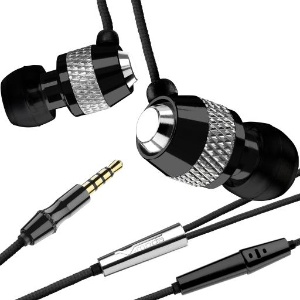 ABOUT V-MODA
V-MODA is the music lifestyle brand based in Hollywood, California. It designs and markets innovative products that fuse high-fashion and high-function, while paying homage to a rock-and-roll and house music lifestyle. The Modaphone Hearwear Collection is part of the V-MODA collection of music-inspired products, apparel, and DJ compilations unveiled in 2006.
Founder Val Kolton, together with designer Joseph Bucknall, leads the innovation and creative nucleus responsible for transforming their music lifestyle vision into an inspired reality. More information about V-MODA and its progressive products can be found at V-MODA.com.