Try-Before-You-Buy Gogo Inflight Internet now available on all p.s. flights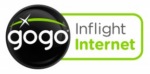 United Airlines customers on transcontinental p.s.℠ flights can enjoy a complimentary onboard Internet session with the new Try-Before-You-Buy promotion, offered in conjunction with airborne communications provider Aircell.
Through Dec. 31, first-time users of Aircell's Gogo Inflight Internet service will be offered one free session upon creating a new account.
Gogo enables customers with Wi-Fi enabled devices such as laptops, smartphones and PDAs to surf the Web, check e-mail, send and receive instant messages, and access a corporate VPN.
The service is available on all of United's p.s. flights between New York Kennedy and the airline's Los Angeles and San Francisco hubs.
"Gogo Inflight Internet service on our p.s. flights provides our customers with an even more productive and enjoyable travel experience," says Allen Will, managing director of strategic aircraft programs. "With Gogo Inflight Internet and an AC power port at every seat, p.s. customers will get more accomplished in the air this holiday season, leaving time for more holiday cheer on the ground."