PC Gaming Headset For Cost-Conscious Gamers
Turtle Beach, a leader in XBOX 360, PlayStation and PC gaming headsets, announced the latest addition to their growing line of Ear Force gaming headsets–the Ear Force Z1 (MSRP: $29.95). Designed as a compact, cost-effective alternative to larger and more expensive gaming headsets, the Ear Force Z1 combines portability, premium stereo game sound, online communication and unique noise-reduction ear cushions to provide maximum comfort and help block out distractions from the surrounding environment. The Ear Force Z1 is the ideal audio peripheral for gamers who want to enjoy immersive game sound with popular titles such as Team Fortress 2, Counter-Strike, Left 4 Dead, World Of Warcraft, and Call of Duty 4: Modern Warfare.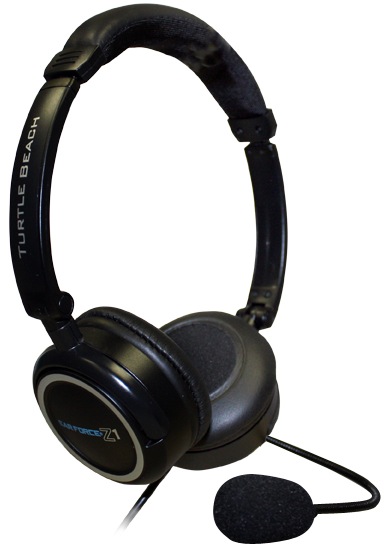 "We've had great success with our higher-cost PC headsets and the Z1 is our response to gamers who have requested a low-cost alternative with premium sound quality." said Peter Ronick, director of marketing for Turtle Beach. "The Z1 is a perfect fit for the PC gamer seeking a great audio experience that's both portable and affordable. They also make a great second-headset even if you already own a pair of gaming headphones."
The attractive Ear Force Z1 headset includes a rugged, oversized, flexible boom mic for online communication and sports an ultra-light design for enhanced comfort during extended game play. Unlike most headphones, the Z1 can be easily folded into a compact size for convenient storage or for transport to gaming competitions or LAN parties. Twist-style ear cups let the headset conveniently rest on the shoulders between gaming sessions.
The soft, noise-reduction ear cushions are designed to take the shape of your ears and help block out distractions so you can concentrate on the game. The ten-foot cable includes an in-line remote control with volume and microphone muting, so it's easy to make adjustments. The large 40mm drivers deliver full-bandwidth, premium sound from a small package. Although primarily designed for PC gaming, the Ear Force Z1 can also be used with voice communications programs such as Ventrilo™ and Skype™, and for watching TV or listening to music with MP3 players via the standard 3.5mm connector.
The Ear Force Z1 headset will be available in October from major US retailers as well as the Turtle Beach web site turtlebeach.com. Turtle Beach Ear Force headsets are distributed in Europe by Mad Catz Interactive, Inc.