New 1.18-Inch Thin, Ultraportable Toshiba Portege A600 Provides Mobile Professionals PC Health Monitor and Extended Battery Life for $1,399
Toshiba's Digital Products Division, a leader in mobile computing solutions, today announced the Portege A600, the company's mainstream ultraportable laptop PC. This affordably priced 12.1-inch laptop PC weighs 3.2 pounds1, measures 1.18-inches thin2 and includes the following innovations, such as Toshiba's fourth-generation EasyGuard Technology with PC Health Monitor, Intel Centrino 2 processor technology and an integrated optical drive. Designed, engineered and manufactured exclusively by Toshiba, the Portege A600 provides mobile professionals with a high-quality, highly-reliable laptop PC. Prices start at $1,399 (MSRP)3 for this mainstream ultraportable, which delivers up to 7.5 hours of battery life4.
"Toshiba continues to assert its expertise in the ultraportable market place by today's release of the mainstream Portege A600," said Carl Pinto, vice president, product development and marketing, Digital Products Division, Toshiba America Information Systems, Inc. "This new laptop PC is an incredible new design that is specifically engineered by Toshiba to meet the needs of mobile professionals and is available at an extremely attractive price."

Toshiba's Portege A600 includes the following leading-edge technologies:
EasyGuard Technology5: Toshiba's Portege A600 laptop features Toshiba's fourth-generation EasyGuard Technology with PC Health Monitor. This new feature is a preventative maintenance utility that continuously checks the performance and functionality of a laptop's critical hardware components and will alert users when the system is in need of a tune up. PC Health Monitor tracks the status of critical components, such as hard drive status, battery life and CPU temperature and system cooling warnings. In addition to PC Health Monitor, Toshiba's EasyGuard Technology is a proprietary, value-added series of hardware and software enhancements designed to better protect and secure one's laptop during everyday computing. Components include HDD Protection, a spill-resistant keyboard6, fingerprint reader and Trusted Platform Module (TPM).
Integrated Optical Drive: Toshiba's Portege A600 laptop uses Toshiba's proprietary High Density Mounting Technology process to enable dual-sided motherboard component mounting. This innovative technology provides enough system real estate for the incorporation of a built-in optical drive, which reduces the laptop's travel weight by providing users with an all-in-one solution, eliminating the bulk and inconvenience of carrying additional drives and cables.
LED Display: The Portege A600 features a 12.1-inch LED backlit display to provide users with an image rich in color saturation and superb quality. The use of LED backlighting provides Portege A600 users with reduced thickness, reduced weight, increased brightness and decreased power consumption, compared to a conventional CCFL backlighting display.
USB Sleep-and-Charge/eSATA Combo Port7: This unique port provides convenience and speed by allowing data transfers to and from an eSATA external hard drive at rates up to five times faster than USB 2.0, and the ability to charge select USB mobile devices whether the laptop is on, off, or in sleep or hibernation mode.
Green Attributes: The Portege A600 is ENERGY STAR 4.0 compliant and has achieved a Gold status through the Green Electronics Council's Electronic Product Environmental Assessment Tool (EPEAT).
Complete product specifications for all Portege A600 models are available at http://explore.toshiba.com/laptops/portege/A600.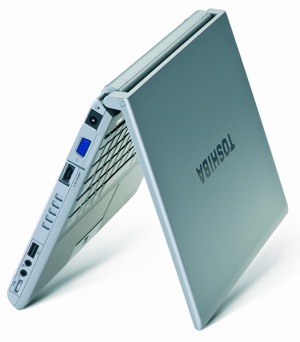 The Portege A600 is available with a one-year standard limited warranty8, which includes carry-in support at Authorized Service Providers throughout the country such as UPS Stores and Mail Boxes Etc. locations. As a responsible global corporate citizen, Toshiba designs all of its new laptops to be RoHS compatible9, effectively reducing the environmental impact by restricting the use of lead, mercury and certain other hazardous substances.
Toshiba is offering a new, free electronic trade-in and recycling program which includes all laptop PCs and other select electronics, regardless of manufacturer, that have no trade-in value. For more details, please visit http://explore.toshiba.com/green. No purchase is necessary to participate in the recycling program.

Weight. Weight may vary depending on product configuration, vendor components, manufacturing variability and options selected.
Height. Measured at the thinnest edge of the notebook computer.
Reseller prices may vary. MSRP means "Manufacturers Suggested Retail price."
Battery Life. Measured by [MobileMark™ or Business Winstone BatteryMark™.] Battery life may vary. See Battery Life Legal Footnote at www.info.toshiba.com
EasyGuard. Toshiba EasyGuard™ technology comprises a number of features some of which may or may not be available on a particular Toshiba notebook depending on the model selected. See www.easyguard.toshiba.com for detailed information.
Spill-Resistant Keyboard. Under Toshiba testing conditions, the spill-resistant keyboard delayed the time for a water spill to reach the computer's main board to allow more time to properly close down the machine. Toshiba's standard limited warranty terms and limitations apply. Visit www.warranty.toshiba.com for details.
USB Sleep & Charge. The "USB Sleep & Charge function" may not work with certain external devices even if they are compliant with the USB specification. In those cases, turn the power of the computer ON to charge the device.
Warranty. The terms and conditions of Toshiba's standard limited warranty, extended warranty and service upgrade terms and conditions are available at www.warranty.toshiba.com.
RoHS. This product is compatible with European Union Directive 2002/95/EC. See RoHS legal footnote at www.info.toshiba.com