Introduction of New TiVo Search Means Channel Surfing is a Now Thing of the Past
TiVo Inc. (NASDAQ: TIVO) , the creator of and a leader in television services for digital video recorders (DVRs), today showed the future of television, unveiling a redesigned TiVo Search feature that offers improved search results with a completely new High Definition design, all at no additional charge. TiVo Search brings users the power of choice, offering millions of pieces of content not available via cable or satellite, along with thousands of linear TV choices. Delivered via broadband, TiVo Search combines a graphics rich experience with simplicity and relevancy that makes it a truly revolutionary way to get more out of your TV.
"What Google did for the Internet, TiVo is now doing for the TV, bringing people a combination of excellent search results and innovative discovery that can't be found anywhere else," said Tom Rogers, CEO and President of TiVo Inc. "TiVo has always been known as the best way to watch what you want, when you want it. Now we're taking that to a new level, using TiVo technology to find just the right program from hundreds of channels and thousands of broadband options, all in seconds. It is clear TiVo is leading the way in providing more choice, and also leading the way in finding content quickly. TiVo Search is a new way to find what you've been missing."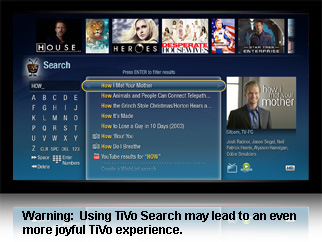 TiVo Search takes advantage of extra screen size afforded by high definition televisions by showing more details about a highlighted program than ever before, eliminating the need to dig down into each and every program to learn what it is about. It ensures the most important information is surfaced right up to the screen you're already on, equaling less navigation and quick, accurate results.
"One of the best things about the new TiVo Search feature is how it works as a discovery engine, helping users find content they didn't even know they could get," said Jim Denney, Vice President of Product Marketing at TiVo Inc. "We've added a new discovery bar that gives a quick guide to relevant content, and the search experience incorporates content from broadband sources like Amazon Video on Demand and YouTube. The newly tuned search engine also displays the most popular search results of the day automatically, even when typing only a single letter. Searches work not with just the first word of a title, but any word of the program, which is especially handy when looking for programs with specific search words."
The new interface not only displays in high definition, it has a focus on finding high definition television content. TiVo search automatically recommends high definition television channels and episodes when users schedule a program to record. Additionally, users can now browse shows season by season and select any episode they want utilizing a robust episode guide. Depending on availability users may record content from cable/antenna, download it from Amazon Video on Demand, or use WishList searches to record it the next time the content is broadcast.
Seeing equals believing, and the new TiVo Search is no exception. Starting today broadband connected TiVo Series3, TiVo HD, and HD XL subscribers can experience a beta version of the feature on their TiVo DVR, which can be found under Music, Photos, and Showcases. For an online preview and to provide your comments and feedback on this new search tool to TiVo visit http://www.tivo.com/tivosearch.
TiVo Search will be on display at the TiVo Inc Booth at the Consumer Electronics Tradeshow, Room N202 running January 8th – 11th.