New models of 'Tune Tray' in-car head unit
Wider range of usage flexibility with two USB ports – Easy storage inside and additional connection outside
Advanced Sound Engine creates the ideal in-car sound field with digital signal processing
Superior compatibility and freedom with Bluetooth connection (DSX-S300BTX)
The smart and unique portable player storage system, DSX-S100, announced at CES 2010, will now be joined by two big brothers: the Xplod DSX-S300BTX and DSX-S200X.
This range of in-car digital music players is a completely new car audio concept born to match the growing tendency of the digital listening style. They were created just for digital media players, coming up with a seamless audio and storage solution and now adding further flexibility and a selection of systems to choose from accordingly to the way you listen to music in the car.
Instead of CDs, it's your portable player that you want to playback from right away. With the "Tune Tray" from Sony, your digital music device gets a prominent place in the centre console yet discretely stored away for neatness and safety for your car. The front panel flips down to reveal the Tune Tray. You can neatly tuck away a USB drive, WALKMAN or any iPod/iPod touch.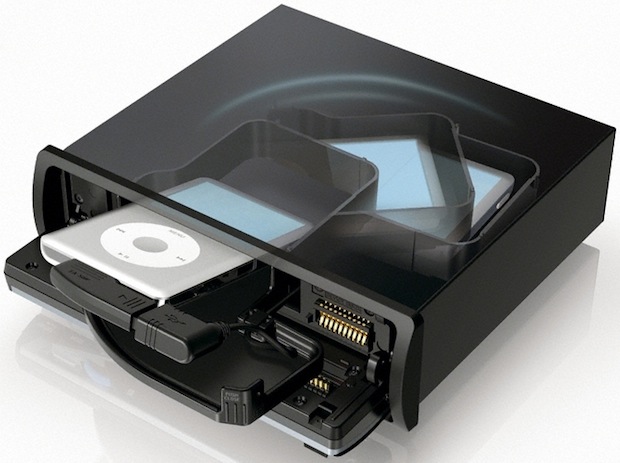 The new additions to the Xplod Tune Tray digital music system are the DSX-S300BTX and DSX-S200X. They have a sleek detachable faceplate with a highly visible OEL 4-line display and a second USB connection. For those who keep for example a USB drive in the Tune Tray while carrying around another portable player or smart phone such as the iPhone that's constantly updated with new tunes, the front and second USB connections come quite handy. With the 4-line display, you can get more information and the look and feel familiar from your digital music player.
Music selection is a breeze with the special features SensMe™ channels, ZAPPIN™ and Quick-BrowZer™ from Sony. Using the same technology used on WALKMAN and VAIO. SensMe channels allows you to discover your music library in a completely different way. It can automatically sort music into different channels by the type of 'mood' such as Freeway, Morning Commute, Midnight Cruise, etc. When you are not sure what you want to listen to, one touch of the "ZAP" button begins ZAPPIN or scanning and playing highlight clips of your music collection so you can catch the song that feels just right. With Quick-BrowZer you can search by artist, album, genre, playlist, file or folder by simply rotating the volume dial and pressing to select.
Advanced Sound Engine is the original digital signal processing from Sony, which delivers the ideal in-car sound field. It contains features such as EQ7, Listening Position (Time Alignment), DM+ advanced, Rear Bass Enhancer and Dynamic Loudness.
The DSX-S300BTX goes another step further increasing its device compatibility with Bluetooth connectivity. You can synchronise to 500 numbers from your phone address book to the internal memory of DSX-S300BTX and readily browse your contacts on the system's display and make phone calls. With Bluetooth, you can also stream music wirelessly. Talk hands free on your phone and you're home free!
Experience a new style and way to enjoy your music on the road with the new in-car audio systems from Sony. The DSX-S300BTX and DSX-S200X are available from August 2010.
Feature sheet:
| | | | |
| --- | --- | --- | --- |
| Features / Model | DSX-S100 | DSX-S200X | DSX-S300BTX |
| Bluetooth | | | A2DP, PBAP, AVRCP |
| Display | 2 lines | 4 lines | 4 lines |
| Display Device (LCD/FL/OEL/TFT) | LCD (with Acryl) | OEL Dot | OEL Dot |
| Pre Out | Front+Rear/Sub switchable | x 2 | x 2 |
| Preout output level (V) | 2 | 4 | 4 |
| USB | Inside | Front + Inside | Front + Inside |
| EQ | (EQ3 Stage2) | (EQ7) | (EQ7) |
| Key illumination | Blue | Blue/Red | Blue/Red |
| SensMe(™) channels | No | Yes | Yes |
| Works with iPhone | No | Yes | Yes |
| Made for iPod | Yes | Yes | Yes |
| For Walkman | Yes | Yes | Yes |
| Zappin | Yes | Yes | Yes |
| Quick-BrowZer | Yes | Yes | Yes |
| Aux-In | Front | No | No |