Sony has announced three new PC speakers. The SRS-A3 joins the compact and highly versatile SRS A Series. The gaming and video optimised SRS D Series is expanded with two new products, the SRS-D4, SRS-D5.
PC speakers for everyday use need to be compact but capable of handling a wide range of output without compromise.
The new SRS-A3 compact, magnetically shielded speakers deliver a total of 5W of clear stereo underpinned with controlled, punchy bass thanks to a carefully engineered reflex port. The cabinets are tilted at precisely the right angle to enhance audio quality and feature an integrated digital amplifier for high efficiency and lower power consumption. Controls are built-in along with a headphones jack.
The SRS D Series is built for those who want something special that will add an extra dimension to gaming and video.
The new models offer increasing levels of output power and bass response so the customer can choose the best fit for them. Features shared by all models include superb sound quality from precision-engineered cabinets, digital amplification for maximum clarity, 2.1 speaker system with angled satellite cabinets, integrated controls and magnetically shielded speakers.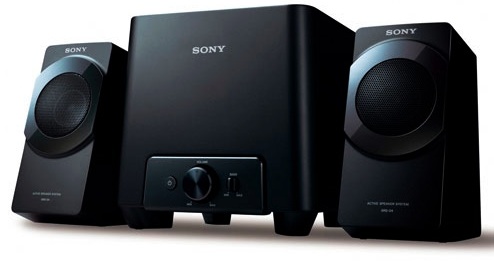 The SRS-D4 effectively becomes the entry-level D Series product, with a combined output of 27W from its 2.1 speaker format. Power, volume and bass volume controls are integrated into a relatively compact sub-woofer and the satellites feature a distinctive raised border around the speaker grill. This is burnished to a high finish and provides a definitive design accent that gives the PC speakers a unique character.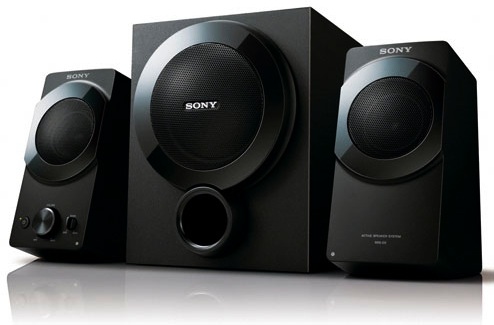 The SRS-D5 delivers 40W and is slightly larger all round than the D4. The sub-woofer is constructed from medium density fibreboard (MDF) for improved sound quality and the controls are integrated into one of the satellites — handy if the sub-woofer is placed on the floor.
Features at a glance:
Name
SRS-A3
SRS-D4
SRS-D5
MSRP
check price
check price
check price
Speaker System
2.0ch
2.1ch
2.1ch
Output power
5W
27 W
40 W
Speaker Unit
57mm
Sat: 46mm
Sub: 95mm
Sat: 60mm
Sub: 115mm
Speaker unit
Ferrite
Diameter: 95mm
Diameter: 115mm
Dome-shaped center cap of speaker unit
Impedance
8.0
Sat: 10.0
Sub: 5.0
Sat: 8.0
Sub: 3.6
Frequency Hz
150 – 20,000
100-10,000
100-10,000
Digital Amplifier
Yes
Yes
Yes
Mega Bass
No
Yes
Yes
Subwoofer material
N/A
Resin
Medium Density Fiberboard
Controls
Volume, power
Volume, bass and power
Volume, bass and power
Controls location
In LH cabinet
In Subwoofer
In Satellite Speaker
Audio in
Yes
Yes
Yes
Head-phone out
No
No
Yes
Colour
Black
Black
Black
Power Supply
AC
AC
AC
Dimensions
(WxHxD) mm
71x141x91
Sub: 208x118x130
Sat: 65x65x67.5
Sub: 193x243x233
Sat: 109x203x135
Weight (g)
L=205g
R=190g
Sub: 1430g
Sat: 460g
Sub: 2450g
Left Sat: 680g
Right Sat: 610g
Reviews Around the Web:

sony srs-a3