The Rolly Arrives in the U.S. this Spring
Sony today unveiled the Rolly entertainment player. Spawned from the Sony portable audio technology and artificial intelligence, along with the company's design and entertainment legacy, this palm-sized, egg-shaped device provides a unique combination of music, motion and fun.
"Rolly is the latest example of Sony's expertise in entertainment and technology," said Steve Haber, senior vice president of the Digital Imaging and Audio Division at Sony Electronics. "This isn't just another gadget; the Rolly is a sophisticated piece of entertainment technology."
Clear Sound by Sony's Audio Technologies
Despite its small size and light weight, the Rolly device produces surprisingly clear sound. With 180-degree horizontal opposed stereo speakers, listeners can enjoy high sound quality from nearly anywhere. Also, the speakers have a neodymium magnet for powerful audio performance.
Sound reverberates from the surface the device is placed on, be it a desk or the floor. A digital amp for high sound quality is another technology that adds to the device's powerful sound.
Rolly Brings Music to Life
With built-in robotics technologies, the device is designed to move its small arms, shoulders and wheels — six moving parts — to the beat of the music. With about 700 colors including pink, blue, white and orange, lighting adds to the impact.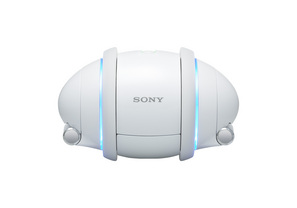 It's ready to use right out of the box, so you can begin listening to music and watching it dance immediately. To choreograph an original routine, the unit comes with software for customizing the music and motions on the device using a USB connection to a PC.
Designed for Motion
The Rolly device's simple, clean, cable-less design lets it move freely on smooth surfaces. It's easy to change songs or control the volume by turning the wheels while the unit is on a surface or holding it in your hand. Shaking the device switches to shuffle mode. After creating original dance routine programs, share with others by uploading and downloading motions online.
Made for producing superb audio quality, the Rolly player contains a number of unique Sony clear audio technologies. Despite its small footprint, the player's two built-in speakers provide powerful, crisp sound. The player also contains Bluetooth technology for wirelessly streaming music from a compatible PC or mobile phone.
Tiny Flash Entertainer
With 2GB flash memory, the player can store up to 520 songs, for songs an average of four minutes in length at 128kbps in the MP3 format. The battery life allows up to five hours of music playback and up to four hours of music and motion together. The player supports non-secure AAC and MP3.
Availability
The Rolly device will be available this spring.