Sony's latest-generation WALKMAN® E450 is about looks plus great sound and video performance. Perfect as a first music player, WALKMAN® E450 is available in a choice of five fun, funky colours.
A fresh new interface makes WALKMAN® even easier and more fun to use. The redesigned playback screen lets you scroll through a big, bold view of cover artwork on the crisp, clear QVGA screen. Background wallpapers can be customised from a choice of designs, or use your own photos. New Scene Search makes it easy to pinpoint the right moment in longer videos by scrolling through a series of thumbnail images.
Looking to match your listening to your mood? Unique to Sony, SensMe technology automatically analyses and categorises your music library, creating a series of themed channels. Just pick your channel to suit the moment, from mellow to upbeat.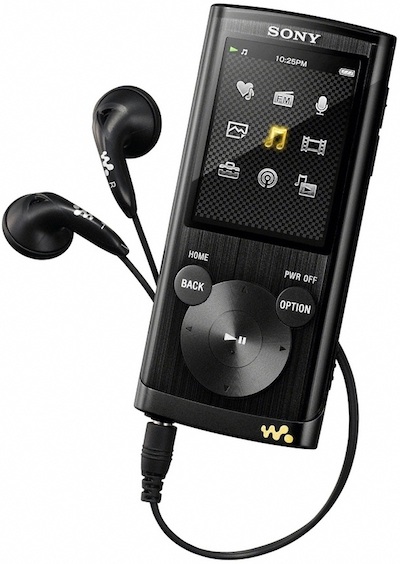 Brand new to WALKMAN®, Lyrics Sync supports the popular .lrc file format, displaying the words of your favourite songs on screen. There's also a new Karaoke Mode that lets you have fun singing along to your favourite songs. WALKMAN® automatically reduces the original performer's vocal level, so your own voice is heard clearly over the backing track. If you're struggling to hit those high or low notes, playback key can also be adjusted up or down to match anyone's vocal reach without changing playback speed.
Busy students will appreciate the brand-new Language Learning function that makes it easy to master a tricky phrase. WALKMAN® can 'loop' a chosen passage for listening at reduced playback speed without changing pitch or losing clarity.
Unique to Sony, a handy Bookmark function lets you create, add to or edit up to five of your own personal playlists. Just pick a playlist to suit your mood or whatever you're doing.
Like every WALKMAN®, the new E450 series stands out with full, rich sound to get the very best out of your music collection. Clear Bass and Clear Stereo are joined by new DSEE (Digital Sound Enhancement Engine). Developed by Sony, DSEE restores high frequencies that are lost when music files are compressed to recreate more natural, CD-quality sound.
New Virtual Phones Technology adds an extra dimension to enjoying your favourite tracks on headphones. Authentic acoustic modelling by Sony places you inside a choice of five soundspaces, from an intimate club to the biggest arena. As an extra listening refinement, Dynamic Normaliser balances the volume of each song as you listen, reducing jumps in volume as you listen in shuffle mode.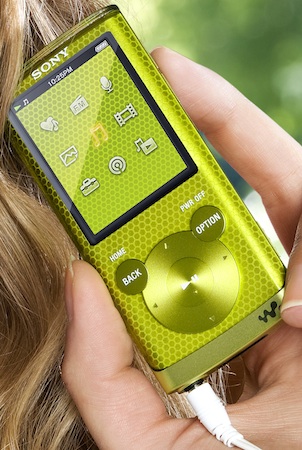 Extra-long battery life now lets you listen for even longer, offering up to 50 hours of music playback time (10 hours video playback) from a single charge1.
Supplied Content Transfer software makes it easy to drag and drop music files and playlists directly to WALKMAN® from your PC or iTunes library (not including DRM files).
WALKMAN® now works better than ever with your PC if you're running Windows® 7. Connect the WALKMAN® E450 to your PC's USB port and a new 'Device Stage' window launches automatically. This easy-to-use media management function lets you browse files stored on WALKMAN® in Windows Explorer and export media files directly to WALKMAN® from your PC. Windows® 7 even takes care of converting DivX® and AVCHD video files stored on your hard drive to playable format for viewing on WALKMAN®.
Also available (in black only), the WALKMAN® E450K adds a beautifully designed matched cradle stereo speaker, allowing you to enjoy crisp, clear WALKMAN® sound without headphones. Digital Linear Phase Speaker technology ensures a clear, natural soundfield, while Virtual Bass boosts low-end frequencies for a room-filling low end. As an alternative to mains power, the speaker can also be powered directly from the player's battery, letting you take great WALKMAN® sound with you anywhere.
The new WALKMAN® E450/E450K series will be available in August 2010, along with the updated A840 series.
Key technical specifications
NWZ-E450 series
NWZ-A840 series
Capacity
NWZ-E455: 16GB (approx. 3,700 songs)
NWZ-E454: 8GB (approx. 1,800 songs)
NWZ-E453: 4GB (approx. 880 songs)
NWZ-A847: 64GB (approx. 15,000 songs)
NWZ-A846: 32GB (approx. 7,500 songs)
NWZ-A845: 16GB (approx. 3,700 songs)
NWZ-A844: 8GB (approx. 1,800 songs)
Supported music/video file formats
Audio: MP3/WMA (include DRM)/AAC/ Linear PCM/AAC format audio files that are copyright-protected cannot be played back.
Video: AVC(H.264/AVC) Baseline Profile/MPEG-4/WMV (including DRM)
MP3, AAC, WMA(DRM), L-PCM, H264/AVC, MP4, WMV(DRM)
Display
5.1cm/2.0″ QVGA LCD
7.1cm/2.8″ WQVGA OLED
Playback functions
SensMe; Lyrics Sync; Karaoke Mode; Language Learning Mode
Language Learning mode
Other functions
Dynamic Normaliser; VPT; Equaliser; FM Radio; voice recorder; Alarm/timer; WM-Port
Digital Noise Cancelling; Dynamic Normaliser; VPT; Equaliser; FM Radio; WM-Port
Charging time (via USB)
80% recharge in 1.5 hrs, full recharge in 3 hours
80% recharge in 1.5hrs, full recharge in 3 hours
Battery life
50 hours of music playback with MP3 files at 128kbps with the equalizer set to "None"
10 hours of video playback with MPEG-4 files at 384kbps
Up to 29 hours music playback (MP3 at 128kbps with the equalizer set to "None"
Up to 9 hours video playback MPEG-4 at 384kbps
Available colours
Black, Red, Blue, Pink, Green
Black, White
Dimensions (approx.)
94.7 x 44.0 x 9.7 mm
104.9 x 46.8 x 7.2 mm
Weight (approx.)
58g
62g
Supplied accessories
USB Cable, Headphones, Attachment for Accessories
USB Cable, Digital Noise Cancelling Headphones, Plug adaptor for in-flight use (single/dual), Attachment for Accessories
1 50 hours (approx.) music playback time with MP3 files @ 128kbps; equalizer set to "None", and screensaver set to "Blank". 10 hours (approx.) video playback time with MPEG-4 files @ 384 kbps; brightness of the common setting set to "3".