Sony HDR-XR350V
New Models Offer Advanced Optics and Simplified Post-Shooting Solutions
Providing consumers with innovative products designed to enhance their on-the-go experiences, Sony is introducing 13 hard disk drive and flash memory-based camcorders with breakthrough technologies in both high definition and standard definition options.
Designed to fit any budget, Sony's Handycam camcorder portfolio delivers the most innovative, stylish and high-quality imaging solutions.
"Our new camcorder lineup is one-of-a-kind and truly offers something for everyone who wants to capture important moments," said Andy Bubala, director of the camcorder business at Sony Electronics. "For consumers looking for compact designs along with best-in-class features, this lineup creates a new standard."

Sony HDR-CX350
Advanced Optics
Offering a refined level of optical performance, Sony continues to introduce technology that sets Handycam camcorders apart from the competition.
Sony is now expanding its back-illuminated "Exmor R" CMOS sensor to all HD models. The sensor, which offers higher sensitivity and reduced image noise to provide stunning low light performance in twilight or candlelit scenes, now employs a new algorithm to realize 2x faster "Quick AF" compared to previous Handycam camcorders.
Some of the new camcorders in the lineup also include a wide angle G lens that captures approximately 2x larger shooting area than previous models, enabling users to make sure nobody is left out of the picture indoors or to capture more of the scenery outdoors. The lens fuses advanced optics with low dispersion aspheric glass elements for accurate color reproduction and sharp, detailed images while a six-blade aperture produces circular "bokeh" defocus effects for creative shooting possibilities.
Sony also improves Optical Steady Shot™ image stabilization with Active Mode by expanding the 3-Way Shake Canceling feature across the full zoom range, from wide to telephoto end. This reduces the effects of hand shake in three directions — vertical and horizontal shake corrected by optical image stabilization and the third, by way of electronic image stabilization, corrects lateral-roll shake. This advanced stabilization system results in dramatically smoother video footage.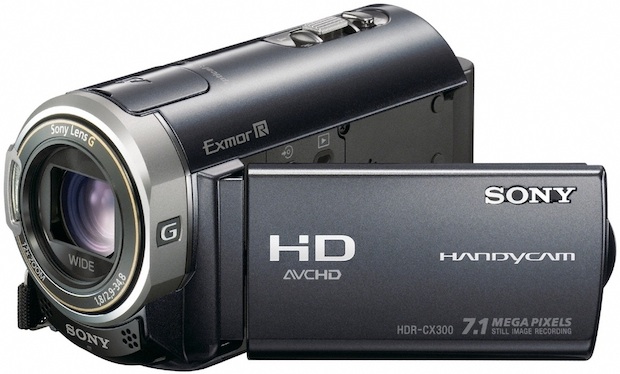 Sony HDR-CX300
Intelligent Features
Sony is leveraging its high-speed BIONZ imaging processor to create new features like Golf Shot and Intelligent Auto (iAuto). Only found in Handycam camcorders, the Golf Shot function makes it easier than ever to check your swing, frame by frame, as the camcorder renders two seconds of motion into a sequence of up to 22 still images. Just press the record button and the entire sequence is grabbed at an incredible 240 frames per second. Results can be viewed as a slow motion video or a multi-frame composite image.
The iAuto feature eliminates the guesswork from selecting optimal camcorder settings for different environments by detecting the camcorder's surroundings and continually optimizing settings in real-time for up to 90 unique scenes.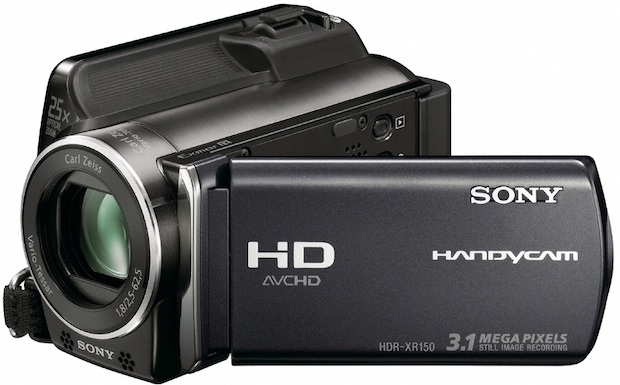 Sony HDR-XR150
The following smart features will also be expanded to more models in the lineup:
Face Touch: select a person to be prioritized (for focus, color, exposure and Smile Shutter™ technology) just by touching a detected face on the screen and the camcorder will remember them — even if they leave the scene — for the entire recording session. Smile Shutter technology, another function of Face Detection mode, captures candid smiling photos simultaneously while video is being recorded.
Embedded GPS: track destinations on a map with built-in GPS antenna and NAVTEQ digital maps for video and photo geo-tagging. Geo-tagged content is marked by a virtual push pin at each shot location and can be viewed on the camcorder map index display on the LCD. It also indicates current map location and automatically adjusts the clock to the proper time zone (map detail will vary).
Highlight Playback: let the camcorder quickly generate a video slideshow by adding theme transitions and background music to your footage.
60p Output: automatically up-converts content to 60 progressive frames per second when connected via HDMI cable (sold separately) to a compatible high-definition television.
New User Interface: adds scroll search for all menu items, as well as a customizable shortcut menu.
High-definition Line-up
Sony offers superior technology in its HD models, even at entry level. Now all new HD Handycam models will feature the "Exmor R" CMOS sensor, iAuto, Face Touch, Highlight Playback, 60p output, and the new user interface, in addition to capturing content in full1920 x 1080 high-definition video recording at up to 24Mbps, the highest bit-rate offered by the AVCHD format.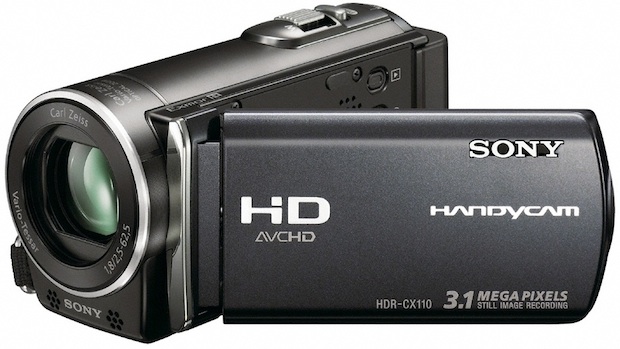 Sony HDR-CX110
Sony will offer attractive entry-level HD camcorder options in both hard drive (HDR-XR150) and flash memory (HDR-CX150 and HDR-CX110) formats. The HDR-XR150 features a 120GB hard drive for up to 50 hours of HD video (LP mode), while the HDR-CX150 has 16GB of embedded flash memory for up to six hours of HD video (LP mode), and the HDR-CX110 allows for customizable capacity with the purchase of a memory card.
These camcorders are packed with features including:
Carl Zeiss Vario-Tessar 25X optical zoom lens
3.1-megapixel still photos
Steady Shot image stabilization with Active Mode
2.7″ (measured diagonally) Clear Photo LCD™ screen (230K resolution)
The HDR-XR150, HDR-CX150, and HDR-CX110 will be available in late January for about $700, $550, and $500, respectively. The HDR-CX150 will be offered in black and red and the HDR-CX110 will come in black, blue, and red.
Sony will also offer the HDR-XR350V, with a 160GB hard drive; HDR-CX350V, with 32GB of flash memory; and HDR-CX300, with 16GB of flash memory. These HD camcorders have the following step-up features:
Wide angle G lens (29.8mm for video and 27.4mm for still images)
Optical Steady Shot™ image stabilization with Active Mode from Wide to Telephoto
Golf Shot
12X optical zoom
7-megapixel still photos
Embedded GPS (except HDR-CX300)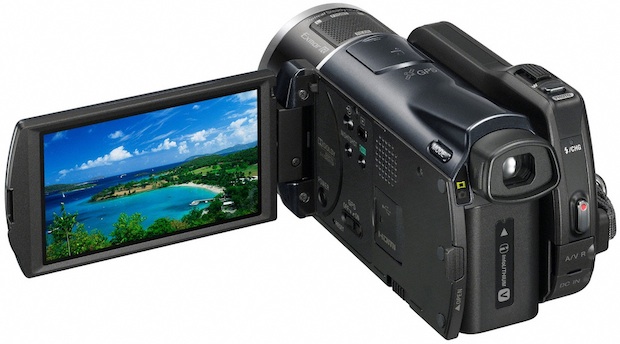 HDR-XR550V
Representing Sony's top-of-the-line camcorders, Sony will offer the HDR-XR550V, with a 240GB hard drive for up to 101 hours of HD video (LP mode); and the HDR-CX550V, with 64 GB of embedded flash memory for up to 26 hours of HD video (LP mode). These camcorders add the following features:
Wide angle G lens (29.8mm for video and 26.3mm for still images)
12-megapixel still photos
Assignable dial for manual control (Iris/Shutter/Exposure/WB/Focus)
Color Electronic View Finder
3.5″ (measured diagonally) LCD display with TruBlack™ technology (921K resolution)
Dedicated microphone/headphone inputs
All of these camcorders and their accessories will be available at Sony Style retail stores, online through sonystyle.com and at authorized dealers nationwide.
| | | |
| --- | --- | --- |
| HDR-XR550V | $1,400 | available in late February |
| HDR-CX550V | $1,300 | available in late February |
| HDR-XR350V | $1,000 | available in late February |
| HDR-CX350V | $900 | available in late February |
| HDR-CX300 | $800 | available in late February |
| HDR-XR150 | $700 | available in late January |
| HDR-CX150 | $550 | available in late January |
| HDR-CX110 | $500 | available in late January |
Continue reading about Sony's new standard definition camcorders for 2010.