World's smallest 64GB solid state drive is smaller than a postage stamp and weighs less than a paper clip
SanDisk Corporation today announced the first product in a new category of embedded solid state drives (SSD) that are smaller than a postage stamp and offer higher capacities and performance than existing storage solutions. The SanDisk® integrated SSD (iSSD), the first high-capacity product within this new category, is designed for use in fast-growing mobile computing platforms such as tablet PCs and ultra-thin notebooks.
The SanDisk iSSD drive is the first flash SSD device to support the industry standard SATA interface in a small BGA (Ball Grid Array) package that can be soldered onto any motherboard, and that is fast enough for use with advanced operating systems in next-generation mobile computing platforms.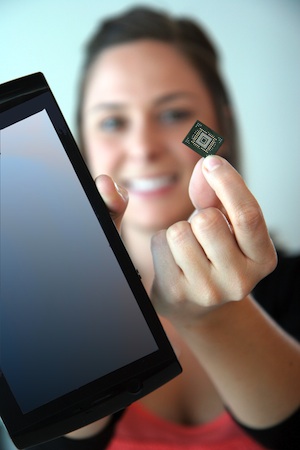 The SanDisk iSSD offers 160MB/sec sequential read and 100MB/sec sequential write speeds for greater system responsiveness. With no moving parts, the tiny, robust drive is designed to deliver the durability needed by portable devices that are frequently dropped or jostled. SanDisk iSSD offers a substantial level of design flexibility for OEMs who seek to create the next generation of tablets and ultra thin mobile devices based on the standard SATA interface.

The SanDisk iSSD is available now for sampling to OEMs, and is being evaluated by top-tier manufacturers. Measuring 16mm x 20mm x 1.85mm and weighing less than one gram, the drive uses a BGA form factor and a SATA interface, and is compatible with all leading operating systems. SanDisk iSSD is available in capacities ranging from 4 gigabytes (GB) to 64GB, with pricing dependent upon the quantity ordered.

"The new category of embedded SSDs should enable OEMs to produce tablets and notebooks with an unprecedented combination of thin, lightweight form factors and fast performance."
— Doron Myersdorf, Senior Director, SSD Marketing, SanDisk

<!-comments-button-->