Samsung Takes the Compact and Stylish L-Series to a New Level With the Introduction of the L210, L110 and L100
Samsung is proud to introduce three new models to its compact and stylish L-Series of point-and-shoot digital cameras. The new 10.1 mega-pixel L210 and 8.1 megapixel L110 and L100 join the popular lineup and combine a number of features commonly found on higher-priced, more advanced models.
All three additions feature a high-quality, 3x optical zoom Samsung NV lens and pack a large, 2.5″ LCD screen which will automatically brighten or dim depending on the current lighting situation. For reviewing and sharing images with others, the L210, L110 and L100 also include an intuitive Multi-Slide Show. With Mutli-Slide Show, end-users can playback their images using five different slide transitions and can also have their images set to scroll to the cameras' preloaded music or their own favorite MP3 files.
Compact and stylish, the L210 and L110 offer shooters Dual Image Stabilization, which combines Samsung's Optical Image Stabilization (OIS) with Digital Image Stabilization (DIS). When selected, the two work simultaneously to provide blur-free images, regardless of how shaky the user is holding camera. For low-light environments and to help minimize the effect of camera shake, the L100 utilizes DIS to produce sharp, clear images.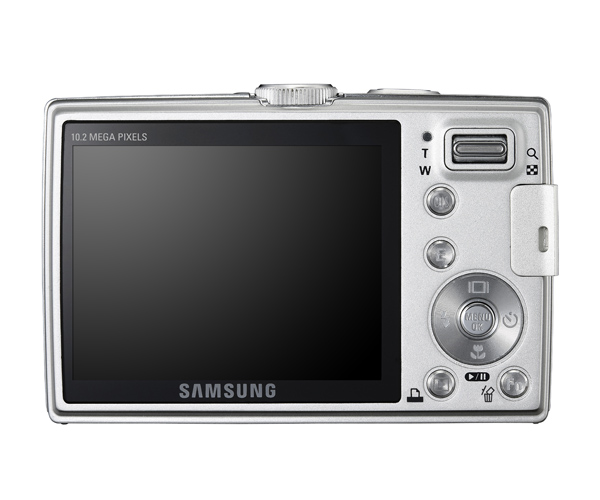 The cameras also feature a number of user-friendly features, including Face Detection, Self Portrait and Auto Red Eye Fix modes. Face Detection technology makes taking pictures of family and friends a snap, as it detects up to nine faces and automatically adjusts focus and exposure to ensure better composition and image quality. Self Portrait mode is a unique functionality that takes the guessing out of taking a self portrait. By utilizing Face Detection technology, the L210, L110 and L100 automatically detect the user's face, adjust focus and exposure, and will only allow a photo to be taken if the subject is centered in the frame. For enhanced versatility, shooters can remove red-eye during image playback, or for even greater convenience, set the cameras to Auto Red Eye Fix to automatically detect and eliminate red-eye from their images as they are taken.
"The new L-Series models are the ideal choice for consumers in search of a slim, stylish and featurepacked digital camera," said Stewart Henderson, Vice President of Marketing, Samsung OptoElectronics America. "With the L210, L110 and L100, consumers have access to a number of advanced and helpful features, including Face Detection and Self Portrait modes, the ability to shoot at ISO 1600, image stabilization, as well as MPEG-4 video."
Another user-friendly feature of the L210, L110 and L100 is Function Description. Designed to reduce the intimidation factor of the cameras' various modes, Function Description automatically provides a brief and easy to understand description of each setting when scrolling through the cameras' menus, helping the end-user determine which setting is appropriate for their current shooting scenario. The cameras' Photo Help Guide is another intuitive feature incorporated into the digital camera. Photo Help Guide offers the end-user a guided tour of how to take better images as well as easy-to-follow tips instructing them how to obtain excellent results.
The L210, L110 and L100 are also equipped with Samsung's advanced i-movie mode, which offers users SVGA resolution (800×592), MPEG-4 video and advanced editing controls. By using the cameras' Successive Recording mode, users can pause, and then resume filming of video clips without having to save the clips as individual files. Additionally, users can operate the cameras' optical zooms and engage DIS image stabilization while filming to compensate for camera shake and to reduce blur.
L210: $269 MSRP — available March 2008
L110: $229 MSRP — available February 2008
L100: $199 MSRP — available February 2008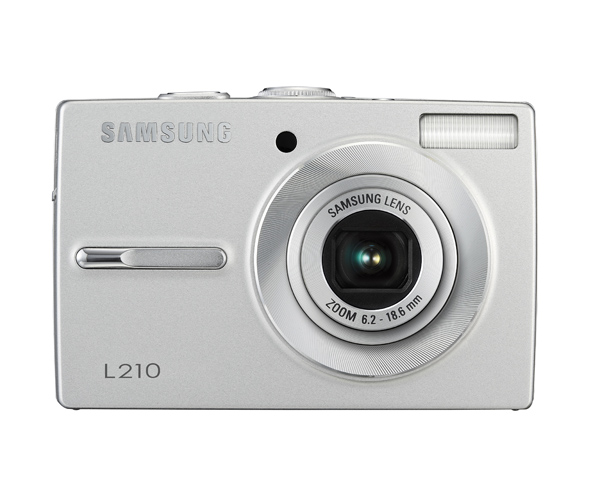 Samsung Opto-Electronics America, Inc., Ridgefield Park, N.J., is the U.S. subsidiary of Samsung Techwin Co., Ltd., Sungnam Kyungki-Do, Korea. Samsung Opto-Electronics markets a full line of auto focus cameras, zoom and digital cameras for the amateur as well as the professional under the Samsung brand name.
For full specifications and hi-res images visit the Samsung Camera website at: www.samsungcameraUSA.com