Pioneer announced two multimedia speaker systems for desktop PCs. The new S-MM301 2.0 speakers deliver big sound from its triple coil drivers and features a compact design making it ideal for travel, while the S-MM751RU 2.1 speaker system provide a power upgrade and strong bass performance with a dedicated subwoofer to enhance music playback on any home computer.
S-MM301
The S-MM301 USB-powered speakers deliver big sound with better fidelity and more volume than typical laptop speakers, all from a compact package that can be transported along with a laptop.
USB connectivity — The S-MM301 speakers are powered through the USB cable, eliminating the need for a bulky, separate AC adapter, making it easy to take along when traveling or wherever space is limited. Only slightly larger than the average smartphone, the speakers are extremely compact so users will have no problems fitting them into a laptop case or small travel bag.
Triple Coil Drivers — The triple coil drivers built into the speakers can handle higher volume levels and deliver dynamic sound with exceptional clarity at a volume not offered by typical USB-powered speakers.
Additional Features — The S-MM301 speakers feature metal grills to help protect the drivers from damage during travel. The system also features built-in audio controls including a volume up and down button and mute button for convenient plug-and-play use.
S-MM751RU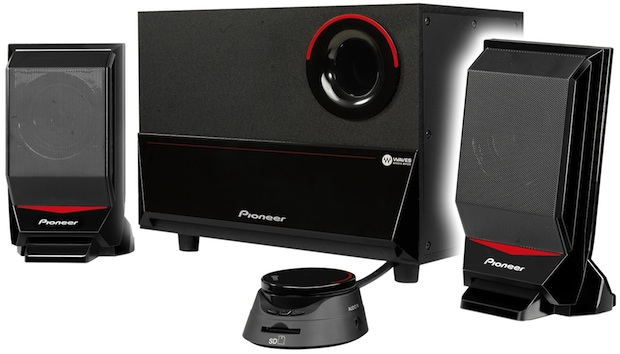 A great addition to a home office or bedroom computer, Pioneer's new S-MM751RU 2.1-Channel Computer Speaker System delivers a full-spectrum audio experience with its integrated satellite speakers and subwoofer enclosure.
Bass Enhancement — Small and compact, Pioneer utilizes a technology called MAXX Bass Dynamic Sound with DSP Bass Enhancement to increase dynamic range, resulting in a rich and enjoyable listening experience. The system is rated to handle a total of 40 watts (20 watt subwoofer; 10 watts for each satellite), ample power for music, movies and gaming.
Control Puck — The S-MM751RU enables users to control the audio through a unique hockey puck-shaped controller that features a volume knob and playback controls (play/pause/rewind/forward). The control puck also includes an SD Card slot (WMA/MP3), USB port (WMA/MP3) and line-in audio input so consumers can enjoy their music from other sources without having to turn on the computer.
Price and Availability
The Pioneer S-MM301 ($49) and S-MM751RU ($129) are now available.